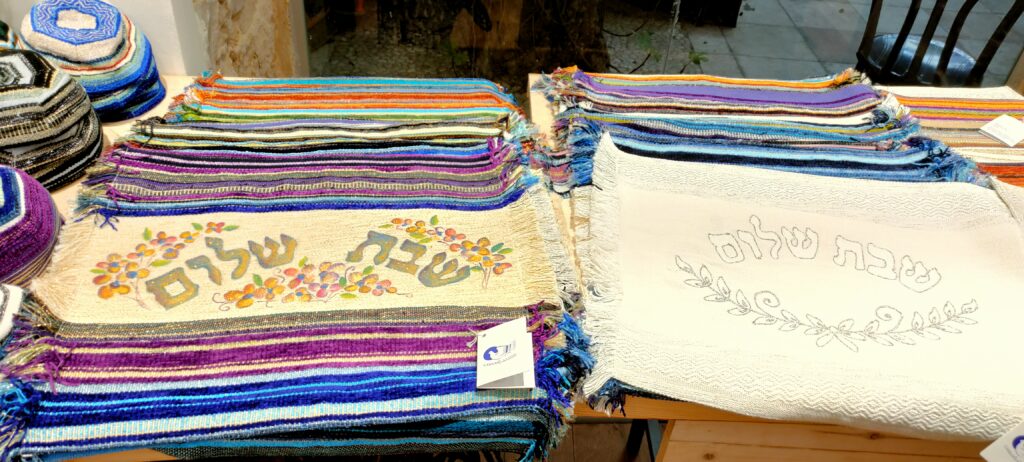 Photo: Courtesy of Canaan Gallery
What inspired you to start your business, Canaan Gallery?
The story of the inspiration of Canaan Gallery starts with two loose ends Orna and Yair Moore. As a ten years old girl Orna remembers babysitting her neighbour's daughter. The neighbour used to go to a small room and Orna through the key hole saw a mesmerising yet strange machine. The retheme of its sound and the complexity of the loom left a memory so strong that later on lead Orna to study fashion design where she learned also artistic weaving. Yair met weaving while traveling through Central America after his army service. He was fascinated by this cultural heritage and decided to learn it once he got back to Israel.
Few years forward Orna and Yair got married and bought their first loom. They moved to Tzfat with their three little boys and opened a small corner shop where Orna would weave scarves and shawls. Moving to Tzfat was no coincidence. Tzfat is known to have a history of weaving, in the 16th century Tzfat was a world-renowned weaving centre, once learning that, Orna and Yair felt a calling to revive this art form. One day a man came to the workshop and asked if one of the shawls could be made into a Tallit, and so began the 30 years of the ongoing history of Canaan Gallery.
What type of products do you sell? Do you also create bespoke pieces?
We hand-weave Judaica articles: Kippah, Tallit, Tallit and Tefillin bags, Parochet, Hallah covers, Passover Matza covers and Huppah. Besides the over forty different designs and patterns that we created our clients are welcome to order unique one-of-a-kind designs by changing colours in the design they prefer, ending up with their own one-of-a-kind personalized Tallit. We also have the option to personalize an embroidery on the Atara (neckband) and the Kanfot (the four corners of the Tallit) so you can embroider the name of the owner of the Tallit or other family members, you can find a nice Tehilim verse that you connect to, date of Bar/bat Mitzvah, wedding and much more.
Apart from the Judaica fabrics we also hand-weave special shawls and scarfs from chenille, a thread made of tree bark. We also have a special and unique collection of tapestries made from colorful cotton threads combined with vibrant metallic lurex threads as well as raffia, linen and wool. All combining amazing and unique wall-hangings
What are your favourite items in your current collection?
Josephs coat of many colours Tallit, because it is a free-style Tallit. In this Tallit the weaver and the designer choose from our large collection of special threads. Then starts the process of creating a Tallit so full of colours, traditionally used by Yemenites a long time ago, so special and unique. Once you see a Tallit like that you can start comprehending the meaning of the verse "I'vdu et Hashem besimcha" (worship God Happily) being wrapped in a Tallit like that brings joy and simcha to the heart.
You also offer workshops, could you please tell our readers more about them?
Weaving Workshop
A live demonstration and explanation of weaving on hand looms, in our beautiful studio, located in the heart of the old city of Tzfat. After learning the ins and outs of this ancient craft, you will participate together in weaving a fabric that will be embroidered with the name of the group, family or congregation. Making memories and art! We recommend pairing this workshop with our youth workshop, if your group has more than 10 people.
The Bar/ Bat Mitzvah Experience – The Tzitzit Connection.
We invite the celebrating family to come to our studio, overlooking the Galilean hills, where you will perform the mitzvah of tying the tzitzit (tassels) to the tallit.
We will explain the spiritual importance of the tzitzit and the Jewish law behind it, while each family member will be asked to tie a knot on the tallit – and along with the knot, to give a blessing or share something meaningful for the bar/bat mitzvah child. At the end of the ceremony, the tallit will be presented to the guest of honour. This experience is full of fascinating insights to the hows and whys of the tying of tzitzit. Along with the spiritual experience and family bonding.
Besamim
This is an interactive workshop in which participants will prepare a colourful sachet of our handwoven fabric containing dried local herbs of Rosemary and Lavender. Wonderful for Havdalah, or a sweet-smelling memory of your time here in Tzfat.
Children and the Youth Weaving Workshop
In this workshop, participants will learn to weave with nothing but fingers! You will learn how to make bracelets with a finger weaving technique you can take home with you!
Where can our readers find out more about your company and your work?
https://www.facebook.com/gallerycanaan
https://www.etsy.com/shop/canaangallery
https://www.instagram.com/gallerycanaan
Photos: Courtesy of Canaan Gallery