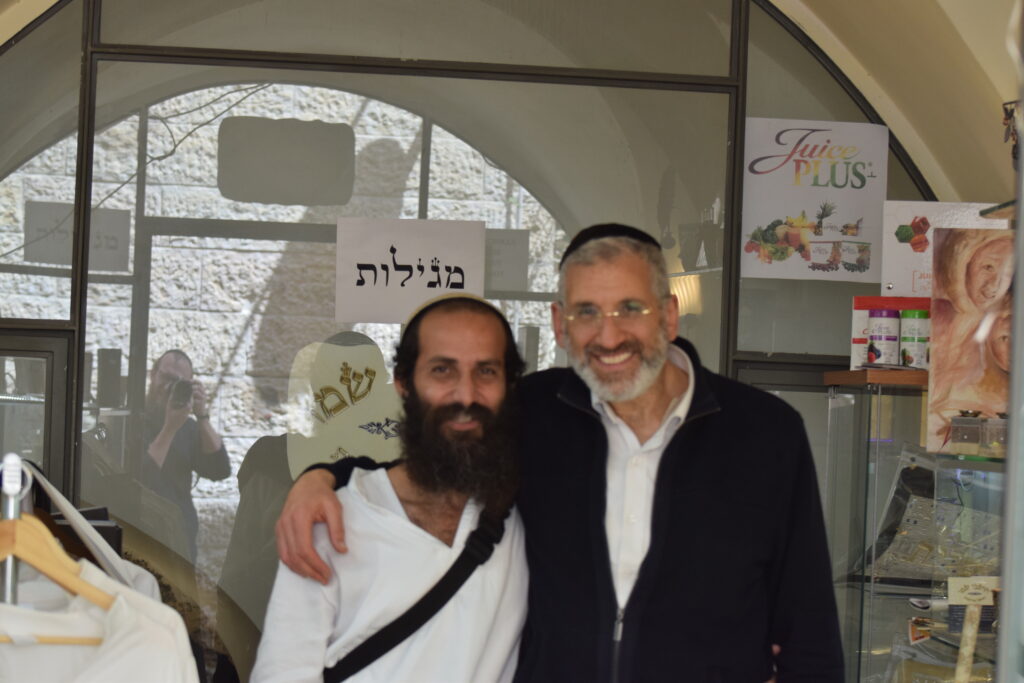 Tell us a little bit about yourself and your background.
My name is Guy Davidi, I live in Ganei Modi'in. I worked for more than 11 years as an employee at Discount Bank in Jerusalem. About two years ago, I resigned from my position to open an online clothing shop, where the products are 4-corner garments of different styles and shapes.
שמי גיא דוידי, אני מתגורר ביישוב גני מודיעיןעבדתי יותר מ 11 שנים כשכיר בבנק דיסקונט בירושליםלפני שנתיים בערך התפטרתי מעבודתי והקמתי חנות בגדים אינטרנטית שהמוצרים שבה הם חולצות 4 כנפות בכל מיני סגנונות וצורות

What inspired you to start your label?
The reason that I have decided to open this shop is that I wanted to renew the tradition of wearing 4-corner garments. The ability to renew and re-innovate it excited me because of its simplicity. There are things that Jewish people aspire to, like the building of the temple. This is a very ambitious target that currently depends on many inhibitors that are not available, such as the ashes of a red cow, and a complex geopolitical situation that is not easy to resolve.
What bothered me the most was the longing for something that currently does not exist instead of doing something that is already possible. A 4-corner garment with a blue knot is a characteristic and symbolism of Judaism since Egypt, where the Jewish people were distinguished from the Egyptians in 3 things: their names, their language, and their clothing.
So, if it is possible to easily renew a Torah Commandment, how come that after more than 70 years after the re-establishment of the State of Israel, I am the first one to produce such garments?
There are simple tzitzit undershirts, but I have never come across high quality tzitzit shirts.
This is the reason why I have decided to create "Malbushei Kodesh". I love the flowing clean lines, and simplicity, which is expressed in wide clothing that allows free movement and ease of sitting, and gives freedom to its wearer, which I ensure is taken into account when designing the garments – after all, the clothes make the man.
הסיבה שהרעיון לחדש את לבישת בגדי 4 כנפות הלהיב אותי בגלל פשטותויש דברים שהרבה יהודים שואפים אליהם, כמו בניין בית המקדש. זו מטרה מאוד שאפתנית, שתלויה כרגע בכל מיני מעכבים שאינם בנמצא כמו אפר פרה אדומה ומצב גיאו-פוליטי נפיץמה שהטריד אותי הוא הכמיהה למשהו שכרגע אינו קיים במקום לעשות את מה שכבר אפשר בגד ארבע כנפות ופתיל תכלת הוא מאפיין וסממן יהודי, שהרי במצרים הובדלו היהודים ב 3 מאפיינים מהמצרים, שמם, לשונם ובגדיהם
אז אם אפשר בקלות כל כך לחדש מצווה דאורייתא, איך זה שאחרי יותר מ 70 שנה בתחייתנו המחודשת בארץ ישראל, אני הראשון שמייצר בגד כזה?
יש גופיות צצית פשוטות, אבל חולצות עליונות בגימור גבוה לא נתקלתי עדייןזו הסיבה שגרמה לי לבחור לייצר את "מלבושי קודש"
אני אוהב זרימה, קווים נקיים, פשטות וזה מתבטא בבגדים רחבים שמאפשרים תנועה וישיבה חופשית ומשוחררת, וזה מתבטא בבגדים שהרי הבגד עושה את האדם

Where do you turn for inspiration when designing something new?
I look for inspiration in Indian and Arab clothing that are similar to us as traditional societies.
אני מחפש השראות בביגוד הודי וערבי שקרובים לנו כחברות מסורתיות
What is your favourite part about designing?
The part that I love the most when designing is the ability to turn an idea and a dream of a product into reality. The ability to execute a plan.
החלק האהוב עלי בעיצוב הוא להפוך רעיון למוצר חלום למציאות, להוציא תכניות לעולם מכח אל הפועל
What was the first item you ever sold?
The first Item I sold was was a tzitzit shirt with 4 corners and white knots.
הפריט הראשון שמכרתי היה חולצת צצית 4 כנפות עם פתילות לבנות
What are your plans for the future?
My plans for the future are to produce any commonly available clothing in a 4 corner and knotted design, regardless of the style.
תכניותי לעתיד הן לייצר לכל סגנון לבוש קיים ונפוץ, גרסת 4 כנפות עם צצית עליהןבלי קשר לסגנון
Where can we find you?
You're invited to visit my facebook or website, here are the details:
Facebook page name: "Malbushei Kodesh" / מלבושי קודש
Website: www.malbusheikodesh.co.il
www.malbusheikodesh.co.il יש לי אתר בשם
"ודף פייסבוק בשם "מלבושי קודש
© Malbushei Kodesh