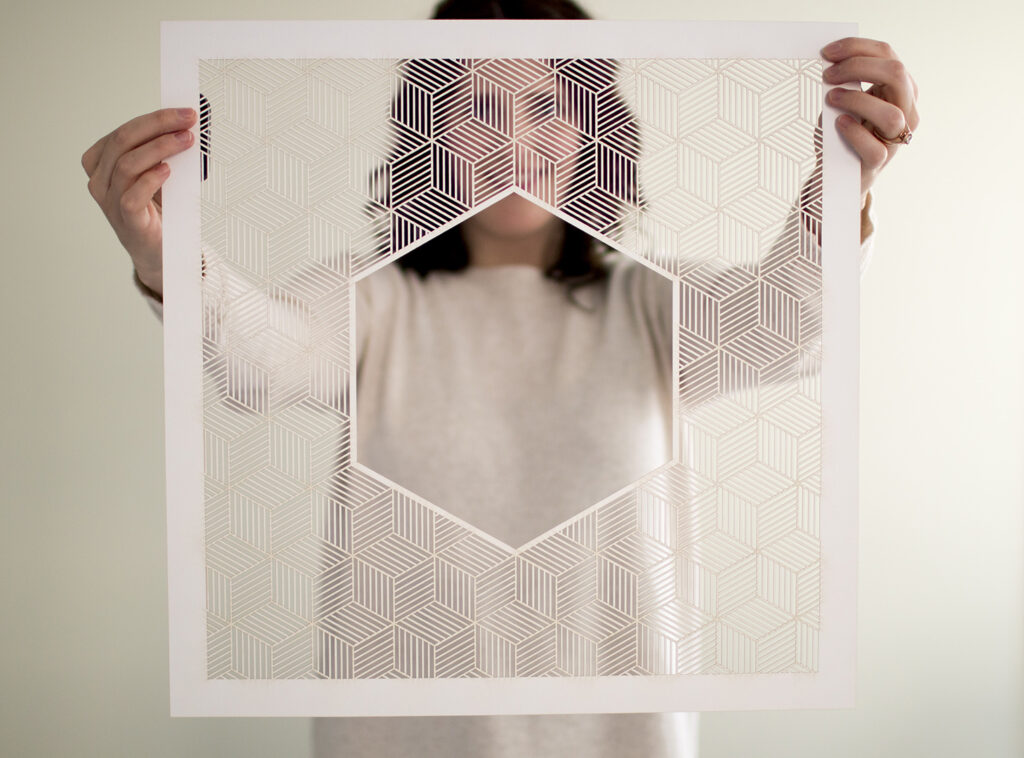 © Ink with Intent
Tell us a little bit about yourself and your background.
Growing up as the girl who loved art class more than just about anything, I think I always knew I wanted my job to involve drawing. But I wasn't quite sure how to find one of those elusive gigs.
After graduating from college with a degree in Psychology and Spanish Literature, I set off to find a 'real job'. After five years of wild professional experimentation (everything from culinary school to advertising to non-profits, and a bunch of stuff in between) I found myself at a cross-roads. Do I keep trying to shoehorn myself into various traditional jobs or do I take the plunge and try to do art full time? After a solid heart-to-heart with my oldest friend, I tentatively dipped my toes into being a professional artist.
Now, five years later, I have to pinch myself on a regular basis, because my job as a full-time ketubah artist feels too good to be true. Let this be my official endorsement of taking the path less travelled!
I now live in beautiful Vermont with my college sweetheart (and now husband), two rambunctious daughters, and big shaggy dog named Copernicus. I run my wedding illustration company, Ink with Intent, full time, and me and my team work with about 1000 wonderful couples each year.
What inspired you to become an artist?
I have always been a maker! Some of my earliest memories are playing with my sketchbook, sewing clothes for my stuffed animals, and trying to make my own paints from the stuff I found in the woods behind my house. I did spend a decade trying to go a more traditional route with my career, but the arts kept calling me back. Once I finally admitted I wanted to be a full-time artist, everything started to click into place career-wise. I find inspiration everywhere. Places I've lived or travelled to, geometric forms, natural textures, you name it, and I've made it into a ketubah design. And, of course, I get lots of inspiration from the couples I work with who come to me with specific visions for a custom design.
What is your specialty?
My background is in painting, but these days, I'm primarily a digital illustrator. I like to scan interesting textures into my computer, and then draw on top of them with my pen and wacom tablet. This lets me be more experimental with my work. This past year, I've also been doing a lot of laser cutting, which has been exciting.
How and where do you work?
I mostly work out of my home studio where I have a nice big desk (which is now, unfortunately, pretty covered in paint). It's convenient to have my studio right there, but I would love to have a communal artist space one day. I do my laser cutting work at a Makerspace in Burlington, VT called Generator (@generatorvt)
What is the most indispensable item in your studio?
My Wacom tablet! Couldn't live without it.
Where do you take your inspiration? Are you pursuing any themes?
A lot of my work to date has focused on natural and urban landscapes. I've found that many clients want to capture a specific place and time on their ketubah. But lately I've been leaning a bit more abstract as well.
What projects are you currently working on?
I just recently launched a brand new line of Hebrew naming certificates, so I'm pretty excited about that. During the late fall, my slowest time of the year, I typically focus on adding some new designs to my collection. Right now I'm working on a gold paper cut featuring a Hamsa against a geometric background. I also have a handful of custom projects on my plate, including one that features Hogworts castle from Harry Potter!
What is your favourite item in your current collection?
Oooh, that's a hard one. I've very proud of my laser cut ketubahs and Hebrew naming certificates, because it took about a year of training before I really figured out how to do it. I do the laser cutting myself, as opposed to sending the files to laser cutting companies, so there was a lot to learn. The Encircled Paper Cut might be my personal favorite since it's 5 layers thick and has an almost sculptural feel to it.
How do you know when a piece is finished?
Do I ever really know? Typically I'll get to a point where I'll do one more thing and it will suddenly be too much. Luckily since I work digitally, it's pretty easy to back track a step and call it done!
Do you do bespoke work?
Absolutely! I take on a limited number of custom illustration projects each year. You can learn more about my custom process here.
What was the first artwork you ever sold?
When I was in high school, I entered an art competition where the winning piece was purchased by the State House in Washington State. So, that was technically my first sale! But I sold my first ketubah on Etsy in 2014. It was a very exciting day!
Which project have you enjoyed working on the most so far?
I had a custom project last year that was a ketubah featuring a Florida swamp. At first, I was a little stumped at how I would turn a swamp into a beautiful and timeless illustration to celebrate the couple's marriage. But it turned out great! I had such a blast working with those clients and learning about the mystery and beauty of a Florida swamp. The project always stands out in my mind.
What do you want to achieve with your work and what are your wishes for the future?
My goal is always to create a ketubah for Hebrew naming certificate that is both beautiful in a purely aesthetic sense, but also deeply personal to the couple signing it. It's not lost on my how intimate and important these documents are, both as celebrations of love, but also as historical records and family heirlooms. Creating them feels like a big responsibility! But it's the work I love.
Where can we find your work?
Website: https://inkwithintent.com/
Instagram: https://www.instagram.com/inkwithintent/
Pinterest: https://www.pinterest.com/inkwithintent/
Facebook: https://www.facebook.com/inkwithintent/
Etsy: https://www.etsy.com/shop/inkwithintent
© Ink with Intent