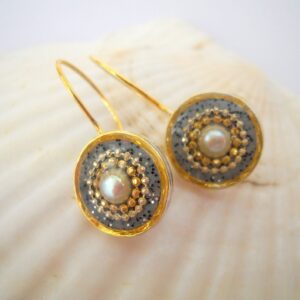 Photo: Courtesy of Hila Welner
Tell us a little bit about yourself and your background.
My name is Hila, I was born in a Kibbutz in the North of Israel, but live in Herzliya, near Tel Aviv. I have two adult daughters and graduated the Shenkar College for Engineering and Design, where I have studied jewellery making and silversmithing.
When you start to design a new collection, what is the process like? Where do you take your inspiration? How do you keep up with the current trends?
The colours of nature, ancient Mediterranean ornaments, and architecture inspire my jewellery. I combine design elements from the past, traditional silversmithing, with modern techniques and materials from the world of fashion and design. I usually take inspiration from the world around me. It can be from fashion design, interior design, or TV shows.
What do you enjoy the most about the design process?
I enjoy the peaceful time of using the materials.
What are your favourite materials to work with?
I like to work with polymer clay; it is very soft and colourful.
What are your favourite designs in your current collection?
My favourite designs are asymmetrical heart necklaces.
What are your wishes for the future?
I am very happy in the place I already am right now.
Where can we find your designs?
I sell my jewellery on ETSY.
You can also follow me on Facebook and Instagram.
Photos: Courtesy of Hila Welner