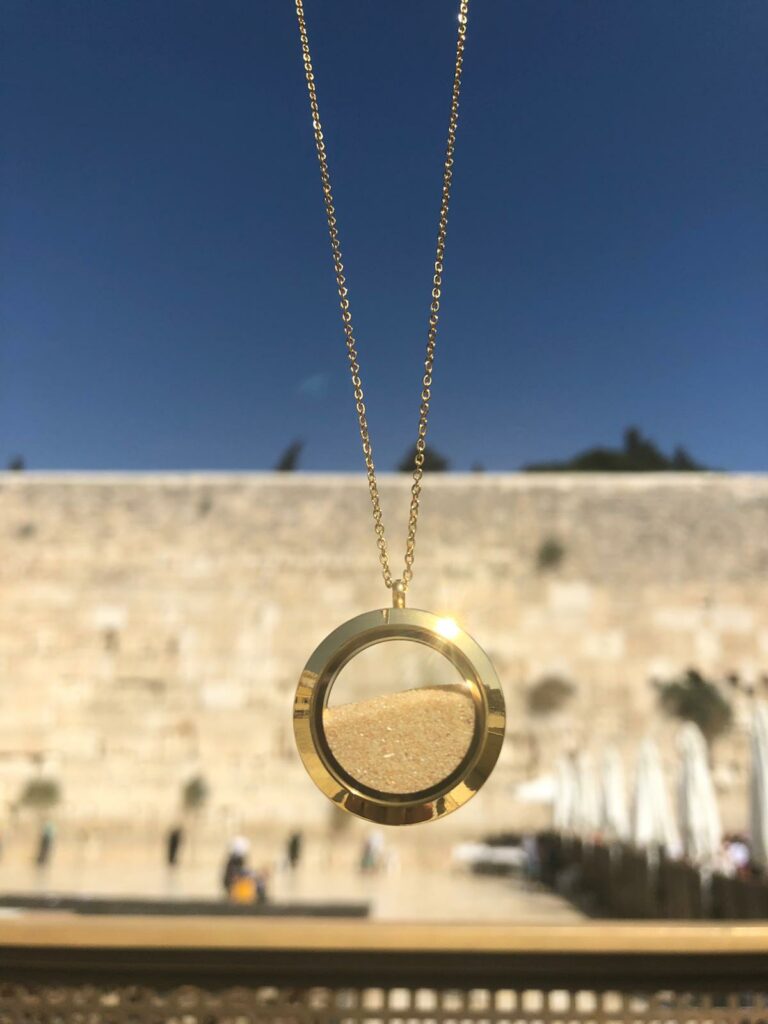 Tell us a little bit about yourself and your background.
My name is Ruth Cohen, I was born in Paris, and I had the chance to move with my family to The Promised Land, where I have been living for a couple of years now. I have training and a degree from a Parisian School of jewelry. I worked for several major French brands in the development and creation of jewelry.
What inspired you to become a jewelry artist?
I think that, above all, of all the gifts you can get, lot of people fancy jewelry. It also represents meaningful things for a lot of us (whether it is an heirloom, a wedding ring, a piece coming from a special person or place…), and this precise idea of something spiritual and emotional hidden behind a physical piece that I love. In addition, I come from a really artistic family in which I spent my childhood watching my mother paint and my father making jewelry, sometimes giving it to my mother for special occasions. So, that taste for creativity came naturally to me, almost like an providence.
How and where do you work?
We work from our workshop in the center of Israel and are committed on hand making and customizing every ordered piece of jewelry.
What is the most indispensable item in your workshop?
Our most indispensable item, and what makes us famous, is of course the holy sand that we put into our pendants. This concept is definitely our added value. The other secret is a hand full of love.
Where do you take your inspiration from? Are you pursuing any themes?
Our inspiration comes from the current French and Israeli fashion that is why we launch new pieces every six months, but at the same time, we are willing to make timeless products.
What projects are you currently working on?
Our number one project is to provide a piece of Israel to every Jewish people around the world. That job is our aim. A piece that looks like the country we live in: simple and meaningful. There is no financial aspect in that goal since our products are handmade and prices are low compared to the time we work on each piece.
What are your favourite items in your current collection?
All of our articles represent the same inspiration for this first collection. So, I would say that all our necklaces are my favorites.
How do you know when a piece is finished?
We know that a piece is finished when the holy sand that we put inside is enclosed, this is the last part of the process.
Do you do bespoke work?
Indeed, we work on the order so each piece is handmade. The customer can choose their chain size and colors.
What was the first jewelry piece you ever sold?
The first one sold was the « Sarah Necklace », as you can see on our website, this is a beautiful classic golden piece that has quite the success toward our clients.
Which project have you enjoyed working on the most so far?
The entire Eretz Jewelry project was a process I loved to dedicate 100% of my time to. I am passionate about Eretz Jewelry for the simple reason that I spread in the world a piece of the Land of Israel and it is priceless. When I ship our product, I have the feeling of doing good…
We donate a part of our benefits to Magen David Adom and Rav Chriki's Yeshiva, which also allows our customers to participate in such good causes.
What do you want to achieve with your work and what are your wishes for the future?
Our wishes are to involve rabbis here in Israel, for them to bless the future owner of a piece with a bracha, I think the typical Eretz Jewelry client is attached to God and the idea of being spiritual, so I want to provide the feeling of being blessed overtime when they wear our products. Giving them a holy piece of Jerusalem close to their hearts.
Where can we find your work?
Our collection is available online on our website www.eretz-jewelry.com or on social media @eretz_jewelry
© Eretz Jewelry