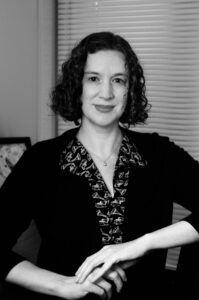 Photo: Courtesy of Kathy Meizel
Tell us a little bit about yourself and your background.
I'm a music professor who thrives on trying new modes of creativity, so I've been making hand-stamped jewelry as a side gig. It was needle felting before this, and I'd love to get back to it once the kitten I found last Rosh Hashanah is grown up enough to not immediately destroy everything I make. Her name is Shoshana Tova, or Tova for short.
What inspired you to become an artist?
I really need to have some creative work in my life, and in my teaching job I don't get to access the creative side of music as much anymore. So I look for other ways to be creative. I first started designing my jewelry stamps several years ago when I wanted a pendant with a zebra on it, and could not find one. A lot of my stamps start that way—if something I want to wear doesn't exist, I'll try to make it.
What is your specialty?
Right now my shop carries almost all hand-stamped jewelry, with designs I create. I'll draw the design, have it made into a steel stamp, and then I stamp pewter blanks that can be made into necklaces.
How and where do you work?
For my jewelry, I work at a little table in my house.
What is the most indispensable item in your studio space?
Snacks.
Where do you take your inspiration? Are you pursuing any themes?
I like to make designs that carry special meanings for me and for people I care about—a wren, because that is a family member's name; an Irish drum because another family member plays one; the zebra because it is a symbol of Ehlers Danlos Syndrome, which I have.
I do love to work with music-related themes, but I've also started to make pieces with Jewish social-justice themes, like my "tikkun olam" necklace and ring, and the "Lo alecha" ones. These are concepts that are morally central to me, and I know to a lot of other people as well. I started working on these themes because the "Lo alecha" lines (from Pirkei Avot) have meant a great deal to me, to keep me going in the work against racism, ableism, and other types of oppression when it gets difficult. This summer has been especially difficult for anyone affected by those issues, and I started stamping those lines in August so that I could have a tangible reminder.
Do you do bespoke work?
I have done it, but at the moment am only taking suggestions for what to design.
What projects are you currently working on?
I've got a sloth pendant in the pipeline, and a heart made of narwhals.
What are your favourite items in your current collection?
Well, since Michelle Obama's "vote" necklace went viral, I've gotten a rush of dozens of orders for my "Raise Your Voice—Vote" necklace, so right now that one's my favorite! I also have a narwhal carrying a banner, and one of the banners says "vote" as well. And I do favor the sea-otters-holding-hands, too.
How do you know when a piece is finished?
It needs to be as polished as I can make it. I'm a perfectionist and am horrified if I send something off with errors; that doesn't mean I don't make errors, just that I feel terrible about it!
What was the first artwork you ever sold?
When I was selling needle-felted sculptures, I think my earliest and by far most popular item was a little blue quail.
Which project have you enjoyed working on the most so far?
Oh, all of them!
What do you want to achieve with your work and what are your wishes for the future?
I just love finding that something that has meaning for me can have meaning for someone else, too. I hope to continue with my Etsy shop.
Where can we find your work?
https://www.etsy.com/shop/ZebraCrossings
https://www.instagram.com/zebracrossingscrafts/
Photos: Courtesy of Kathy Meizel