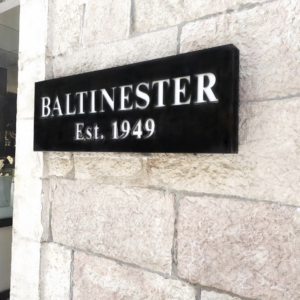 Photo: Courtesy of Baltinester Jewelry
Tell us a little bit about yourself and your background.

I'm Yoram, and together with my brother Rami and our dedicated team of workers – we are Baltinester Jewelry.

Some 26 years ago we decided to continue the world-renowned Baltinester brothers' legacy of creating fine jewelry in Jerusalem. Baltinester's opened downtown on Jaffa Street in 1949, that's 70 years ago, so the store is almost as old as the State of Israel!

We've been serving customers for generations. Some customers come in and say, "I remember my grandfather bringing me to this store when I was a child," or "I still have the Hebrew gold name necklace you made for me in the 1980s." We created name necklaces back in the day, even before they became trendy again in the new millennium
At Baltinester Jewelry we serve local clientele as well as tourists from all over the world. Customers wait for their visit to Israel to come say hi in the store, pick up a favorite pendant or gifts for the grandchildren, and browse unique gold and silver Judaica items.

For some years now, we've had an online storefront that enables customers to continue being in touch, buying their favorite items, from home – wherever home is. This has proved especially important in Covid-19 era, when travel is limited. If you can't come see us in Israel – we'll bring Israel straight to your doorstep.
What inspired you to become a jewellery designer?
I love to see an idea materialize into reality, the stages of a jewel turning from a sketch into a finished product. From the drawing table, to the workshop; to see how a flat plate of gold is melted in the hot glistening fire, and then is formed into Judaica art. That is inspiring to me.

It's also important to add – we pride ourselves in making handmade jewelry. Manual silver and goldsmithing is slowly becoming a thing of the past, but not for us! Our artists may use a computer for designing complicated 3D pieces, but the work is done by hand – not 3D printing – with labor of love and respect for this old-as-time craftsmanship. That is very hard to still find in this day and age.
When you start to design a new collection, what is the process like? Where do you take your inspiration? How do you keep up with the current trends?
Well, we live and breathe Jerusalem. The store is located on the main street downtown, literally 5 minutes away from the Old City. We're on Jaffa street, which leads to the ancient Jaffa Gate. There's nothing more inspiring than combining the old and the new, the historical Jerusalem with the modern city. And indeed, Jerusalem is a recurring motif in most of our jewelry, alongside other known Judaica symbols. In our collections you'll always find a new take on traditional symbols: Star of David, Hamsa, Chai, Shema Yisrael, Menorah, Lion of Judah, Pomegranate, and others – you name it!

Then, of course, there is also our Hebrew Wedding Rings collection. We always try to create new designs to meet popular demand for Hebrew biblical quotes on love and companionship. The result is 250 ring designs in gold, silver, diamonds, and gems, hopefully something different for every person looking to personalize their own ring.

Moreover, it's important to me that we create jewelry at a range of prices. I want anyone who wants to buy – to find something suitable for their budget. This is Jerusalem! All who connect to the city should be able to afford a token of love for it, wherever they are in the world. For this reason, our international website caters for anyone abroad looking to keep Jerusalem, Israel, or the Jewish people close to heart.
What do you enjoy the most about the design process?

In all honesty I have to say that I get Naches when a customer loves their piece, this is what gives me joy. That is why customer satisfaction and service is so important to us at Baltinester, because we don't just sell jewerly – we're jewelry artists. And an artist always likes to know that their creation is loved, appreciated, cherished.

A woman crafting a special ring for her husband on the occasion of their 30th wedding anniversary, a grandmother designing heirloom jewelry for her newborn grandchild, or couples inscribing loving words to each other on their wedding rings – every jewel ordered has a real person behind it, a story, feelings and emotion. We make jewelry for real people, and meeting these people, hearing their story, is an integral part of the design as far as I'm concerned. We therefore have intent when we design, and we strive for perfection when we create.
What are your favourite materials to work with?

We work with silver, gold of all colors, diamonds and gems. I think that after all these years, I still have a soft-spot in my heart for yellow gold. It's classic, elegant, and can be both traditional and modern. I also love silver filigree work, another dying art form which we try to keep alive. The intricacy of it, it's mind boggling – I love it!
What are your wishes for the future?

Right now, I only have one wish – I wish that the world finds a way to overcome Corona virus. This virus has caused so much havoc, so many deaths worldwide, so many people have been affected, numbers that are hard for us to fathom. And our beloved Jerusalem – the streets are deserted, it's heart wrenching to see, it feels like biblical prophecies of destruction. I hope and pray that soon we will see the streets full once more, we miss our long-time friends dropping in from near and far coming into the store to say hello.
Where can we find your designs?
Photos: Courtesy of Baltinester Jewelry