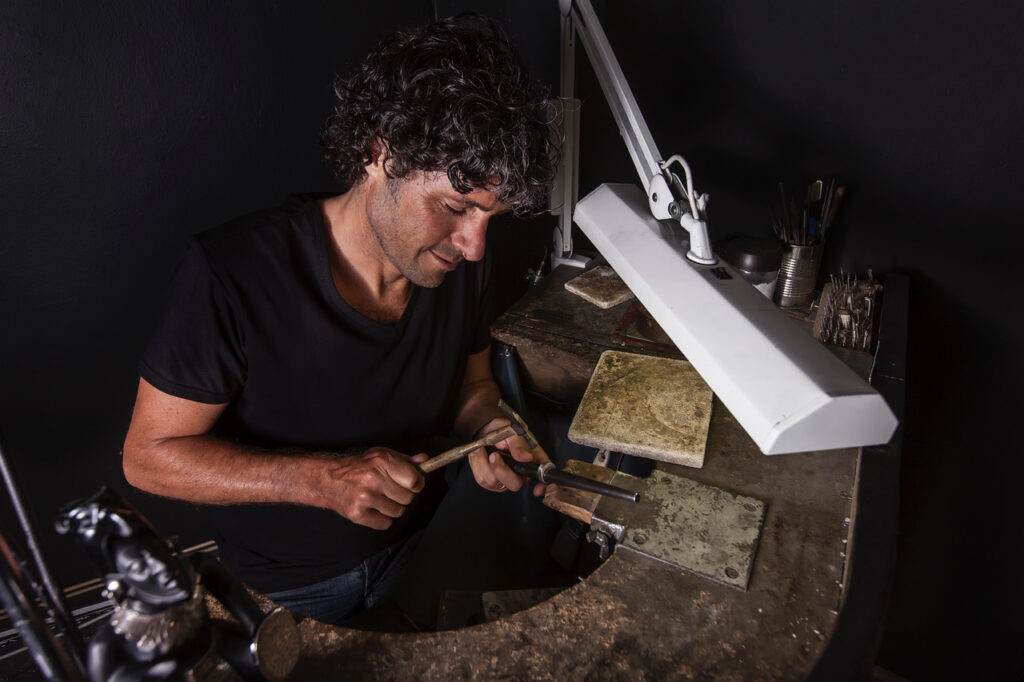 Photo: Courtesy of Alon Shina
Tell us a little bit about yourself, your background, and what inspired you to become a jewellery designer.
My passion for gems was born in 1993, when I was 22 years old, on an island in Thailand called Koh Phangan. I came upon a group of travellers, who had displayed their gems on sarongs in the sand. They were making necklaces from Coral, Lapis Lazuli, Amber, Turquoise and Pearl beads. I befriended them and my interest was immediately ignited. I spent 5 months on the island where I made a new friend, also called Alon, who shared the same passion as myself. I knew that gemstones and jewellery was to be my true passion when my new best friend and I put our last dollars together and flew to Jaipur, India – the city of gems.
We found ourselves in a hotel, situated next to a gemstone market – this is where the start to my collection of stones began. I learnt how to differentiate the quality and colour of gemstones.
We explored the Pink City to discover a generous family who had been dealing in stones for many, many years. They opened their home teaching and trading with us, and we began to travel back and forth from Jaipur to Thailand to sell our stones. At this time, the healing power of stones was very popular.
In Jaipur, I was fortunate to meet another Israeli, Nachum, who created beautiful jewellery from thread and leather. He gave me some Milky Amber and Tibetan Turquoise and taught me how to make my first piece of jewellery. I remember spending the entire day drilling and playing with the gems, until I completed my first piece!
I have returned almost every year to Jaipur since 1993. Collecting the best quality gems and creating pieces, together with master craftsmen remains my passion to this day.
When you start to design a new collection, what is the process like? Where do you take your inspiration? How do you keep up with the current trends?
I first look at the stones – the colours, choose the colour metal and then decide on the design. Through my journeys and travels, I learnt along the way from different crafters & artists around the world. The inspiration is from my travels, the moments and the time of my journey.
What do you enjoy the most about the design process?
To put it all together – searching for the stone, to find the right setting, metal, etc.
What are your favourite materials to work with?
22 Karat Gold – as it is pure and the results with the stone have the best outcome. All our gold is ethically sourced.
What are your favourite designs in your current collection?
My Judaica Collection.
What are your wishes for the future?
I want to achieve a balance between supporting my family, surfing, collecting stones, designing and supporting chartities that make a difference to people and the planet.
Where can we find your designs?
I moved back home from Cape Town to Israel 4 years ago. I have owned stores in the Watershed, The Waterfront, Cape Town for more than 20 years. Due to the COVID it is closed. However, I have an online store which gives me more freedom to pursue my interests of kitesurfing and surfing. You can find it here:
WEBSITE: http://www.alonshina.com/
FACEBOOK: https://www.facebook.com/alonshina/
INSTAGRAM: https://www.instagram.com/alon_shina/
Photos: Courtesy of Alon Shina