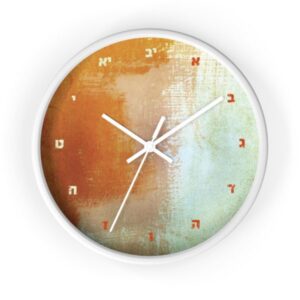 Photo: Courtesy of Cool Jewish Stuff
Tell us a little bit about yourself and your background.
Cool Jewish Stuff creates cool unique designs, all of them related to Judaism, printed on apparel and home décor such as: T-shirts, clocks, prints, mugs, phone cases and other cool stuff.
What inspired you to start your Gift Shop?
I want to make people feel being Jewish is cool. Something they should be proud of. Not to bend the heads down to anti-Semitism or hide and be ashamed of being Jewish.
Where do you take your inspiration? Are you pursuing any themes?
Inspiration is found in many, sometimes unexpected, places. I find it in music, in my window view, in art, and by tracing the contemporary trends.
How do you decide what makes it on to the shelf?
If it's cool, and related to Judaism, it will be on the shelf.
What projects are you currently working on?
I am currently expanding the selection in my shop in all categories.
Which project have you enjoyed working on the most so far?
The coloured mugs were very fun to work on.
What are your wishes for the future?
I wish that anyone who is looking for something cool, fun or funny that is also Jewish, will be able to find it in our shop.
Where can we find your work?
https://www.facebook.com/cooljewishstuff
https://www.instagram.com/cooljewishstuff
https://www.pinterest.com/cooljewishstuff
Photos: Courtesy of Cool Jewish Stuff