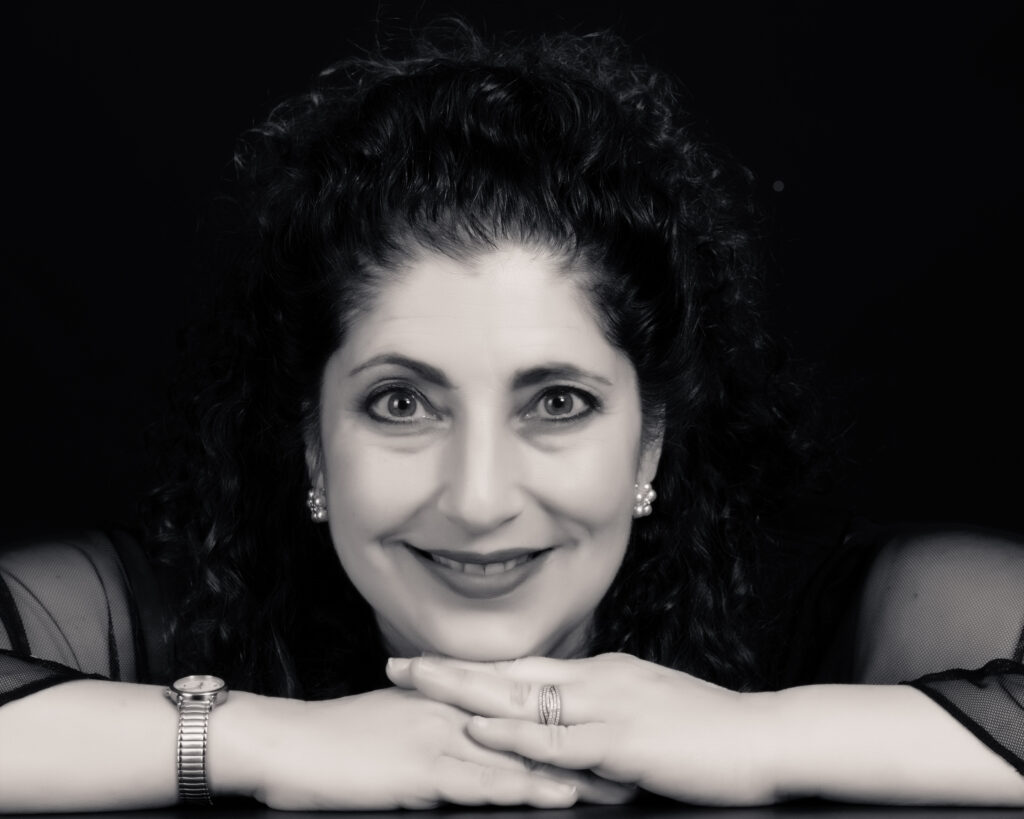 Tell us a little bit about yourself and your background?
Well, I grew up in New York State, and as an adult, I moved with my husband and children to a myriad of places across the country until finally landing in the San Francisco Bay area of California, where we have been living for the last 8 years. I have a master's degree in education and have been fortunate to have had a few different careers over the years – starting in personnel recruitment, and moving on to be an elementary school teacher, adjunct university instructor, and then an event planner/décor specialist. I have also been very active in our Jewish community and as a lay leader I have volunteered my time to be on our temple board, co-chair several of our galas, and have recently moved into the role of parliamentarian for our large sisterhood after serving as co-president for 2 years. With all the changes that I have experienced, the constants in my life have always been my wonderful family, and my passion for art, both of which have helped keep me grounded. I have been married to my husband/best friend for almost 30 years and have two wonderful daughters in their twenties and 2 small sweet rescue dogs. After recently becoming an empty nester, I now have the time to really pursue my passion for art and have really ramped up my work as a potter/ceramicist.
What inspired you to become an artist?
Ever since I was a little girl, I have always been creative. I love to write, draw, oil paint, preserve fruits, scrapbook, sew, decorate, renovate homes, etc… For me, I have always found serenity in the act of creating. Therefore, art has always been an essential part of my life, – much like the air I breathe.
What was the first piece of artwork you ever sold?
Back in college, I used to hand paint sweatshirts to earn some extra spending money.
What is your specialty?
I have always been especially drawn to ceramics because I love the connection to the earth that I feel when I work with the clay. To enhance my ceramics, I like to combine a wide variety of clay techniques like sculpture, texturizing, piercing, carving, sprigging and sgraffito. I also love to play with different types of surface decorations using underglazes, oxides, slip, glazes, and overglazes.
Whether I am throwing pottery on a wheel or hand-building, I always try to create unique but functional ceramics. As I have gotten older Judaism has gradually played an increasingly more important role in my life and I really enjoy expressing my love of Judaism through my art. So, in addition to my line of decorative teapots, berry bowls and serving ware, I have an ever-increasing selection of Judaica. Two of my very favorite Judaica items to create are unusual Havdalah spice boxes and very unique menorahs.
What is the most indispensable item in your studio?
I would have to say that my own creativity is the most indispensable tool that I have. I love to constantly push myself by creating new designs that are unique and challenge me as an artist.
Where do you take your inspiration? Are you pursuing any themes?
I get my inspiration from the world around me. I have always loved nature and grew up feeling very connected to the earth. I love gardening and am fascinated by the beauty of flowers, leaves and plants in general. So, nature is a common thread in most of my artwork. I frequently sculpt or carve flowers, leaves, and other organic shapes on my menorahs, teapots, berry bowls, and Havdalah spice boxes. There are often times when I become particularly interested by an object in nature, and that truly inspires me and becomes reflected in my ceramic pieces. For example, a close friend of mine had a wild peacock that frequently visited her home. I became fascinated by the lines and colors in the peacock's feathers and that showed up in my work: my peacock feather menorahs were born! With Autumn's recent arrival, I am reminded of all the beautifully colored leaves that blanketed my yard at my childhood home in NY during this time of year. Those thoughts and memories inspired me to create a variety of fall colored leaf bowls, and shabbat leaf candle holders.
What projects are you currently working on?
With Chanukah quickly approaching, I have been putting a lot of effort into creating a variety of different types of menorahs. Since I like to make each of my ceramics a one-of-a-kind piece of art, my menorahs are all numbered and part of different series that share a theme. I chose to create the menorahs in themed series so that families can choose to have different, but related menorahs in their homes, and in the homes of their extended family. My goal is to create unique, one of a kind menorahs that will be passed on as keepsakes through generations. I also have been spending a lot of time making unusually carved berry bowls and am starting to think about creating Seder plates.
Do you do bespoke work?
I have toyed with the idea, but I think it would be very hard to create something that matches a picture that someone has in their head. Whatever I would create for them would be my interpretation of what they told me they want, and I would worry about not meeting their expectations.
What is your favorite item in your current collection?
It is hard to choose a favorite because I put a lot of love, thought, time and effort into each and every piece. Each one is different and a reflection of my passion for creating original pieces,-
so they are all very special to me! But if I had to choose, perhaps my cobblestone menorah would be my favorite piece because it was particularly laborious to create since each stone was hand sculpted and the piece required many layers of underglaze and oxide to achieve the look I wanted to create.
What do you want to achieve with your work and what are your wished for the future?
I really want to create items that people have not seen before, that are stretching the boundaries of creativity and testing the limits of the media. I find it gratifying that people appreciate my creations and I hope in the future to continue to be able to share my love of art and Judaism with everyone.
Where can we find you work?
© Faith Zenker