Tell us a little bit about yourself and your background.
We are Elena & Genu, the creators of OnceUponaPaper™, a husband and wife team with a mutual passion for art, painting, printmaking and illustration. We both studied Architecture in Bucharest and continued with art education at FIT in New York City. After a decade of practicing architecture in various NYC firms, including the highly renowned SOM, we started being busy more and more with the Jewish art and the wedding industry, which grew organically with each request from friends and clients.
What inspired you to become an artist?
The art developed from our cultural heritage, education and continuous practice in art and design, combining Jewish archetypes with modern art and contemporary trends.
What is your specialty?
We specialize in custom designed Ketubah and Blessings, custom painted names, etc.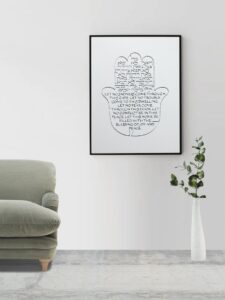 Photo: Birkat HaBayit / Home Blessing – Courtesy of Elena & Genu Berlo
Very modern and slick design, many times tailored to special requests.
How and where do you work?
We keep a daily practice combining current orders with new designs and other art projects. We work from our studio in New York, but we take our passion with us as we travel. That said, we worked while vacationing through Europe, in Italy, in Greece…
What is the most indispensable item in your studio?
Brushes, best quality watercolors and paper, pencils, sunlight, bossa-nova.
Where do you take your inspiration? Are you pursuing any themes?
Nature, and art history. We aim to cover interesting currents in the history of art, and mid mod, art deco, romantic, abstract expressionism, japanese sumi-e are just a few themes we work with.
Do you do bespoke work?
Yes
What projects are you currently working on?
Aside from working on the Jewish Weddings and Jew-ish Ketubah, Invitation and Blessing collections, we are preparing for a couple or art exhibitions in Miami and Mogosoaia in 2020-2021.
We also do children illustrated books.
What are your favourite items in your current collection?
Photo: Mid Century Modern Waterfall Ketubah – Courtesy of Elena & Genu Berlo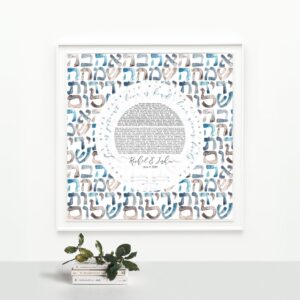 Photo: Hebrew Blessings Ketubah – Courtesy of Elena & Genu Berlo
How do you know when a piece is finished?
This is an old question in the history of art… For the custom work it has to meet all the required criteria imposed by the client, and the quality assurance by us. For the Ketubah or Jewish Blessing art itself, we start laying on paper the design as close as possible to the image in our mind. But, in the end, it is a conscious decision, otherwise it can never be finished.
What was the first artwork you ever sold?
Even today we remember with excitement the day when we first sold our watercolor trees of life. The cha-chings kept coming in multiples even the day we uploaded the first 5 designs. The response from the Etsy buyers was remarkable for us in 2009, and immediately the success was confirmed at the local art fairs we attended.
Photos: Trees of life Ketubot – Courtesy of Elena & Genu Berlo
Which project have you enjoyed working on the most so far?
The custom artwork Ketubah commissions is the most exciting project, because it involves both the mind and special requests of the couple, as well as our experience and artistic skills. The joy of making meaningful art for someone is tremendous.
What do you want to achieve with your work and what are your wishes for the future?
Apart from addressing most important trends in weddings, we love digging for the next best-seller, which we discover that in fact are designs that resonate with certain cultural niches, like this mid century design which is a best seller in 2019 and continues in 2020: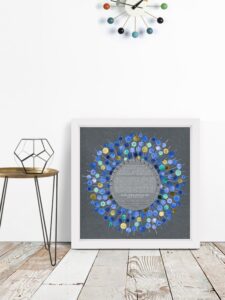 Photo: Bliss Burst Ketubah – Courtesy of Elena & Genu Berlo
Where can we find your work?
Personal: www.elenaberlo.com
Company website and blog: www.onceuponapaper.net
Shop: www.onceuponapaper.etsy.com
Instagram: elena_berlo