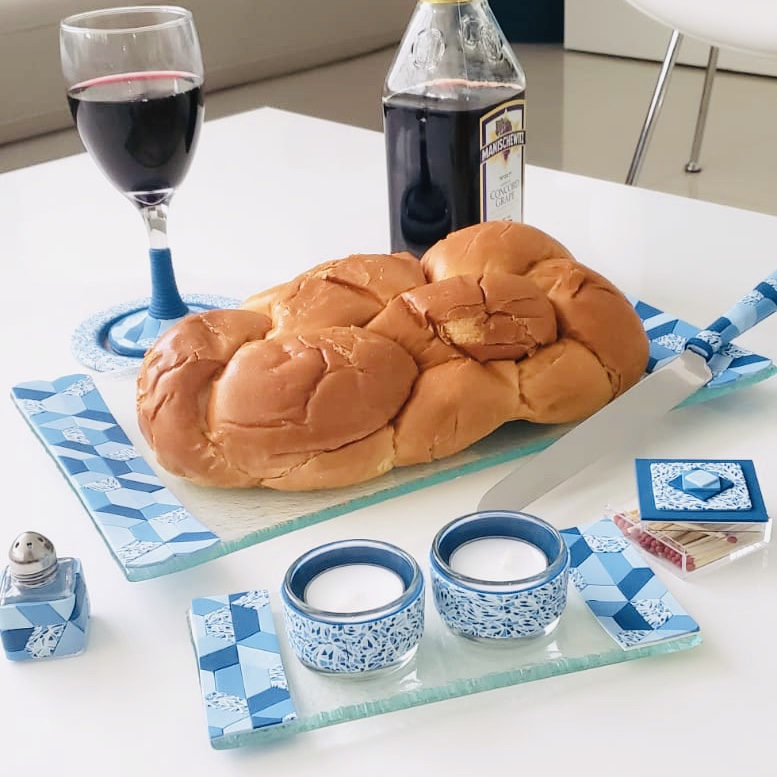 Photo: Courtesy of Najes Designs Judaica
Tell us a little bit about yourself and your background.
We are two passionate artists who came from Argentina 20 years ago. We love everything about art and creativity. Andrea is a Cold Porcelain artist and a Polymer clay artist who had her own brand of party favors in Argentina and Valeria is an Elementary art teacher, painter and Polymer clay artist, always dedicated to look for new inspirations in the Art's field. It is hard to combine business with pleasure but we achieved this! We do our work with great pleasure in our studio in Miami, Florida. Every day we try to improve ourselves.
What inspired you to become an artist?
We discovered the Polymer Clay many years ago and we fell in love with this technique. We started experimenting doing objects for our loved ones. With time, we had the dream to create a collection of Judaica product with a modern twist, this is how we started Najes Designs Judaica.
What is your specialty?
Polymer Clay Judaica
How and where do you work?
We work in our studio in Miami, Florida.
What is the most indispensable item in your studio?
Polymer Clay
Where do you take your inspiration? Are you pursuing any themes?
We are inspired in our traditions and Jewish life, adding special artistic details inspired by the art of the spectacular Antoni Gaudi and Gustav Klimt.
Do you do bespoke work?
We also offer custom and personalized orders so we always take in consideration our customers' needs.
What projects are you currently working on?
We are always looking to improve and grow our collections
What are your favorite items in your current collection?
Our Shabbat Sets are a Hit!
How do you know when a piece is finished?
We are obsessed with the details of our products; we are always going back and continue improving our products.
What was the first artwork you ever sold?
After making a set of candleholders for ourselves, and enjoying them every Shabbat, we started making them to offer them to people. This was our first product on the market!
Which project have you enjoyed working on the most so far?
We really enjoy working on new pieces for the Jewish Holidays.
What do you want to achieve with your work and what are your wishes for the future?
We would love to continue growing and improving every day, and be able to reach more and more Jewish homes with our art.
Where can we find your work?
Website: www.najesdesigns.com
Etsy: https://www.etsy.com/shop/NajesDesignsJudaica
Pinterest: https://www.pinterest.com/najesdesigns/
Instagram: https://www.instagram.com/najes_designs/
Facebook: https://www.facebook.com/najesdesigns/
Photo: Courtesy of Najes Designs Judaica