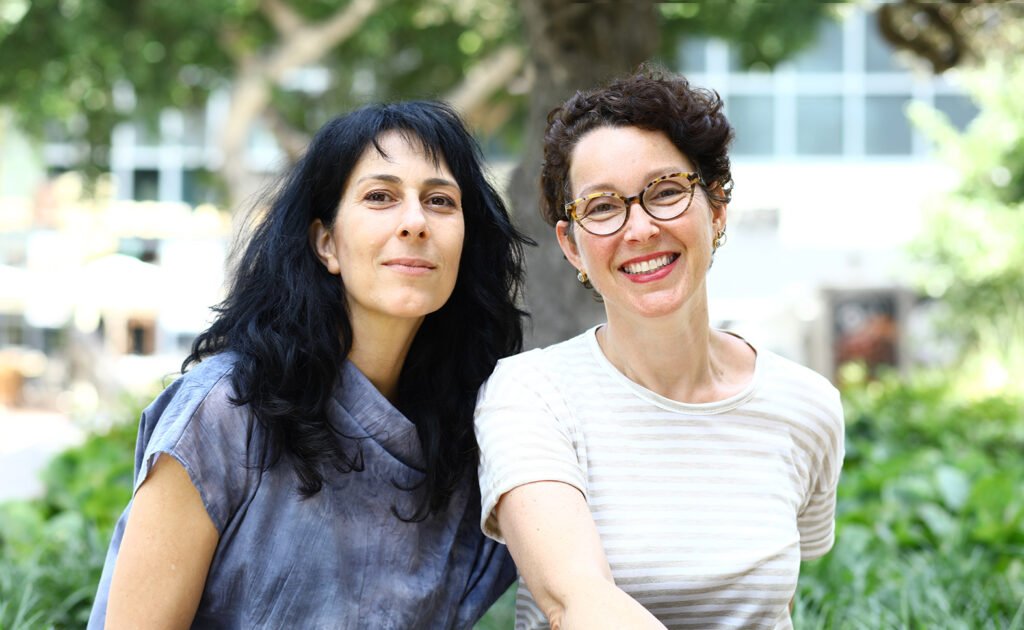 Anat Stein and Hadas Kruk are the designers behind Armadillo Judaica Lovers, a collection of ritual objects and home decor that celebrates Jewish tradition through modern design.
Based in Tel Aviv, Armadillo's work is a reflection of the vibrant cultural scene in Israel, while staying connected to worldwide design trends. All items are originally designed and developed at the studio, and handcrafted in local artisans' workshops. Values of craftsmanship, community connections and fair trade are in first priority and therefore lead our production method. We can proudly tag all items "Handmade in Israel"
The collections evolve from holiday to holiday, we always aim to celebrate tradition and add interest, joy and playfulness to the holiday table. When people ask what inspires us to create modern Judaica, our answer, quite simply, is that our work reflects us. We are curious about roots and culture, holidays, habits, food, hosting, and also various aspects of Jewish street life. Our creative inspiration is a mix of what we love in design: the simplicity of origami, geometry and mathematics; the playfulness of games and puzzles; and of course, modernism – a design era we adore.
Both Graduated BA Degree at the Industrial design department in HIT. (Holon Institute of Technology)
Hadas studied her MA degree in Tel Aviv University – cultural research department. Her thesis was about the history of product design in Israel, it was followed by exhibitions she curated. Anat studied for MA Degree at Bezalel Academy of Art and Design.
Tell us a little bit about yourself and your background.
Armadillo Design Studio by Hadas Kruk and Anat Stein. We studied Design at the Institute of Technology in Holon, and immediately after graduation (1997) we established Studio Armadillo. Since then we have obtained masters' degrees (Hadas at Tel Aviv University and Anat at Bezalel). For over 20 years we have been designing industrial products for a variety of companies and entrepreneurs, and in the course of the years our focus shifted to contemporary Judaica – we design, produce, and sell items for various traditional uses under our independent brand, Armadillo Judaica Lovers.
What inspired you to become an artist?
Contemporary Judaica has grown in the context of our common interest within Jewish culture and tradition. In the early years of the studio, we created artwork that was exhibited in various exhibitions dealing with contemporary expression in Judaism. We exhibited at the Jewish Museums in New York and San Francisco, at the "Re-Inventing Rituals" exhibition at Beit Hatfutsot, "Judaica Twist" at the Museum of Art in Ein Harod, at the exhibition "Matronita – Feminist Jewish Art", and many more.
We accumulated a great deal of experience in the field, and met a mainly American audience, who wanted to integrate contemporary design into contemporary Jewish life, so we decided to establish and independent brand of useful Judaica items. We design and produce modern Judaica items that can reach any home.
What is your specialty?
We design traditional Judaica/Jewish artwork, contemporary designs, and design methods that come from the industrial design world. Our background and education are based on 100 years of work methodologies of modern design – method developed at Bauhaus. Each product begins with ethnographic and formal research, many 2D and 3D sketches, mould design, and serial casting – which is semi-industrial, but made entirely in small workshops in Israel. Everything is handmade.
How and where do you work?
We work weekdays in our studio in Tel Aviv.
Where do you take your inspiration? Are you pursuing any themes?
We are secular urban women and our interest in designing Judaica objects is cultural, ethnographic. Anat grew up in a religious family, and Hadas grew up in the ultra-Orthodox city of Bnei Brak – in a secular family – and her father became religious over the years. Our inspiration comes from street life in Israel, especially the ultra-orthodox. Our families, family meals, social gatherings, culture of customs and interaction between people, so – in some of the products that we design you can find play, experience, and humour.
We think of family members who will sit around the Seder table and use the products that we design, play in the Seder bowl designed as a puzzle, talk about the ideas inspired by Tambourine or 'Tof Miriam' in Hebrew, Miriam – the female leader in the trio who led the Jewish people through the desert. Formal inspiration comes from the modern world and contemporary forms, as well as from Japanese material culture, which was always admired by modern designers. Most of our ceramic products are inspired by Origami. We designed wooden items inspired by the Tangram riddles, as well as Matzah and Challot covers, and Afikoman covers hand painted in indigo blue using Shibori technique.
What projects are you currently working on?
These days, we are working on a Tzedakah box – this is an example of an item that we started working on following customers' request. From our American clients, we learned that a decorated Tzedakah box is an acceptable gift for the birth of a baby, as well as a Bar Mitzvah and Bat Mitzvah gift. In Israel, it is less acceptable to give gifts, in the most significant times of life, people tend to give money as gifts. When a fund is granted and dedicated as a gift, it is clear that it should be a designed object that provides an aesthetic experience.
What is your favourite item in your current collection?
We enjoy our work, the fact that the daily business and the business from which we make a living is in a field that fascinates us. There is not one item we prefer to another.
How do you know when a piece is finished?
Our work processes are serial – when we are done with an item, in terms of form and function, we create a template and output for the workshops, and the product begins its life on the market. Depending on audience response, we sometimes create sizes, colours, and new variations.
Do you do bespoke work?
We can produce series on demand, for example, the Tzedakah box we are working on today was created upon request, and in particular, upon a Jewish Organisation's request, that has already requested several dozen Tzedakah boxes for their branches. In this case, the Tzedakah boxes will be made of ceramics with a metal plate on it with the name and logo of the organisation can be etched on in advance.
What was the first artwork you ever sold?
The first item we created in contemporary Judaica was also the first one we sold to the Contemporary Art Collection of the New York Jewish Museum. This was undoubtedly an excellent start, which greatly encouraged our development in the field. It was a one-of-a-kind textile work, a three dimensional Shabbat map that included all the elements of the Shabbat table as part of the cloth spread on the Shabbat table itself. A sort of ghostly cover that creates an image of the Shulchan Shabbat Aruch, but this is only the shell. The work was created in 2002 for the "Borders of Sanctity" competition initiated by the Adi Foundation – the foundation was established to encourage Jewish creativity in contemporary art. One of the judges was Mrs. Joan Rosenbaum, who was the Director of the Jewish Museum in New York. Although we did not win the competition, she fell in love with the work and recommended buying it for the museum's collection. In this sense, in our case, the Adi Foundation has indeed fulfilled its goal of encouraging Jewish creativity, and we have since become active Judaica designers and artists.
What do you want to achieve with your work and what are your wishes for the future?
The Jewish audience living abroad, especially the American community (which is the largest and most interested community in products like ours) is very different from the Israeli public. The American Jewish community that is interested in Judaica is very diverse and different – orthodox, reform, conservative; converted, interfaith families… (for those who regret the atmosphere in Israel today – Jews are not always considered Jewish enough by the ruling rabbinical establishment). When all have a common motivation to invest in traditional ceremonies, to study and to use beautiful objects without compromising their current taste, something we learn every day from so many of the people.
In Israel, the division is more dichotomous between the secular, who are not interested in Judaica, and the religious, who prefer traditional design, or do not care about design at all. The physical and cultural distance is challenging, but there is no doubt that the internet and social networks, and blogs, are very helpful in exposure to new audiences. In this sense, we feel that we have just begun to touch the broad and diverse audience that may be interested in our work. We are intensively working to recognise and create, and your site is wonderful, very important, required and very helpful when it comes to reaching new audiences.
Where can we find your work?
Our website and the Judaica Store: www.StudioArmadillo.com
ETSY:Studio Armadillo
Facebook:Judaica For Design Lovers
Instagram:Judaica By Armadillo
Photo Credits: Wavy Menorah: Tal Sivan-Ziporin
Miriam Seder Plate: Hagar Doppelt