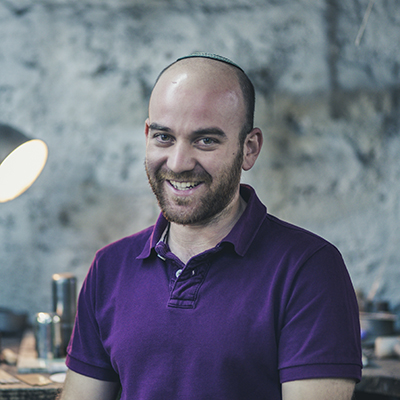 Photo: Courtesy of Bier Judaica
Tell us a little bit about yourself and your background.
My name is Yoseph and I am a 3rd generation Judaica artist at Bier Judaica. I am 28 old and I live in Jerusalem together with my wife Naomi and our son.
Having spent my entire life in and around the workshop, I joined the family business in 2015 as a silversmith. Together with my father and uncle, I am following in the footsteps of the founder, my grandfather, Yitzhak Bier.
While studying business, I initially worked in the manufacturing and design team, which I enjoyed very much. Later I began focusing on branding and marketing our unique artwork. The direct contact with customers and followers, and hearing their stories along with sharing my own family story and values as told through our designs is very meaningful to me.
For me, Bier Judaica means authenticity within our art with a uniquely Jewish story, handmade in Jerusalem, our home.
The history behind Bier Judaica starts with the founder Yitzhak Bier. In 1935, at the age of eight, Yitzhak Bier reached Jerusalem after emigrating from Germany. With talent and ambition, at the age of just 15 he started his studies in art at the prestigious 'Bezalel Academy of Design' and completed the four-year course in three! Whilst at Bezalel, his Chanukah Menorah design won him the 1st prize in a design competition which enabled him to purchase some of his first tools and machines, starting a small workshop in his basement.
Four years later, with two new employees and a newfound customer base he moved to the industrial centre in Romema. For Yitzchak Bier, being an employer did not mean just finding the best silversmiths and designers, it meant taking responsibility. In the 1960's, Yitzhak began to work with the local authorities to hire people with various disabilities which mean they were unable to find work elsewhere. He trained and cared for them, instilling hope and confidence in themselves and their work. Many of them went on to establish their own workshops or further their career elsewhere.
In his illustrious career, Yitzhak has made some significant contributions to Israel and the well-known personalities within it. During the early years of the State, Yitzkak designed and produced gifts for the likes of David Ben-Gurion, Levi Eshkol, former Mayor of Jerusalem Teddy Kollek, the first Israeli Presidents and many more! Pursuing his passion of spreading meaningful creativity and design, Yitzhak designed the lighting lamps in the Great Synagogue in Haifa, signs in 'The Rehovot Weizmann Institute,' the preparation of the building doors for the Jerusalem Municipality after the Six-Day War, the beautiful array of lamps which were held on the 14 pillars leading up to the Tomb of the Rambam in Tiberias, and much more.
With his vast achievements in design, life and contribution to society, Yitzhak Bier was recognized by Jerusalem and its residents and received the prestigious 'Jerusalem Medal for Industry' in 2019. For Yitzhak, Judaica is not just a business it's his strong Jewish values, his love of design, his awe of Jerusalem whether architecture, culture, the different religious sects and their unique contribution to the atmosphere – all of these feature in his works of art.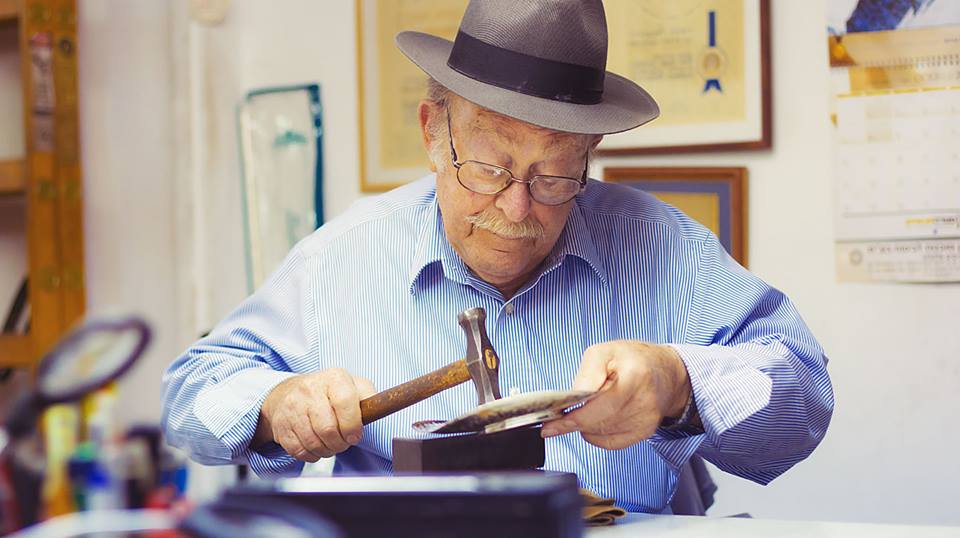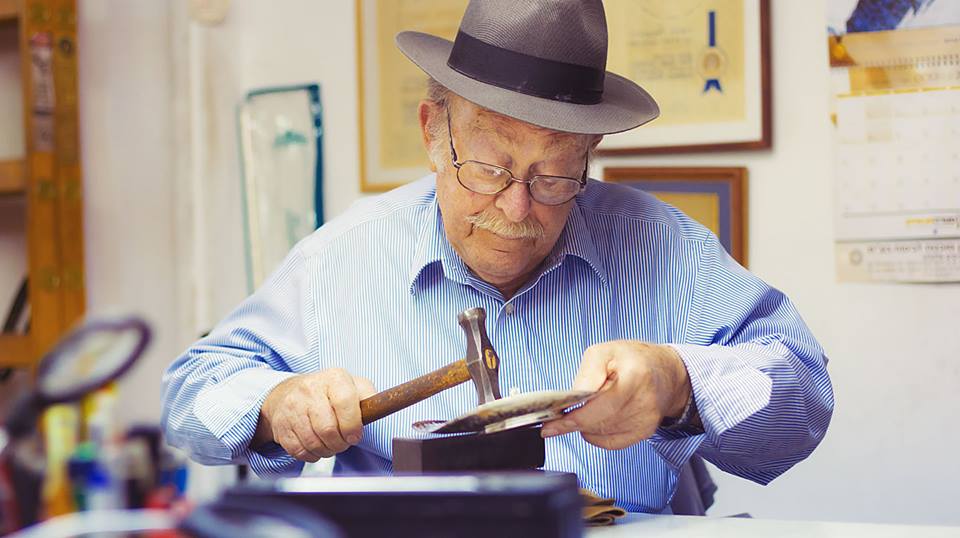 Photo: Courtesy of Bier Judaica
What inspired you to become an artist?
Following into the footsteps of my grandfather and it's where I find my peace in my soul.
What is your specialty?
Our specialty is designing and producing sterling silver Judaica, which is beautiful and practical at the same time. Our items are hand-made of sterling silver with the additional use of glass, aluminium, and wood, With these, we design classic and modern pieces using traditional silversmithing techniques, made in Jerusalem, Israel.
Product lines include Judaica pieces such as Kiddush cups, Candlesticks, Shabbat centrepieces, Jewish holidays gifts and many more Judaica items as well as beautiful decorative silver designs, such as vases and wine bottle canisters.
How and where do you work?
We work in the same workshop in Romema, Jerusalem, since 1950, using traditional methods along with modern techniques that allow us to be more efficient and exact.
What is the most indispensable item in your workshop?
The most indispensable items I'd say are Kiddush cups/ 'Becha' and Shabbat candlesticks. Mostly as wedding gifts the parents or grandparents buy for the newlyweds.
Where do you take your inspiration? Are you pursuing any themes?
Jerusalem provides great inspiration to the Bier Judaica artwork, both the architecture and colourful life and its multiplicity of cultures. Jewish life, holidays and ceremonies alongside modern art are also a source of inspiration for us. We have a 'Yerushalaim Shel Zahav' – Jerusalem Of Gold – collection with a panorama of Jerusalem, sketched by Yitzchak Bier. Another theme is the hand cut-out floral motif collection with colourful anodized aluminium back drops, people adore the items of this collection!
Do you do bespoke work?
We happily take custom orders, according to the needs and desires of our customers. It can be done in the way that is most preferred by the client, here in our workshop in Jerusalem, via mails and phone or meetings in different global locations.
What projects are you currently working on?
We are currently working on a big Seder Pessach Ca'ara – 3 stories for the Matzos and silver decors around and above – where there will be 6 smaller silver dishes for the 'Seder Simanim'.
Another project we are now working on is a new Online Website where you will be able to see our designs and purchase your favourite Sterling pieces.
What are your favourite items in your current collection?
My favourite is the Sterling Disc Collection, sleek finish with the motif of a disc or two between different elements of the item.
How do you know when a piece is finished?
We know a piece is finished when the last polishing and shining process is done and the piece is Fine in the highest meaning, then we can stamp our hallmark and pack the item.
Which project have you enjoyed working on the most so far?
A Sephardic Sefer-Torah box made out of cherry wood with silver decor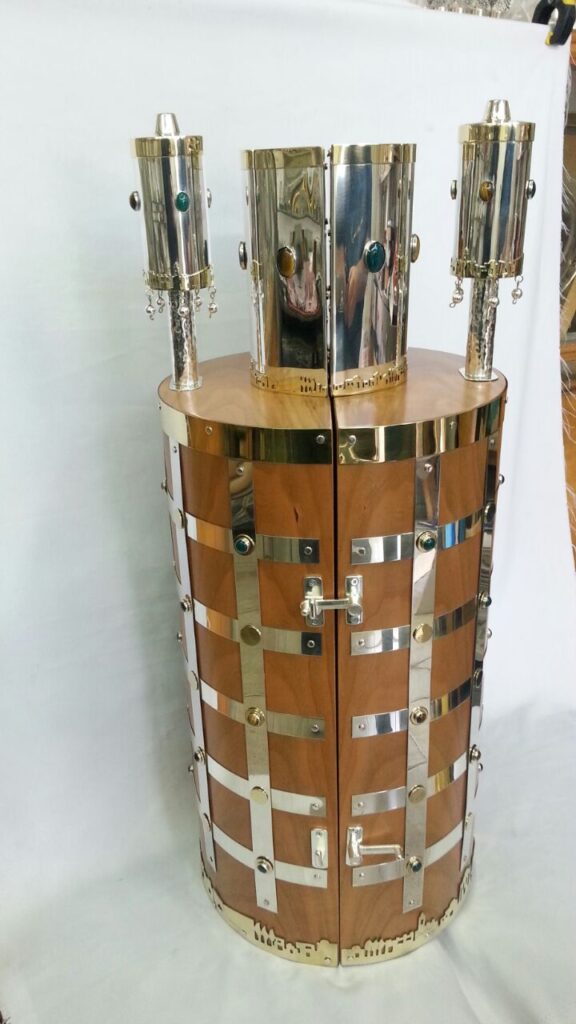 Photo: Courtesy of Bier Judaica
What do you want to achieve with your work and what are your wishes for the future?
We want to be a part of peoples Shabbat and Holiday table and help them adorn their homes. Our way of doing so is by collecting more and more satisfied customers to the ones we already gained over the past 70 years.
Where can we find your work?
Our work can be found at our workshop in Jerusalem. 1 Tuval St. Romema industrial centre, Jerusalem, Israel. +752-2-538-0313
We are on Facebook, Instagram, Etsy, Twitter @bierjudaica
Photos: Courtesy of Bier Judaica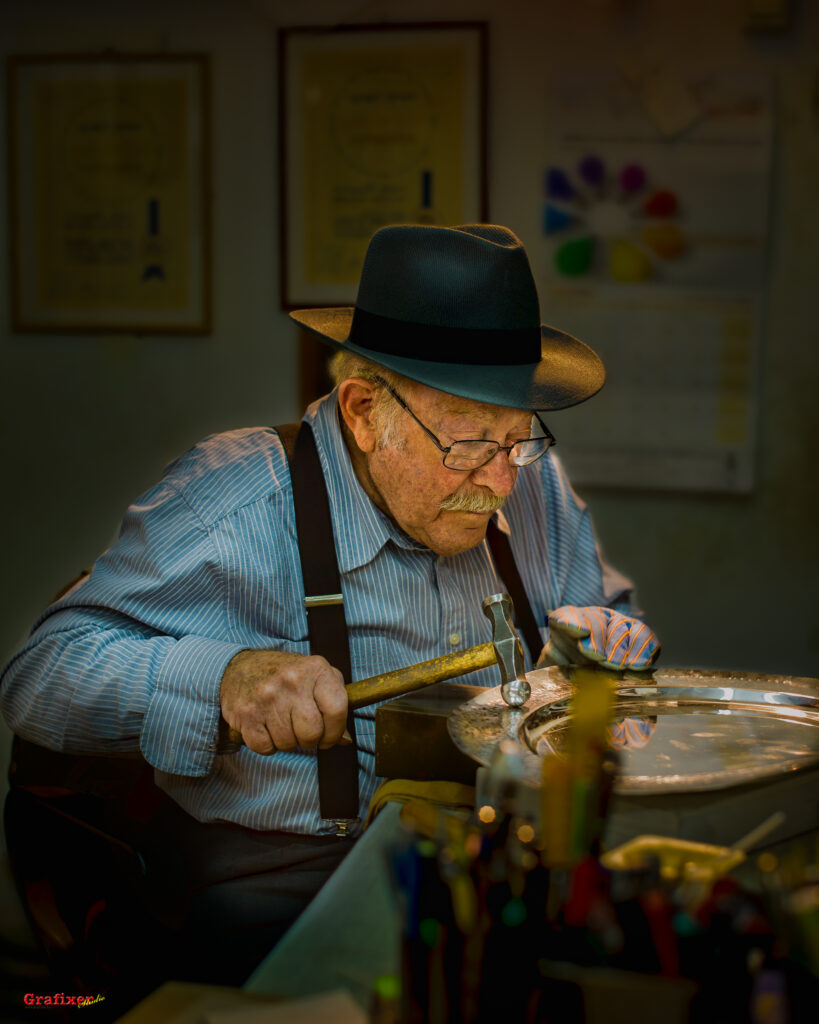 Photo: Courtesy of Bier Judaica /
Photographer: Efraim Tabak – Grafixer Studio