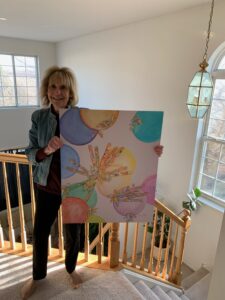 Photo: Courtesy of Sylvia Raff Gerber
Tell us a little bit about yourself and your background.
My name is Sylvia Raff Gerber. I was born in Istanbul, Turkey and attended private French schools throughout my childhood. My family is Sephardic and proud of our heritage. My grandparents fled Jewish persecution in Spain to Turkey. I immigrated to the United States at the age of 19 and attended Herrington College of Design in Chicago.
What inspired you to become an artist?
Ever since I was a young girl, I was surrounded by art. My mother and my sister are both artists as well. Growing up, we would always appreciate the beauty in creating art. A lot of my inspiration stems from my childhood in Turkey and Sephardic ancestry. After I moved to the States, I traveled the world with my husband, where I gained more inspiration from different cultures.
What is your specialty?
My specialties are acrylic and oil paintings, pen and ink drawings, and pastels. My favorite style is impressionistic.
How and where do you work?
My art studio is in my personal home. I like to listen to classical music while I work, and sometimes enjoy a glass of red wine as well!
What is the most indispensable item in your studio space?
I have a special easel I have had for many years since I first moved to the States. It reminds me of how far I have come since I came here at 19 years old.
Where do you take your inspiration? Are you pursuing any themes?
I take my inspiration from my travels around the world, my Sephardic family history, and the beauty I find in nature every day.
Do you do bespoke work?
Yes. I do a lot of custom work. I have painted landscapes, pets, cultural pieces, as well as portraits upon request.
What projects are you currently working on?
I am working on a minimalistic abstract piece for my granddaughter.
What is your favourite item in your current collection?
My current favorite item is a piece I recently completed for my son. It is an acrylic landscape painting of his favorite hiking spot in Wyoming. In addition, I just completed an acrylic landscape for my granddaughter of a ski resort and mountains.
How do you know when a piece is finished?
I take a picture of it on my phone, to see it from another angle.
What was the first artwork you ever sold?
The first piece I ever sold was when I was 22 in Paris. It was an acrylic painting of Arc de Triomphe.
Which project have you enjoyed working on the most so far?
I really enjoyed the Wyoming landscape piece I made for my son. There was a lot of attention to detail needed and the colors were beautiful to blend and recreate.
What do you want to achieve with your work and what are your wishes for the future?
The only goal for my art is for it to bring happiness to others and myself.
Where can we find your work?
The main place I sell and share my artwork is through my Instagram: artworkbysylvia
I also have a website where I display a few pieces: https://artworkbysylvia.bigcartel.com/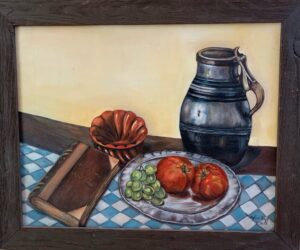 Photos: Courtesy of Sylvia Raff Gerber