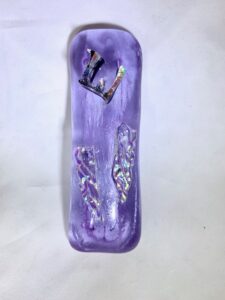 Photo: Courtesy of SAS Art Glass
Tell us a little bit about yourself and your background.
I live in Santa Monica, but have had the opportunity to live in multiple other countries as well. I lived in Spain when I was younger, and as an adult, travel became the thing that made my heart beat. I have also lived in France, and Argentina. and love to imbue myself in the culture of wherever I am.
What inspired you to become an artist?
Technically, I am a former entertainment attorney by trade. I have a number of artists in my family, but I was always a business person. Then, after an incredibly successful career as a scientist, in his retirement, my uncle became an artist, and it gave me the courage to explore my own artistry. Because I am pretty right brain / left brain balanced, I really want my art to also be functional. That is why I call my art Handmade Functional Art.
What is your specialty?
The very first piece I ever made was a menorah for my family. It actually came out really well. What I do is different from what you normally see in glass menorahs. So people began to commission me to make them. Each one is a unique art piece, as well as a functional menorah. My favorite customer was a young man, who said he was buying one for himself, as both his first piece of art, and the first menorah of his own. I also make mezuzot cases.
How and where do you work?
I have a studio in my garage. It has great natural light, and I have a huge workbench. There are lots of little pieces that go into one finished piece.
What is the most indispensable item in your studio?
Definitely my kiln. The kiln like an oven that melts the glass and fuses it together.
Where do you take your inspiration? Are you pursuing any themes?
The different colors of glass are my biggest inspiration. It is easy to make something out of parts that are already beautiful.
Do you do bespoke work?
I do – I also make mezuzah cases using wedding glass shards. It makes me happy to know how excited people are when they see the end result, and that it is something they can treasure.
What projects are you currently working on?
I am working on some new menorahs, for the upcoming holidays.
What is your favourite item in your current collection?
I made a tiered serving tray, that is almost like a waterfall shape. Not easy to do in glass!
How do you know when a piece is finished?
When it leaves my hands and goes into the hands of someone else.
What was the first artwork you ever sold?
One of my menorahs.
Which project have you enjoyed working on the most so far?
Honestly, the very first menorah I made, for myself. There was such accomplishment in completing it, and it inspired me to hone my craft to make what I do today
What do you want to achieve with your work and what are your wishes for the future?
I would love to know people are buying my menorahs to give as gifts to young people, so they can have their own first piece of art, and their own menorahs as well. I also want everyone to be able to own a piece of art, which is why I always make some pieces that are inexpensive to purchase.
Where can we find your work?
Email is [email protected]
Instagram is @SAS_ART_GLASS
Website sasartglass.com
Photos: Courtesy of SAS Art Glass