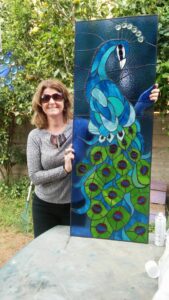 Photo: Courtesy of Silvina Bernstein
Tell us a little bit about yourself and your background.
My name is Silvina Bernstein and I am a glass artist. In 1998, I took part in a vitrage workshop in Buenos Aires. The same year, I had the opportunity to visit New York and the works of Louis C. Tiffany. This is where I fell in love with vitrage. In the year 2000, when I was recently married and three months pregnant, I left Argentina to start a new life in Israel. In 1994, I survived a terror attack that took place in the AMIA building of the Jewish community of Buenos Aires, a place I worked in for more than 11 years. This incident, these hard facts, reinforced me in the idea of living in Israel.
I have started working as a glass artist in Israel from a small studio space that I set up in my apartment, as I was already the mother of Maia and Itai. It was exciting for me when I moved to Binyamina. There I started giving classes and take on larger projects. Like vitrage work for synagogues and private houses. Over time, I have opened up my online business. Etsy. Marmelada Market in Israel. Judaica designs and items for the homes. Presents, etc.
I have always been someone an explorer and creative.
What is your specialty?
Vitrage, mosaic, and vitrofusion.
How and where do you work?
My workplace is my small studio behind my house in Binyamina. I primarily work on bespoke orders. Windows, mirrors, light fixtures. I teach small groups of up to four students. I also offer group workshops for businesses, families, etc. At the moment, I have 14 permanent students, which makes me very happy!
Where do you take your inspiration? Are you pursuing any themes?
I am particularly inspired by the ideas and techniques of other artists from all over the internet. The feeling of community and sharing ideas with one and another! But, I get inspired very quickly and I like to try and put together new, original, designs. An example would be card holders that look like armchairs.
Do you do bespoke work?
Yes, of course. Welcoming a client who, for example, wants a window and likes a particular idea he has in mind and to develop it together, this is one of my specialties. I don't always work with stock.
What projects are you currently working on?
At the moment, after two months of not working due to Corona, people here in Israel are starting to work again. Construction work is booming! I have been contacted to create windows for a very particular house. I am also advertising vitrofusion workshops to create glass birds and other workshops.
What are your favourite items in your current collection?
I wouldn't say that I have a collection, but I like the vitrofusion hamsas and cacti.
How do you know when a piece is finished?
In the case of my art, we already know when it is finished when it begins. The most beautiful aspect of my art, in vitrage for example, is when you finish a window and see it set in a house and the clients are satisfied. This is when it is 100% finished.
What was the first artwork you ever sold?
I remember as if it happened yesterday, only after four months working in vitrage in Israel, I worked on Chanukkah menorahs – and sold a really beautiful menorah to a person in Canada! One of my first artworks that have been sold to someone from abroad. I was very excited. This occurred in 2005!
Which project have you enjoyed working on the most so far?
One of my favourite projects to work on were creating windows for two synagogues. One was a vitrage piece of 5 metres in the Beit Israel Synagogue in Givat Olga in Israel. The entire design process and meeting with donors was very complex, but looking back today, I am very proud of it.
On the other hand, I enjoy meeting people and love giving workshops. I remember giving a workshop, one of my first ones in English and for over thirty people, to Canadian friends of the city of Hadera, who visited on an exchange. It was very encouraging. We worked on a mosaic KKL table.
What do you want to achieve with your work and what are your wishes for the future?
I would love to make myself know in the US and my dream is to do a project there.
Where can we find your work?
My Judaica piece and jewellery, as well as my unique glass designs, are sold through my website: www.silvina.co.il
Etsy: Designsbysilvina
Instagram: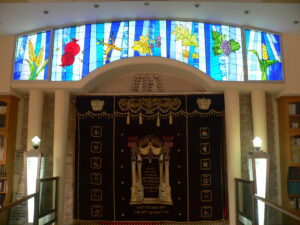 Photos: Courtesy of Silvina Bernstein