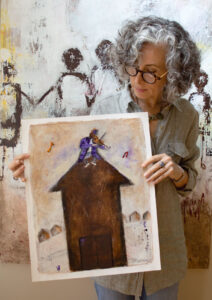 Photo: Courtesy of Sharon Feldstein
Tell us a little bit about yourself and your background.
I grew up in New York City "culturally" Jewish, with very little Judaica in the home. Just the standard mezuzah and electric menorah. Now a few decades later, I've raised my children and have boxes upon boxes of items they made in Jewish day school. I learned along with them, designing challah covers, paper latkes in frying pans, lopsided Havdalah candles, ceramic kiddush cups, and much more! When I think of all these items and how they enriched our lives and holidays, I have the warmest of memories. This is the love and tradition that goes into my paintings.
What inspired you to become an artist?
Storytelling. With paint, not words. I went to school for business, but early on I found that was not my passion. I have an insatiable need to create. Ultimately, after years of illustration and graphic design, I began painting abstracts on canvas, experimenting with styles, textures, and materials. However, I felt that the painting wasn't complete until it had a story woven into it. I introduced my first works at a holiday artist's market at my kids' school, and a journey began. And is still ongoing.
What is your specialty?
Contemporary abstract Jewish art. I attempt to appeal to different audiences with a variety of themes, but I gravitate toward my comfort zone of Judaica. My style is an update on traditional Jewish themes. I paint large canvases, commissions included, and offer these original paintings as well as fine art reproductions in smaller sizes. Some of my paintings are obviously Jewish at first glance, but some are more subtle, and you don't notice all the symbolism until you begin to look closer.
How and where do you work?
I am happily working from a home studio now. I've had studios that I had to drive to, but I love being able to get up early in the morning and go straight to working on something that I fell asleep dreaming about. I paint only on sunny days because that's when I feel happy and inspired. On rainy days, I work on my website and marketing.
What is the most indispensable item in your studio?
My 5-inch palette knife. The 2-inch one is a close second! I rarely use paint brushes.
Where do you take your inspiration? Are you pursuing any themes?
My inspiration comes from my memories of celebrating holidays and Shabbats with friends and family, and from how I am affected by what's going on outside my home as well. I just finished a collection with the theme of Tikkun Olam, titled "We're All in This Together." Because we are.
Do you do bespoke work?
Sure, I have many one-of-a-kind paintings and am more than happy to do commissions.
What projects are you currently working on?
I am working on several bible story paintings and historical/cultural themes that lend a good opportunity for storytelling. The narrative for these paintings will become written stories. I am very excited to be collaborating with my daughter, the writer in the family, to turn these narratives into children's books in the next year. Perhaps even a coffee table book of my art!
What are your favourite items in your current collection?
That's a tough one, because each new piece is always my favorite. I especially like my "Stairway to Heaven" paintings. I've made three now, and they are loosely based on "Jacob's Ladder."
How do you know when a piece is finished?
Like most artists will answer, is it ever truly finished? It's finished when I ship it. I don't varnish a painting until it's sold just in case I want to re-work it a little. When I feel that it has balance—basically when I look at it and love it and nothing "bothers" me about it—I can consider it finished.
What was the first artwork you ever sold?
It was back in junior high school, when I began doing calligraphy. I would write out quotes. Yes, it was before we had computers, before fonts.
Which project have you enjoyed working on the most so far?
I am super excited about this upcoming book project. I get to make the art, my favorite part, and my daughter gets to write, her favorite part. We plan to tour with an exhibit of the paintings to Jewish museums and schools and share these stories with children around the country.
What do you want to achieve with your work and what are your wishes for the future?
I want my art to resonate with viewers, to connect with them on many levels. I want to keep the Jewish tradition fresh, and colorful, and exciting for the next generation.
Where can we find your work?
Facebook.com/sharonfeldsteinart
Instagram.com/sharonfeldsteinart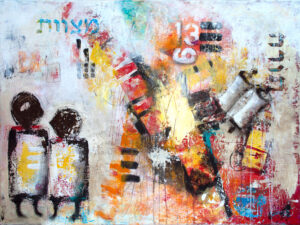 Photos: Courtesy of Sharon Feldstein