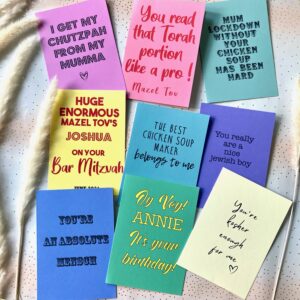 Photo: Courtesy of Sarah Harris
Tell us a little bit about yourself and your background.
I'm Sarah Harris and the mind behind Once Upon A Tea Cup based in London, UK. I've always loved art and anything creative, so it was a no brainer for me that I studied it at university and those were some fun, fulfilling years but the 'real world' is a different place and its taken time to make the two balance. I've worked in theatre, teaching and interior design and always had my side business on the go. My love of vintage saw me using pre-loved crockery, firstly to create sculpture but then to create art, and that's where I got my name: Once Upon A Tea Cup.
I am now the proud mum to two beautiful daughters and their Jewish education re-enforced my own love for my religion which in-turn has inspired my work.
What inspired you to become an artist?
So, this gently leads me on to what inspired me to become an artist. Although I find it hard to say that I am even though I sell my art prints worldwide. I think artist is such a deserving title and I guess it's one I should try to embrace. My passion for creating art keeps me on the road to becoming an artist …I can spend a day making a whole new collection if something or someone gives me an idea.
What is your specialty?
My speciality is Florals and Hebrew Lettering. I lift the beautiful patterns from vintage crockery and modernise them to create new fresh designs. All the Hebrew is drawn on computer freehanded. The idea is to create fresh new artworks that embrace modern Jewish life.
How and where do you work?
I work from my home in London. No fancy studio here. I'm often sharing my desk with one or both daughters and their colouring. They inspire me and I hope I'm inspiring them.
What is the most indispensable item in your workspace?
The most indispensable item in my workspace is a really hard question. Probably my laptop. It's been with me for 11 years and she's still going strong. We've been through a lot together!!
Where do you take your inspiration? Are you pursuing any themes?
My inspiration is pulled throughout the year. Whether it be a Chag or an English holiday, a song or simply a beautiful plate.
Do you do bespoke work?
I have taken on several commissions and I love doing them. It can be tricky pleasing someone else's vision into your style. I have just completed a beautiful print for someone who wanted a quote written in Hebrew from Isaiah against a suggested background of the Northern Lights. The final result was so powerful and totally different from anything I would usually produce.
What projects are you currently working on?
I have just completed a new collection of modern Jewish cards which you can find on Etsy. Too often Jewish cards are very traditional and old fashioned in style. I'm hoping mine appeal to a new, younger audience.
What is your favourite item in your current collection?
My favourite item in my collection is probably a print I completed with the words 'I am by beloved's and my beloved is mine' in both Hebrew and English against a floral background as that was said during my own wedding vows and means so much to me. I think others feel the same as its one of my best sellers.
How do you know when a piece is finished?
How do I know when a piece is finished? That's really hard because it's so easy to amend a colour, try a different size, etc. I can often go round in circles and never be sure. Sometimes simple is more successful and I have to remind myself of that!
What was the first artwork you ever sold?
The first thing I ever sold was a floral print with no writing. It's still one of my favourites but it's a design I have adapted and changed over and over to create new prints.
Which project have you enjoyed working on the most so far?
The project I most enjoyed was my most recent move into funny Jewish cards. It began last Chanukah and it really was a buzz to know that so many people worldwide will be receiving my cards! It has led to lots of new ranges.
What do you want to achieve with your work and what are your wishes for the future?
My wish for the future is to keep growing and designing. I was featured in The Jewish News last week and hope I can continue to raise my profile as I love what I do.
Where can we find your work?
You can find my work on Etsy:
https://www.etsy.com/uk/shop/OnceUponATeaCup
On Instagram:
https://www.instagram.com/onceuponateacup
At The British Craft House:
https://thebritishcrafthouse.co.uk/shop/onceuponateacup
On Facebook
https://m.facebook.com/helloonceuponateacup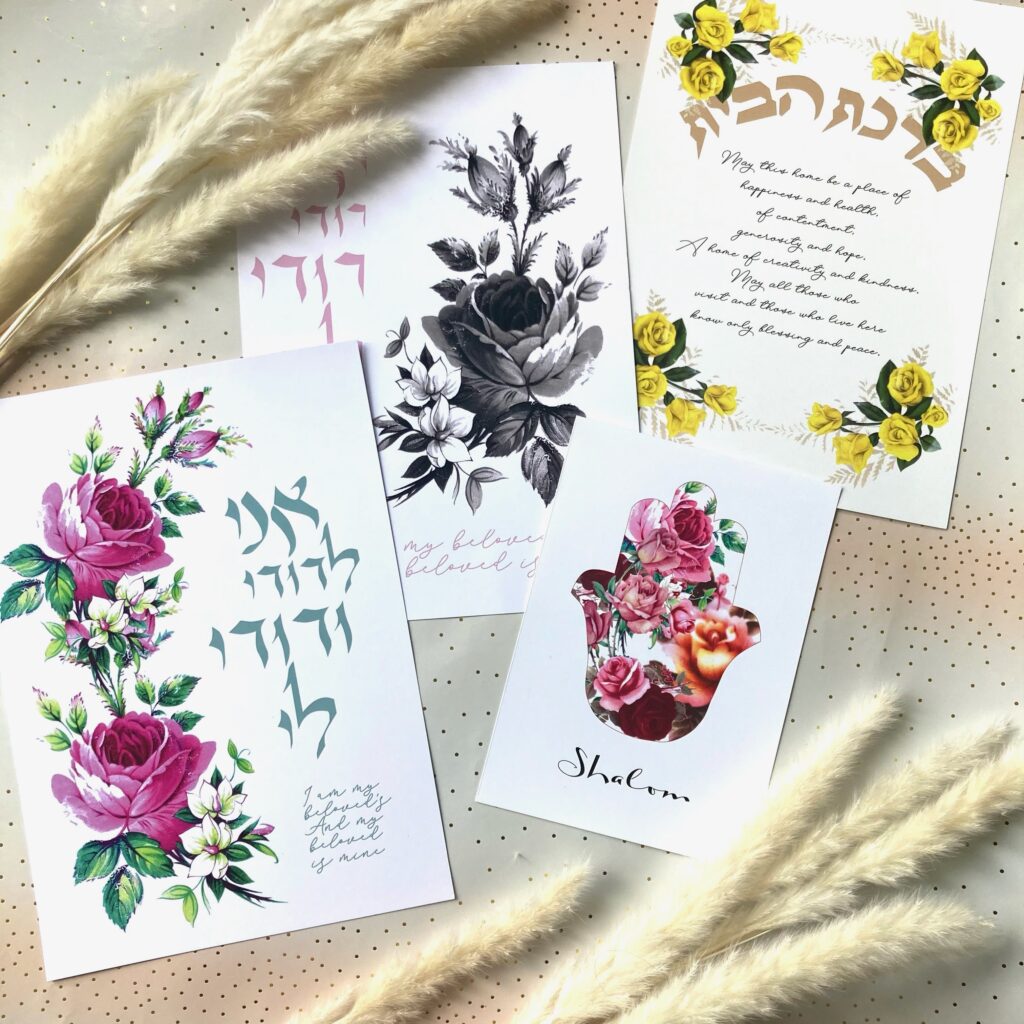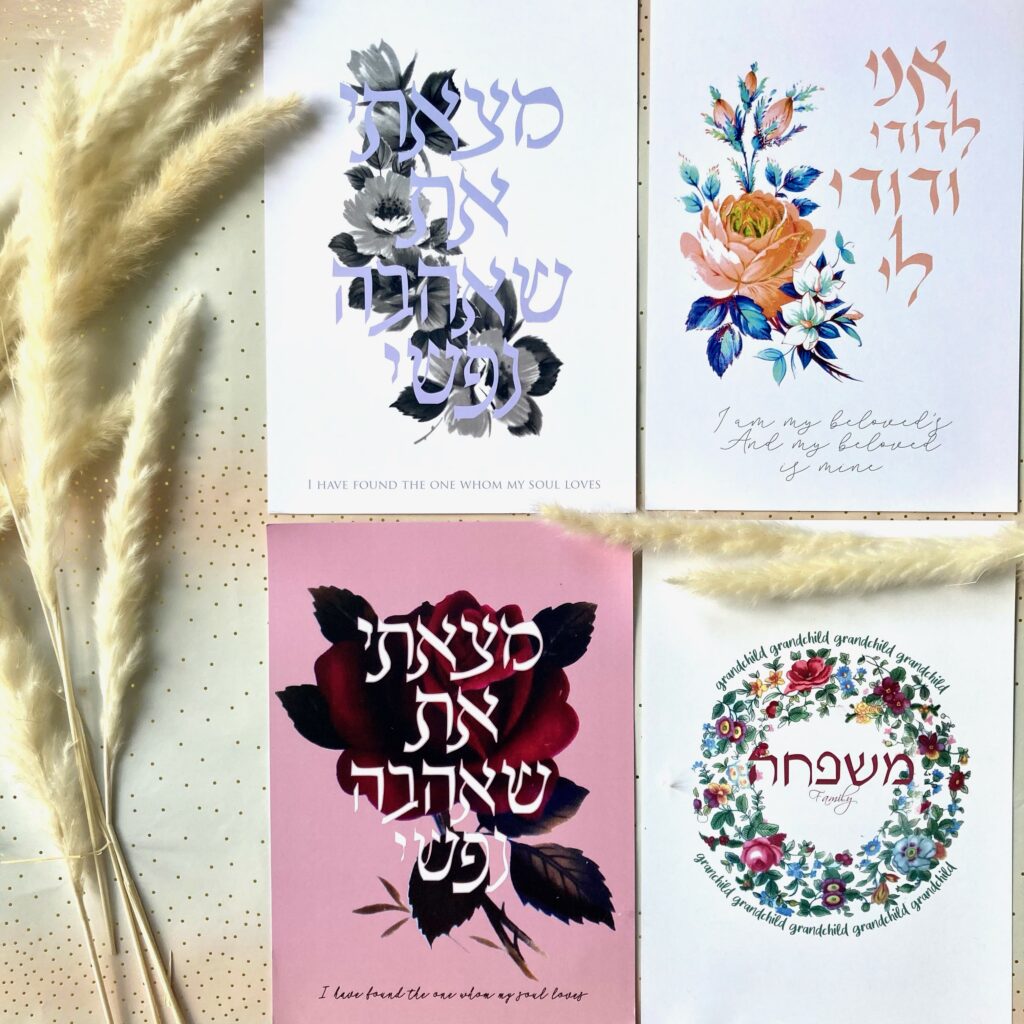 Photos: Courtesy of Sarah Harris