Tell us a little bit about yourself and your background.
Today, I am an observant Jew, living in the United States. As an artist, I have been functioning as a pioneer, looking for the meaning in aesthetics, and in color itself. Through incorporation of psychological analysis of world mythology, as well as investigations of spirituality, mysticism, I have come to understand that art can be a moral endeavor. Further, I have seen that the greatest "art" is life itself.
By re-viewing my art practice – which focused on explicating the interplay of archetypes, as well as diverse musical expressions – through the lens of my Jewish identity and introducing the idea of Modesty and Concealment, I have developed a systematic representation of color combinations. This system is an organization, or unifying map of the meaning behind this multicultural, multifaceted purview.
What inspired you to become an artist?
The artist's path was natural to me; it was an example of "how to live" that I grew up surrounded by. After years of refinement, focus on technical and conceptual aspects, my art has become decidedly multimedia, ultimately tied into an expression of life & spiritual development.
Interests in writing, painting and music, which began from a very early age, have come together in a singular art practice, which is the expression of life: personal, interpersonal, collective and transcendent.
What is your specialty?
My specialization – a process of refinement which began at age 12 – has always been primarily drawing (and by extension painting) as well as lyric, music composition and production.
Today, I work in a host of media, including watercolor, oil paint and sculptural media such as ceramic / stoneware. My work has become decidedly conceptual and thus installation is a natural outlet of these multiformat ideas.
As a songwriter, music producer and engineer, I have embarked on a series of solo works, which range stylistically, all connected to the Diaspora – multicultural expressions seeking unification, positivity and spiritual insight.
How and where do you work?
I currently work from home, in Fairfield county (surrounded by a forest and marsh, which is essentially a bird sanctuary). Set-up on the lowest floor – in the basement – is an oil painting studio, which allows for large canvases, as well as a recording studio.
What is the most indispensable item in your studio?
Last year I worked with a Columbian man, who had strong hands and was a fast-learning artisan, with a background in construction and restaurant service. Utilizing top quality materials – including transparently primed linen – he rapidly stripped off old canvases, and stretched an enormous amount of new canvases for me. These custom canvases are an essential resource today, as I spontaneously create new works, often at large-scale.
Where do you take your inspiration? Are you pursuing any themes?
My inspiration is primarily derived from the aforementioned investigation of world culture, and specifically the most esoteric – or rather, lost ideas – of religion and myth.
Today, my work is increasingly a codification of the ultra-rich and yet enigmatic Alchemical and Jewish references to the Shekinah and the "Axiom of Maria, the Jewess of Alexandria."
Increasingly, my works refer to Jungian psychology, the Zohar and Kabbalah which amplify interpretation of portions of Torah, such as Solomon's Songs of Songs, Psalms, as well as the words of the sages (the Oral Tradition, Talmud). Central themes include the hidden meaning of the Shekinah as Sheba, the Tree of Life and the Twelve Tribes of Israel.
These works function in many ways. They are intended to be beautiful, but also function as talismans to further concentrate the meaning behind the deepest ideas of Judaism and the psychology of the soul.
Do you do bespoke work?
Commissions have long-since been an aspect of my work, as a major support to my studio. Seasonal catalogs are available by request, and I accept email and phone inquiries. Please visit my website, or message me on Instagram for more information.
What projects are you currently working on?
Currently, I am engaged with writing a series of articles which explain the ORIGINS & SHEMAH Color Systems, which are abstract watercolors. This codification of color functions as a series of mnemonics for understanding the development of consciousness (psychology), world culture (poetic motif), religious material (Genesis; The Twelve Tribes), and much more.
Additionally, I am developing and refining a series of four large oil paintings, which are a completion of many years of work: the color, symbolic references and titles, containing an overview of the complicated history of Judaism, European Exile, Christian-Mixing, Modernity and the hopeful potential of a future that is unified. It is a large-scope project – both artistic and scholarly – which strives for clarification of a hugely complicated collective past.
What is your favourite item in your current collection?
My current favorite is the "Self-Portrait Imagined as Maimonides" This works represents seven years of travail – of difficult study and advancement of my personal intellect and soul – and a realization of the magnitude of Jewish identity.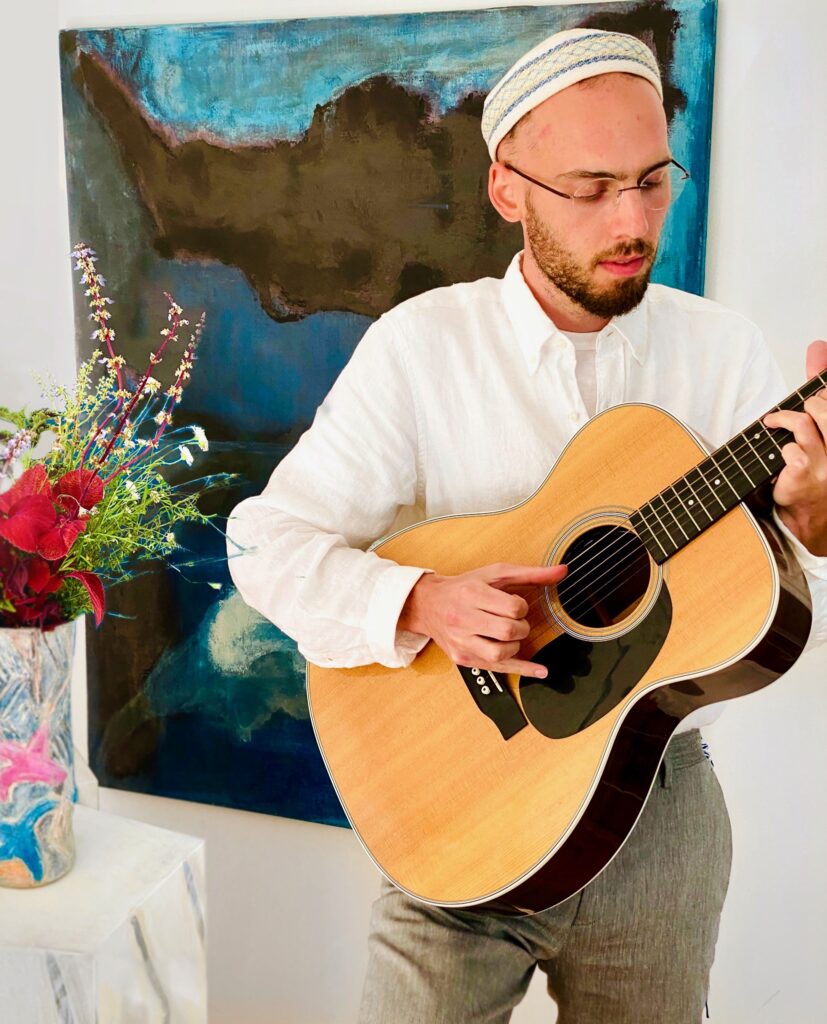 PERFORMANCE AT AXIOM OF MARIA INSTALLATION
Photo: Courtesy of Samuel Abelow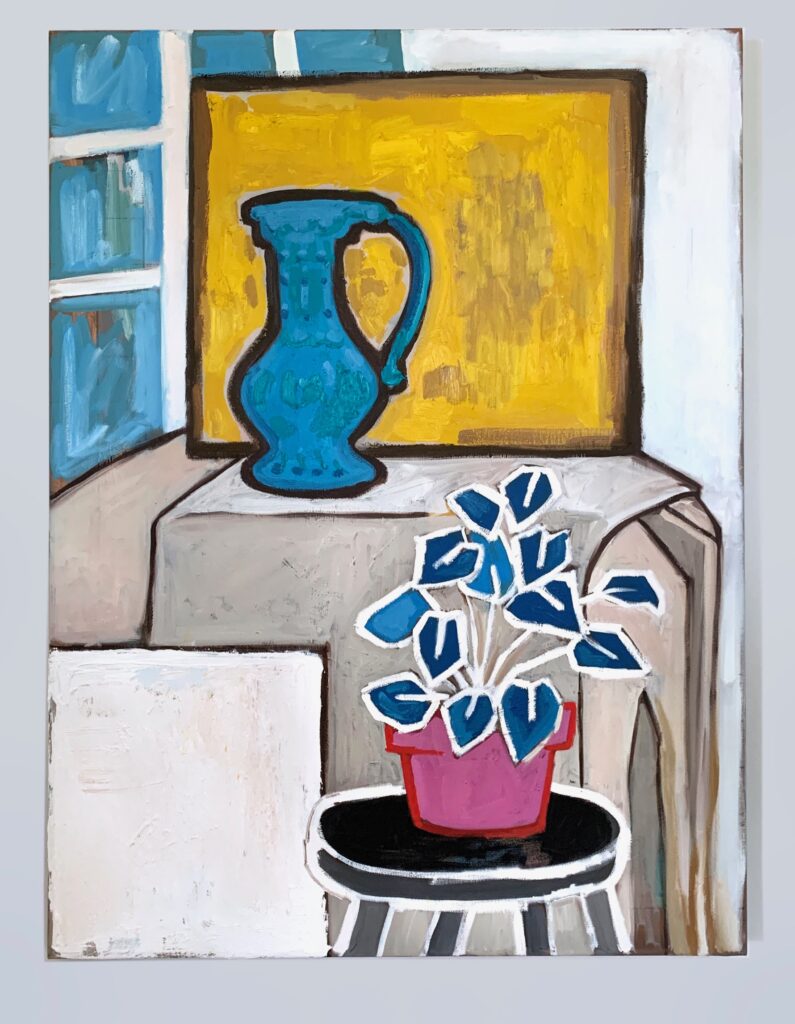 ORIGINS STILL LIFE
Photo: Courtesy of Samuel Abelow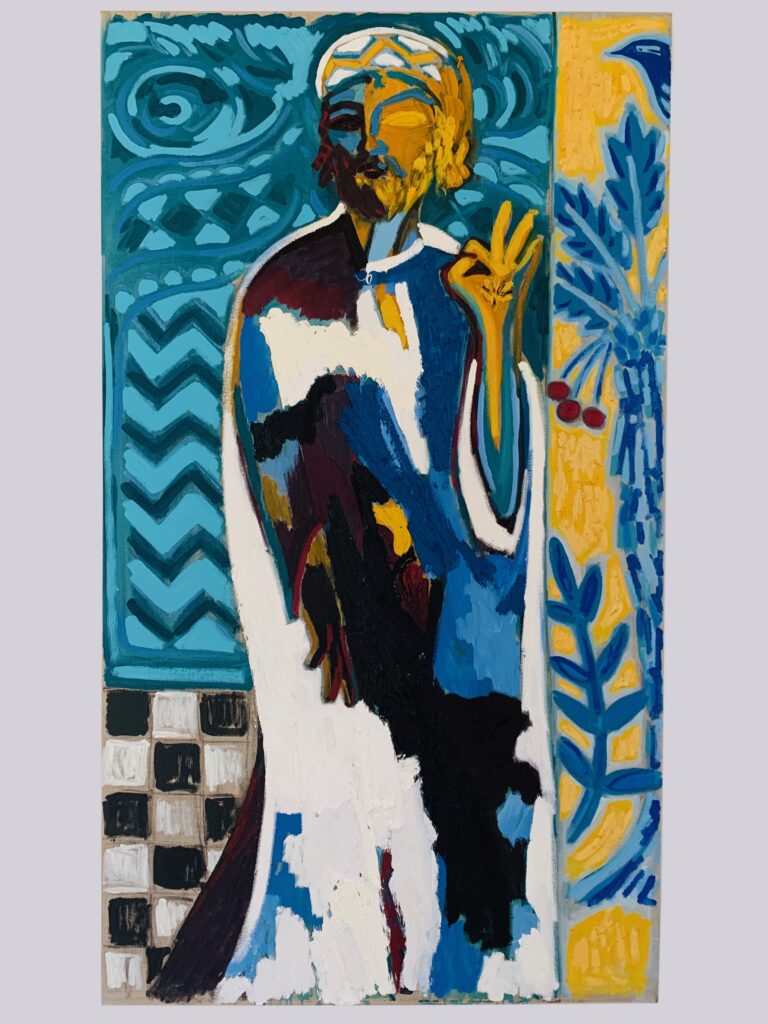 SELF PORTRAIT IMAGINED AS MAIMONIDES
Photo: Courtesy of Samuel Abelow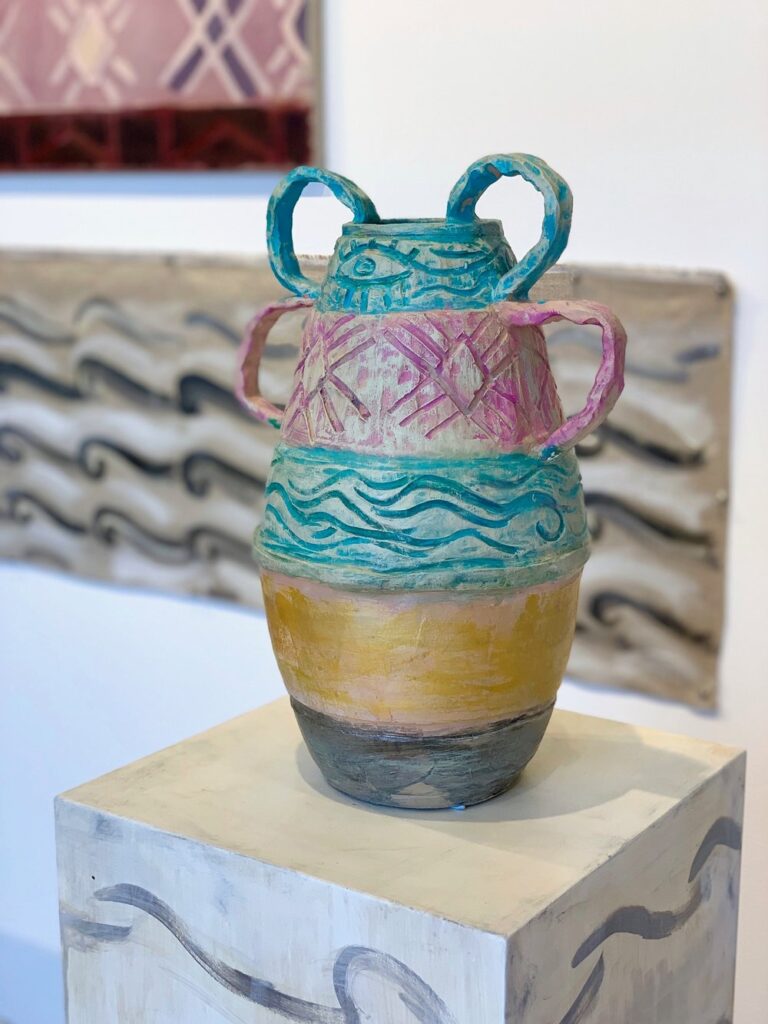 YOUR EYES WATER VASE
Photo: Courtesy of Samuel Abelow
MOTHERS & DAUGHTERS SONG:
How do you know when a piece is finished?
This is a subtle topic! Mentors have always spoken to me about the balance of a painting being "fresh" – not "overworked" – and yet still finished. The notion here is "finished" versus "complete." I tend to like the "unfinished" look, à la Matisse – hence "incomplete' but still "finished", as in "done". Increasingly, my paintings are in-process over extended periods of time. "Finishing" evolves into a relationship with an existing "current state". And so, it isn't "perfection", but rather, a balance of "interest" and "satisfaction" that indicates when I – the artist – is finished, and the furthering of the work, to the audience or collector, begins.
What was the first artwork you ever sold?
Early on in my life I was involved with writing, recording and performing music, which is a form of "publication." Some of those projects made significant money! For me, art and commerce have always been a compatible activity. I was asked to donate a painting to my high school after graduating, and so in their possession is an early "Purple & Green" abstract – still a major theme of my work. That said, my sales really began in earnest in 2016, when commissioned portraits and works from my building portfolio became more readily available.
Which project have you enjoyed working on the most so far?
My greatest joy has been the "Mothers & Daughters" song, which is an expression of a larger body of work related to the archetypal feminine (psychology) or Shekinah (Judaism). These works express what can be called that Static/Motherly and Dynamic/Sisterly Feminine, or in Jewish terms (as per the Zohar, Kabbalah), the "Leah" & "Rachel". These two aspects of the woman are the focus on my uplifting music and paintings, which seek to spiritually celebrate the Shekinah, which is awakening from "exile."
What do you want to achieve with your work and what are your wishes for the future?
My work has – and this is consistent – been a study and search, an effort to recover what can be described as the archetypal feminine. This stands for valuing of the body, aesthetics, relatedness and inclusivity, as much as for the dignity and honor of the woman. Whether through song, painting or writing, my work also looks to uncover the value of the Diaspora – which, as difficult as it has been, has a redeeming quality.
Where can we find your work?
The best place to find my work is my website:
Then there is my Instagram:
http://instagram.com/samuelabelow
As well as YouTube, Spotify & iTunes, which is best to just search:
"Samuel Abelow"