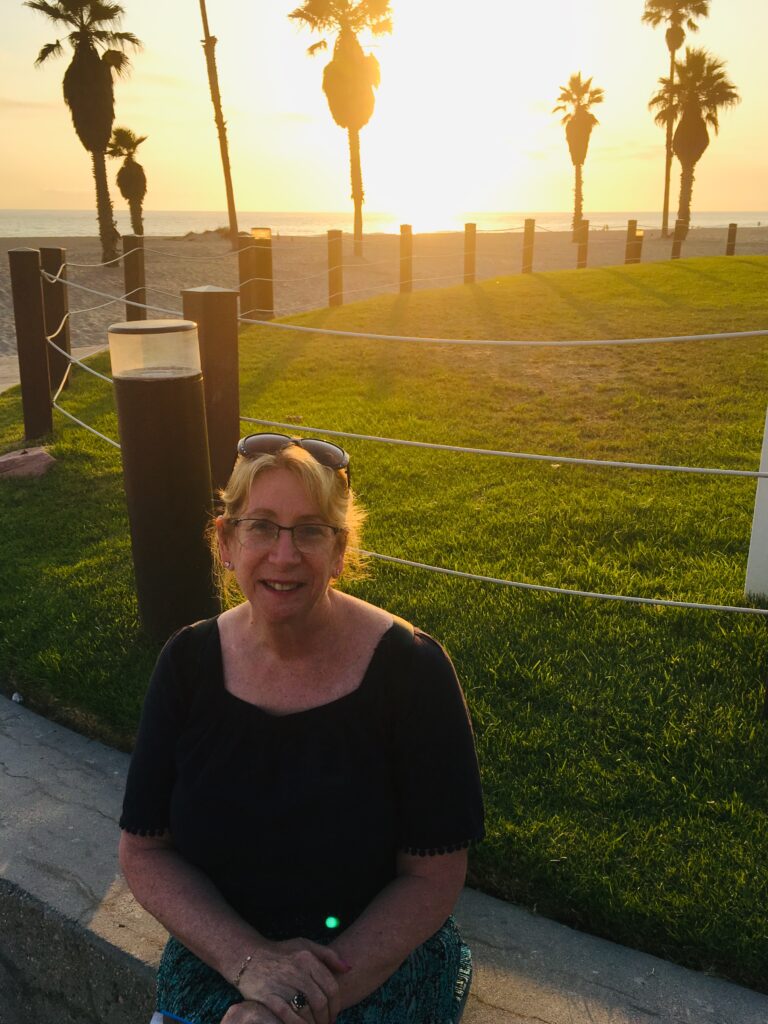 Ruthy Stark Sery, daughter of Holocaust Survivors, was raised in Los Angeles, California and made Aliyah to Kibbutz Maalei Gilboa in 1978. After moving around for a few years, Ruthy settled down in Zichron Yaakov where she has been living the past 24 years with her husband, Menachem and their four children. She became an English Teacher and upon her retirement became a full time jewelry designer.
Tell us a little bit about yourself and your background.
I grew up in Los Angeles during the 60's & 70's, at a time when there was a lot of conflict between the older generation and younger generation and adding to this, the older generation, in my case were Holocaust Survivors. My parents loved jewelry but the jewelry was made from fine jewelry (i.e. 14K gold) and nothing else was really acceptable. I found myself preferring costume jewelry, what I call, what I called fun jewelry and chose crystal beads over genuine sapphires. My parents loved to have jewelry made for each other with their own designs. I never really thought about it too much but I am sure this added to my knowledge of all types of jewelry today.
What inspired you to become a jewelry artist?
8 years ago I decided to open up my own business representing artisans in Israel, Gifted in Israel. After meeting up with many jewelry designers and selling their merchandise I decided to see what it would be like to make something on my own. After creating my own line I went out on my own. All the artisans I was working with managed to open their own website, so I closed down Gifted in Israel and began designing and just fell in love with the process and started selling independently.
How and where do you work?
I have a work studio in my home as well as a showroom. I design my jewelry the first half of the day and the second half of the day I work on photographs and social media.
What is the most indispensable item in your studio?
A difficult question to answer but I would have to say my magnifying lamp.
Where do you take your inspiration? Are you pursuing any themes?
I love working with colors of all kind and am inspired by weather which usually has a very strong influence on my mood!!!! Of course I mean the 4 seasons of the year but it really does come down to what is happening outside my window.
What projects are you currently working on?
I am creating my summer line that I will be selling in Los Angeles, CA next month and then here in Israel in August. I like to design pieces that I think the women of LA would like. I also know that the communities where my clients live love jewelry made in Israel so I do my best to mix it up with the Israeli/American Culture.
What is your favourite item in your current collection?
Right now I love my 3 stranded necklaces made from genuine stones.
How do you know when a piece is finished?
When I fall in love with the piece and try it on myself I know when it is done.
Do you do bespoke work?
Yes, I do. Many of my clients love what I create but prefer a different color, element or just even size. I also do design from the customer's idea. This has worked out very well for me.
What was the first jewelry piece you ever sold?
This is a bit of a long story that I must share. While deciding if I was serious about designing my own jewelry I discussed it with my best friend and he of course told me to go for it. The next day, after that conversation he was killed in a car accident. I decided after some weeks had passed to design a necklace that I had been thinking about when my friend and I had last spoken. It took me quite a while and by the time I was finished I was on my way to Los Angeles for a Gifted in Israel sale that I had planned. One of the sales was at the home of my best friend's sister. I had a large quantity of merchandise that I was selling (jewelry, pottery, Judaica) and decided to bring my one necklace that I made and put it out to see if I could sell it. At the time I did not share with anyone that I was interested in designing my own jewelry so no one knew that the necklace I designed was on the table for sale. My girlfriend, my friend's sister chose that necklace for her sister-in-law, my best friend's widow!!!!!!! I was shocked and felt it was a sign that I can do it. So, that is how it all began.
Which project have you enjoyed working on the most so far?
I have had quite a few. Now, I am very into natural stones. I started out with crystals, which I love (I'm a true Hungarian at heart) and loved my jewelry to be simple. Now I am on the other end of the spectrum, working on larger than life type costume jewelry (a bit of an exaggeration) but I am having fun with what I am working on at the moment.
What do you want to achieve with your work and what are your wishes for the future?
I love what I am doing and am happy that it is a way for me to bring in money to afford my lifestyle. Sometimes I wish I was more well-known but then again I am happy that I am not designing jewelry on a large scale and I am not under any outside pressure.
Where can we find your work?
At the moment I am on Instagram, Facebook and putting together my website which I will put out notifications when it is ready.
© Ruthy Stark Sery