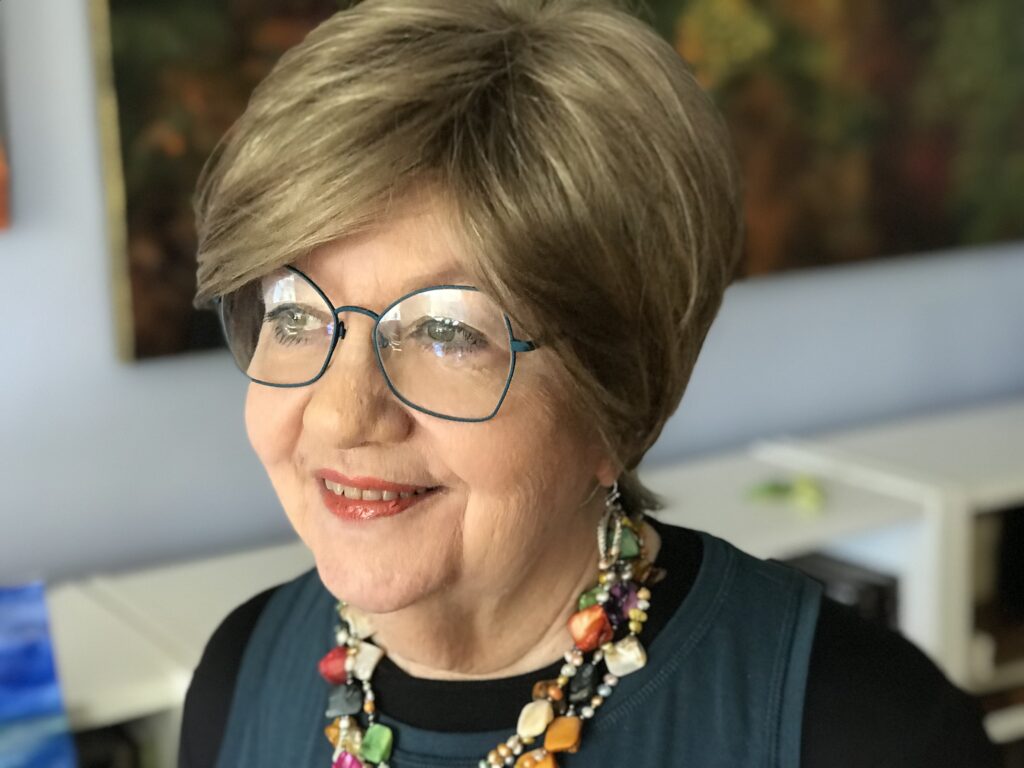 Tell us a little bit about yourself and your background.
People who meet me now think I have always been an artist. But, prior to the last 12 years, I was a nationally known educator- For over a decade I was the Director of Early Childhood Education for the Jewish Community Centers (JCCA) of North America. I have undergraduate degrees in Philosophy and in Child Development, as well as a Masters and Doctorate in Education. But, as I frequently tell people, 'if you want to be remembered, Paint! or Bake! No one will ever ask about my dissertation!"
I then 'created' a new relationship! I called it "the Green Bubbie" – an energy efficient model of grandparenting- where you don't even need to have your own children, you can nurture someone else's 'sprouts.' The idea became a book, and I found that that younger generations around me, saw me as a role model – not because of my professional education- they loved that I was an 'artist' – not only a painter, but an artist of life, continuing to nurture others and being an endless force of creativity. After the Green Bubbie Book tour, I decided to become a professional artist!
I am now using art as a language of expression, to create meaning and to offer novel, visual interpretations as I continue to be inspired by Jewish texts. My life continues to be about teaching and learning – lifelong learning, with and from people of all ages.
What inspired you to become an artist?
I've always loved art – seeing it and making it.
As soon as I saw original watercolors, I knew I wanted my home to be filled with them-but, I couldn't afford them – so I decided to paint them! For years, our home was filled with my original watercolor Flower Paintings.
People continue to purchase them as prints or cards, and many ask why I just didn't keep painting flowers! But, I wasn't interested in painting what I see – I wanted to paint what I don't see!
After leaving my career in education, I took a collage class, and I liked the challenge and the medium, but the teacher kept commenting that my work was so 'painterly'. So, I began taking painting classes. And then one day, I went to an art gallery and literally fell in love with a particular shade of blue, calling out to me from an abstract painting. I read the artist's bio and decided to enrol in a class with her teacher. I had never even considered Abstract Art- but there was something about that blue that transfixed me ( I can still see it in my mind.) I began to study abstract art, artists, and availed myself of local galleries and museums in New York, Boston and Philadelphia. I loved what I saw.
Then, at some point, when I began to see abstraction as a language with which I could express my spiritual strivings, I was all in! I am mostly self-taught – although I continue to study and learn from great teachers and fellow artists.
What is your specialty?
I think you could refer to me as a 'colorist.' I see my paintings as 'texts to be interpreted' I love the dialogue with the viewers and I am always amazed to hear what they see!
How and where do you work?
I have several rooms in our home in which I paint. I have one room as a designated studio with several easels. Seasonally, I enjoy painting on our covered porches so I can see the garden, breathe deeply, and respond to the chimes as the wind blows.
What is the most indispensable item in your studio?
I'd have to say it's the sunlight.
I have lots of inspirational photographs (mostly of Israel) I also have a number of paintings and pictures of and by friends who are no longer in this world – they inspire me to use my time well and to look beyond this particular world.
Where do you take your inspiration?
I want my paintings to 'sing a new song!" Wherever I am, I take inspiration from looking at the horizon. I look at landscapes as 'thresholds' between the land on which I stand, and the magnitude of Creation. I find the Forest and the Siddur ( prayer book) Psalms, and classical Jewish texts to be endless sources of inspiration, wisdom, and creativity.
I also hope to be in Israel this summer to take inspiration from the Land itself!
Are you pursuing any themes?
I am always working on the elements – water, air, fire, earth. I am intrigued with light – the spiritual references and the effects of the light on the canvas.
I am visually imaginative and I get ideas from classical Jewish thought, Mysticism, Hasidus, and Biblical texts.
What projects are you currently working on?
I'm working on very large canvases- 36 x 72! I can hardly lift them! One is an acrylic similar to one I call, "Hod V'Hadar" – Majesty and Splendor- because I think it allows the viewer to be awed by the explosive colors and reflections; to stand speechless, yet moved by what they see.
I am working towards an overall glow of magical lights without any focal point- very 'color field'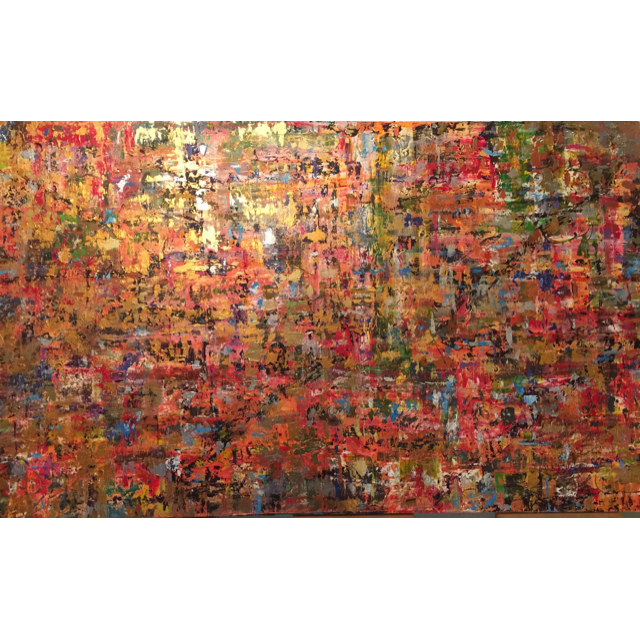 What is/are your favorite item/s in your current collection?
Personally, I love, "The Gates are Open" it's oil on canvas- with lots of drips. It presents a spiritual/mystical challenge to work toward Devekus (connection with our Creator)- and to strengthen our kavana (devotion and intention in prayer) – I think it alludes to the energy of prayers piercing Shamayim (the Heavens) allowing for a reciprocal process of the Shefa ( Flow) of Holiness and Blessing to be released. I am inspired to do a series, which expresses this desire to connect with the Holy One, Blessed be He. I want to paint 'joy', I want people to experience joy through my paintings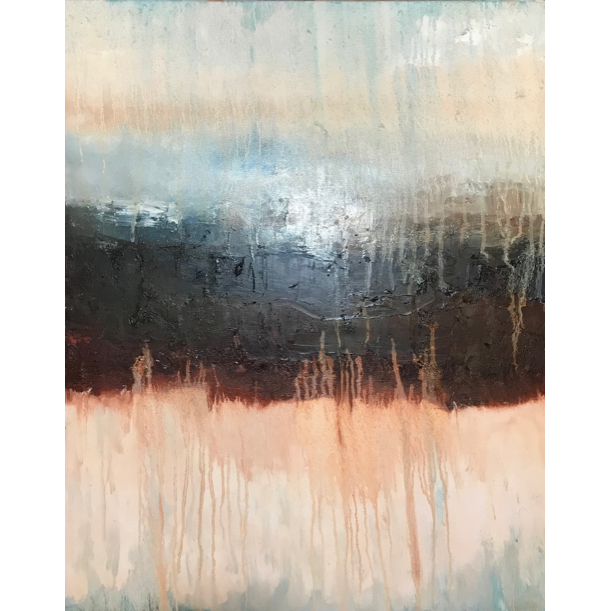 How do you know when a piece is finished?
It is always easier to know when a painting is NOT finished! I can have an unfinished piece on an easel for months – and then at some point – after working on it – maybe even just a brush stroke at a time, there is an acknowledgment that it has come to completion – the eye of the viewer finds rest. I keep at it: sometimes it needs a line or colors to be edited out or to be carefully inserted. At some point, there is a recognition- an unmistakable knowing that the painting is finished- — No one ever looked at Monet's water lilies and said, "I think it needs more pink." That's the feeling of satisfaction I want to have when I look at my finished work.
Do you do bespoke work?
Yes and No. I did a huge commission and when the buyers downsized from their home to their penthouse apartment I was honored that they chose to take the painting with them. Truthfully, what works for me is to learn a text with someone, and an idea may spark my imagination. I have to say that I am an intuitive artist – I don't think I could possibly paint what is in someone else's mind. It's enough of a challenge for me to paint what is in my own imagination!
What was the first artwork you ever sold?
Years ago, I sold one of my collages for $200. I remember it well. $200 meant a lot. (It still does!) Feeling somewhat emboldened, I hired an art consultant to look at my portfolio of watercolors and she said, "You have A collection" Cost of consultation, $200.
l then hired a professional to photograph "my collection" – cost of photographer? You guessed it- $200.00. I then decided I needed more materials- and yes, $200.
I began to think my "Art universe" was actually living on and sharing the same $200.
Which project have you enjoyed working on the most so far?
There is no question that it would be a large 40" square acrylic painting which I call, "The Waters of Abuhav"(more about that in a second) I also refer to that painting as "Dickens: my best and worst painting" So many iterations until it found completion!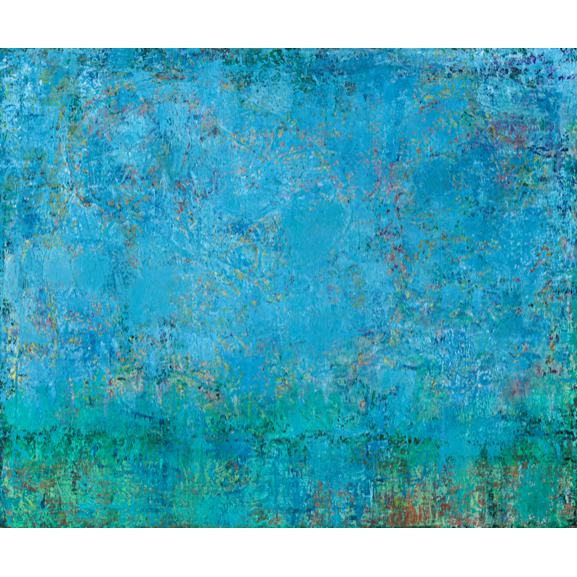 As you can see from this painting, the 'blue' is reminiscent of the Blue that is so dominant in the Abuhav Shul in Tzfat. We know that in our generation, there is no water in Tzfat. However, the painting is an imaginary allusion to a time in the future when water will flow freely (not the rain) over the parched stones of Tzfat. I can't explain why so many people respond to this painting. There is definitely something that draws the viewer in and then beyond the painting. It is the only one in my collection which I cannot part with – although I have sold prints in many sizes, as a compromise to those who 'must' have it.
What do you want to achieve with your work and what are your wishes for the future?
I want to connect with additional collectors who value and can appreciate the spiritual references in my work as well as the beauty of the paintings themselves. As much as I enjoy selling my paintings, I enjoy speaking/teaching/sharing the Jewish mystical ideas (and my imaginative interpretations!) from which they spring. I am exploring writing another book, which will feature those ideas along with the paintings.
In August I will be offering a 3 session workshop series entitled, "Painting, Poetry and Prayer"
Where can we find your work?
My website is www.RuthFeldmanArt.com
Instagram: @ruthfeldmanart
If you would like to listen to a podcast: www.franciskamusic.com/single-post/2018/08/27/Dr-Ruth-Feldman-on-The-Franciska-Show
There was also a very nice article in Mishpacha Magazine about my art and life as The Green Bubbie ("The Green Bubbie:Nurturing the Future" The book is available on Amazon)