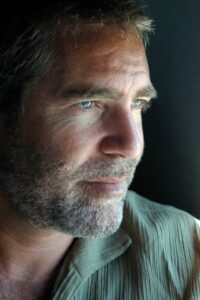 Photo: Courtesy of Roy Cohen
Tell us a little bit about yourself and your background.
My name is Roy Cohen. I'm an Israeli artist who makes kaleidoscopes for the last 26 years. I started my professional path as a photographer for the spokesman's unit. Later, during my architectural studies, I have discovered my real passion – the colourful and psychedelic world of the kaleidoscope.
What inspired you to become an artist?
Ever since I can remember, colours passing through the light and symmetrical shapes have caught my attention. From the age of 6, I would create and paint glassware, and research the light and colour reflecting through the glass. At the age of 26, following a decision that struck me, I left my architecture studies behind and devoted myself entirely to creating kaleidoscopes.
What is your specialty?
To create kaleidoscopes. From my collection, working with ultraviolet light is my invention.
How and where do you work?
After many years creating in my studio, which was located in Tel Aviv Israel, I am now creating in my new studio at Kibbutz Ein Gedi, which is an oasis in southern Israel.
I manufacture all kaleidoscopes from beginning to end by myself, using diverse raw materials. I mainly work with brass, epoxy castings, glass, wood, and silicon.
What is the most indispensable item in your studio?
The heart of kaleidoscopes are mirrors. I use special mirrors with unique optics, which are called front surface mirrors.
Where do you take your inspiration? Are you pursuing any themes?
Most of my inspiration comes from nature, geometric shapes, and especially from the underwater world. My classic kaleidoscope, and the 'Violet firefly' kaleidoscope, were created from visuals I saw during an amazing riff dive in red sea. The marine life at the riff inspires me a lot with its great color and light.
Do you do bespoke work?
Yes, I do custom engraving on the kaleidoscopes as per client's requirements.
In addition, I can create kaleidoscopes with specific colors and customized kaleidoscopes with what customers have sent me, such as glass from a wedding glass, or shells, and other small and valuable things.
What projects are you currently working on?
I am currently buy arranging and organizing my new studio.
What is your favourite item in your current collection?
The "Violet firefly" It's a kaleidoscope that is a masterpiece for me. It is very unique and interesting and I am very proud to have created it.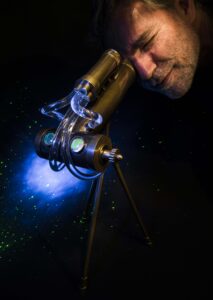 Photo: Courtesy of Roy Cohen
What was the first artwork you ever sold?
I sold illustrations I made on glass at age 6.
Which project have you enjoyed working on the most so far?
I always enjoy creating a new kaleidoscope, it inspires me when a new kaleidoscope idea pops up and draws me into action.
What do you want to achieve with your work and what are your wishes for the future?
The thing that most satisfies me about creating kaleidoscopes is the joy it brings to people. People who look through my kaleidoscopes can dive into escapism, bright thoughts and even meditation. Kaleidoscope reminds people of a magical childhood, beauty and beautiful moments in life.
Where can we find your work?
You can find my kaleidoscopes at my Etsy store.
Link: https://www.etsy.com/shop/royskaleidoscopes
The "Nahalat Binyamin" art fair in Tel Aviv Israel.
In galleries and museum shops around the world.
And soon I will have my own independent web shop.
I invite you to follow me on Instagram:
https://www.instagram.com/roys_kaleidoscopes/
Photos: Courtesy of Roy Cohen
You can find a product review of one of Roy's stunning kaleidoscopes here.