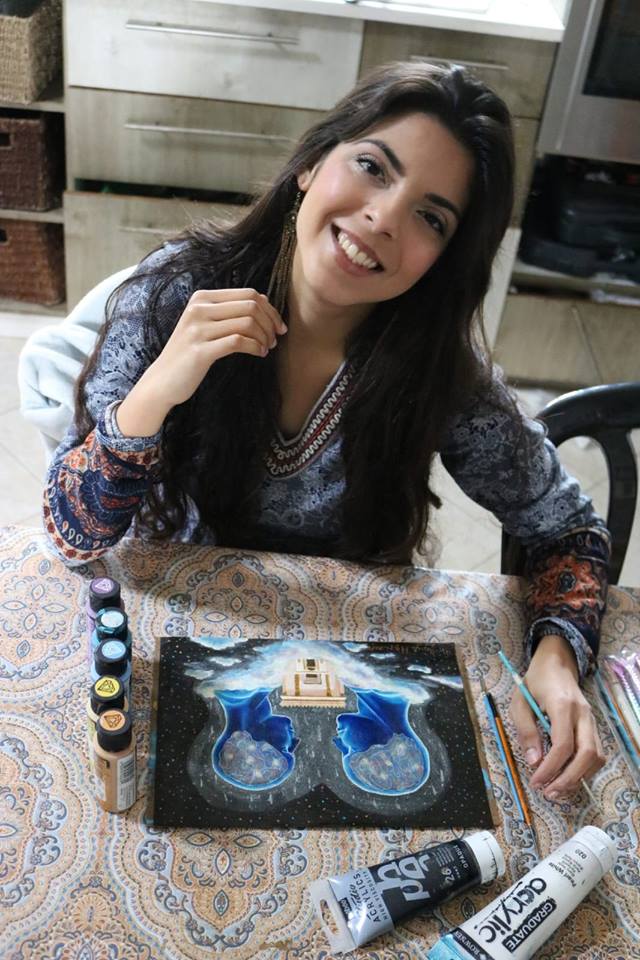 Tell us a little bit about yourself and your background.
Hi, my name is Raya Hazi and I live in Hebron, Israel. I'm a student now, and painting is my passion besides degree.
My grandfather is the famous artist – "Baruch Nachshon", and I received this love and appreciation for art since I was a child. I'm the eldest girl out of 8 children, and I started painting only two years ago…
What inspired you to become an artist?
I started painting two and half years ago. I had no idea that I have this gift, until my mom asked me if I can paint on her wall in the school she is teaching few things. After some time – I agreed, and everyone around me, including me, were amazed from the results. My grandfather is the famous artist Baruch Nahshon, so we have this talent run in our family, and then I found it in myself too. Since that moment – I never stopped painting, and it became my biggest passion in life.
What is your specialty?
I use mostly acrylic paints on canvas. I like to add some other materials such as sand, and glow and shiny colors.
How and where do you work?
I usually work from home, on my desk, in the room I share with my younger sister.
What is the most indispensable item in your studio?
The most indispensable item in my studio are my paints of course – can't paint without them…
Where do you take your inspiration? Are you pursuing any themes?
I take my inspiration from my identity as a Jewish religious girl, and also from the things I love in life, such as nature, people, emotions. The ocean and waters are strong motive in my art. I love the feminine energy and the way women are represented in Jewish culture. In my art, I always make sure that the story is according to my religion and the laws of modesty.
What projects are you currently working on?
I made a wedding gift for couple in my family few days ago. They were so happy to receive it. My next painting is about a castle on the ocean. It will be bigger than I usually paint, and I'm really excited about it…
What are your favourite items in your current collection?
My favorite item – its quite hard to choose, but I believe that my painting "Connected" is my favorite. This is a painting that represents me and how I'm connected to the world. It is my biggest painting ever, and I had no idea what am I going to paint. It just flew through the process. The moon represents the feminine energy that changes and open to receive. The background has all three worlds in life – air, water, and ground. It represents the connection I feel to each one of these elements. The woman in the center is in motion. She is strong and gentle at the same time, and she is modest…
Another item that I really love is the praying soldier, which I painted after a terror attack that occurred close to me, the tiger face which is one of my first paintings, and the special house on the river, which I painted in a time that I needed some feeling of home…
How do you know when a piece is finished?
I never finish a painting… there is always something to change and fix. I let go of a piece when I'm quite happy from the result, even if it isn't perfect. By the way, the more professional I get, the harder it is to finish a painting, because I become more critical on myself.
Do you do bespoke work?
I sometimes do bespoke work. The most special to me was a request from a 16 year old boy, who wanted me to draw his rabbi, Rabbi "Binyamin Herling", who was murdered in a terrorist attack a long time ago. I painted this piece with all my heart and wanted to make good memory of him in the painting. The comments I receive from so many people about the painting of this holy person are very strong and emotional. It seems that it touches every person, whether they know him or not…
What was the first artwork you ever sold?
The first artwork I ever sold was a requested picture of the sea in Bat-Yam. It was my first step in this world, and I enjoyed every moment of creation. It was also a challenge for me to paint something that isn't from myself.
Which project have you enjoyed working on the most so far?
The project I enjoyed working on the most so far was the "Home" painting. It took me two-three weeks to finish it, and I took the time, and enjoyed every moment of it. Now this piece is hanging on the wall in our living room, and every time I pass by the picture, I remember everything I felt when I painted it, and I am filled with happiness…
What do you want to achieve with your work and what are your wishes for the future?
My wishes for the future are to get better at drawing, to paint with more intent and thought. I want to find my own style as an artist, and to enrich my inner world with more Judaism, and then it will be represented in my work too…
I want to open a gallery one day…
Where can we find your work?
Places you can find my art:
Website – https://rayart.site123.me/
Instagram – https://www.instagram.com/rayahazi_art/
Facebook – https://www.facebook.com/rayart123