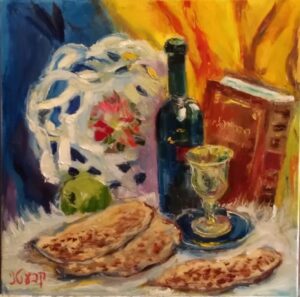 Photo: "Beautiful Matzah" – Courtesy of Pavel Kvetny
Tell us a little bit about yourself and your background.
My name is Pavel Kvetny. I also have a Hebrew name, which is Haim Meir. I was born and live in Russia, in the city of Saratov. I am 45 years old. I graduated from an art school in Saratov and also have a degree from the Technical Institute, but I have almost never worked in this field, so I don't use it. It was then when my grandmother Sterna advised me to take a course in hairdressing, because after all, this job is associated with art. So I graduated from this course too and worked as a hairdresser. At the same time I have worked as a painting teacher and other hairdressing related subjects.
What inspired you to become an artist?
I was inspired to become an artist, strangely enough, by a sad event. In 2014 my dad died, and drawing lots of paintings has helped me to deal with stress. These were graphic dry pastel works, and basically I have painted portraits of my family from old family photographs. At that time, I had the dream to have an exhibition in our synagogue and to invite all my family and friends to visit it. I spoke with the rabbi, and he said: "Paint Jewish themes and there will be an exhibition." So I began to improve my skills of oil painting and painted Jewish themes and flowers. For now, I have already had two exhibitions. The first one took place on October 3rd, 2019, and the second one on March 5th, 2020. My works are exhibited in framing workshops and at the Saratov artists exhibition at the Drama Theater. Now I am preparing for a personal exhibition, not in the synagogue, but on the urban framework.
What is your specialty?
I specialize in Jewish themes in a naive style, flowers and other creative paintings in the style of impressionism. I use oil paints on canvas or on textured paper stretched on a hardboard.
How and where do you work?
I work in my home workshop, I paint and sell my paintings, and also give private painting lessons.
What is the most indispensable item in your workshop?
The most necessary item in my workshop is an easel.
Where do you take your inspiration? Are you pursuing any themes?
I have two favorite themes: flowers and Judaica. My last name is Kvetny. It is translated from the Belarusian language as floral. My grandfather Zyama Kvetny was born in the town of Kapatkevichi in Belarus, and I know that all the Kvetny all around the world have their roots in the town of Kapatkevichi. So this is why one of the theme is flowers. All my grandparents come from Jewish towns and these places live in my soul at the genetic level, therefore in my works I glorify the "Jewish Town", and in general, "Yiddishkeit". My favorite writer is Sholem Aleichem, and my fovourite artist is Marc Chagall. They also inspire me, and, of course, klezmer music and Yiddish songs.
Do you do bespoke work?
Yes, I do bespoke work and send my paintings worldwide.
What projects are you currently working on?
For now I am working on a new series of paintings for my third solo exhibition, also I want to start my personal online store.
What are your favourite items in your current collection?
In my current collection, my favorite paintings are: "There is a holiday in the place", "A Yiddish-speaking parrot", "A horse that knows that it is a horse, is no longer a horse", "Klezmer", "The Prophet Eliyahu is at our place".
How do you know when a piece is finished?
I understand that the picture is finished when I see that the image is well read and easy to understand, also I look at the picture from a distance. The best way to understand if the painting is ready or not is to take a picture of it and then all the flaws are quite visible on the photo.
What was the first artwork you ever sold?
The first sold painting was "It is Hanukkah in the town." It was made by pastel. My first oil painting "Lilac" was sold to Israel. Other works were sold to Germany, the USA and New Zealand, my exhibitions and online publications have helped people to get to know about my works.
Which project have you enjoyed working on the most so far?
I enjoyed working on the painting "A Yiddish-speaking Parrot" based on the work of Efraim Sevella the most. This work is the leader of my sales. I have already sold 4 paintings of this one.
What do you want to achieve with your work and what are your wishes for the future?
I want to continue painting, make more exhibitions and sell my paintings not only in my hometown, but also in other countries all around the world. It will be an incentive for the development of me as an artist, and also help not to forget about the traditions and culture of my people.
Where can we find your work?
You can find my works on my Instagram: https://www.instagram.com/kvtarts/
In the near future, I am going to start Etsy shop too.
Left: "A horse that knows it is a horse, is no longer a horse"
Right: "It's a holiday in our town"
Photos: Courtesy of Pavel Kvetny
Left: "The Prophet Eliyahu is in our place"
Right: "Klezmer"
Photos: Courtesy of Pavel Kvetny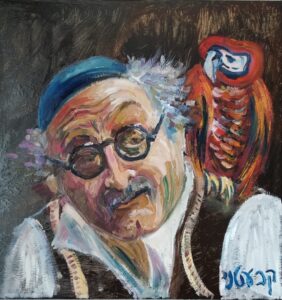 "Yiddish speaking Parrot"
Photo: Courtesy of Pavel Kvetny