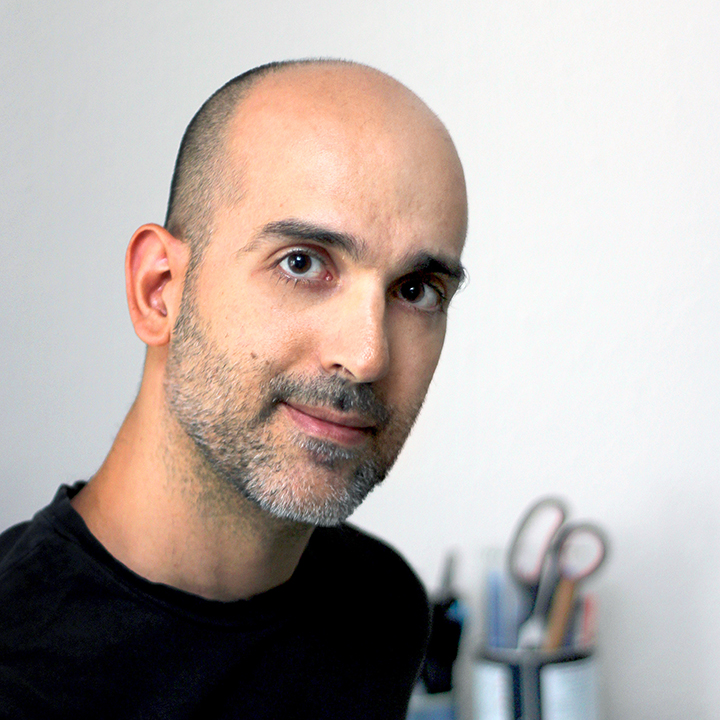 Photo: Courtesy of Oren Loloi
Tell us a little bit about yourself and your background.
I grew up in a tight knit Jewish community in the suburbs of New York. I made Aliyah to Israel, and have been living and working in Tel Aviv for over a decade. Now, all these years later, I'm happily married and a father to two beautiful boys.
What inspired you to become an artist?
I was already an artist before I knew how to read and write. I still remember a moment in preschool, when I made a drawing depicting a family of ducks. To my young eyes, I felt like I had created a window to another reality. Those ducks seemed alive and real to me. This was a transformative experience that led me to focus all my energies in learning to draw and my identity was entwined with the arts on a fundamental level. I did study art formally all the way through school, university, and as an adult in a classical atelier setting.
What is your specialty?
I specialize in hand made paper-cut ketubot. However, I do not limit myself there. I also design prints, which I compose digitally. Lately, I have been going back to my roots as an artist and have been painting in oils again. I stopped painting for several years, when my first child was born because I didn't want to expose him to the hazardous pigments and solvents. Now that my boys are growing up and are learning responsibility I have reintroduced oil painting into my home studio.
How and where do you work?
I work in my home studio. I have a separate work space set aside, which is both my office and play room all in one. I have all my art materials, books, musical instruments (I play guitar and piano), and am perfectly happy spending ten or twelve hours in there.
What is the most indispensable item in your studio?
The materials I use to make my ketubot are rather simple: a cutting mat, a small collections of blades and scalpels, a straight edge ruler, and a desk. The most indispensable tool would have to be my computer. I use it both to design the architecture of my papercuts, as well as creating the text layouts. However, the computer is my least favourite item. Using my hands is definitely the best part of doing the work.
Where do you take your inspiration? Are you pursuing any themes?
My inspiration is often informed by the shapes of the Art Nouveau movement. I don't explicitly reference any Nouveau style designs directly, but I find that I love using the curved abstract lines that define the old posters. As for subject matter, I tend to favour nature and landscape. I particularly love incorporating birds into my designs.
Do you do bespoke work?
I used to do a lot of bespoke work in the past. Recently I have drastically reduced the number of commissions I take. I do no more than one or two a year now.
What is your favourite item in your current collection?
If I only had to pick one, it would be my Helios design, because I always find it so captivating to work on. It is a multilayer design and when clients ask for colour customizations it never fails to surprise me how versatile the design can be.
Photo: Courtesy of Oren Loloi
How do you know when a piece is finished?
When designing a piece there is a moment when adding anything to the design would make it start to fall apart. That's when I know to put it down and call it finished. It's part instinct, mostly experience.
What was the first artwork you ever sold?
I was in middle school and I sold a drawing to one of my father's friends. He was clearly doing me a favour, but it gave me the confidence to continue to pursue the path. When I was in high school I was hired to work on an animated television show. At that point I was a fully professional artist.
Which project have you enjoyed working on the most so far?
My favourite bespoke ketubah was for a couple who wanted me to design it around their neighbourhood in Long Island City. It was very different from most of my other work, because they were interested in making it edgy and urban instead of pretty and colourful. They were very happy with the results and so was I.
What do you want to achieve with your work and what are your wishes for the future?
The most meaningful aspect of my work is the fact that it is tied in with the happiest moment of my clients' lives. At this point my work is hanging in thousands of homes and for each one of them, I contributed in a slight but significant way to someone's life.
Where can we find your work?
I can be found at:
Website: https://www.papercutsbyoren.com
Etsy: https://www.etsy.com/shop/papercutsbyoren
Instagram: https://www.instagram.com/papercutsbyoren
Pinterest: https://www.pinterest.com/papercutsbyoren/
Photos: Courtesy of Oren Loloi