Photo: Courtesy of Nick Oberstein
Tell us a little bit about yourself and your background.
My name is Nick Oberstein. I grew up mostly in Framingham MA, and then lived in Boston while I attended Emerson College and met my husband. I am a member of Actors' Equity Association, the American stage actors' union, as well as a theatre teacher. I am a Jew by choice. I love chocolate, cheese, and think knit sweaters. I love Fleetwood Mac and Judy Garland, and I am happiest in a museum. I have been designing and selling visual art since I was a teenager. I started a custom ketubah and Jewish ritual art business in 2017, THE NEW KETUBAH–we specialize in telling your story through unique, sleek, and personal finepoint ink drawings.
What inspired you to become an artist?
I don't think I was ever not an artist. I have a Bachelor of Fine Arts in Acting, not visual art–I do a lot of musical theatre and have been singing since childhood. But despite that, my oldest memories are sitting at a piece of construction paper with a marker or crayon or colored pencil in my hand. It's how I relate to and translate the world around me, so I think it was unavoidable for me. Many people have encouraged me along the way, and I have a cousin who is a visual artist, and my dad has a few Bob Ross-style paintings from the 80s that he did that are pretty good–I started to paint with his oils set in our basement in middle school.
What is your specialty?
I would say my specialty is attention to narrative and detail. And I think that all comes from my love of design–I also have experience in scenic design for the stage, and I think my passion for fashion design, interior design, textile design, illustration from children's books, even my obsession with the holiday windows at Bergdorf's and Bloomingdales–it all inspires my work. I think I have a good eye and a nice grasp of style. I love a story, I love a concept, and I love detail–so I would say helping people create really personal, specific artwork is my specialty.
How and where do you work?
I work in my pre-war apartment on the Upper West Side of Manhattan. We are very lucky to have a view of the Hudson and we get wonderful light–the sunsets!
What is the most indispensable item in your studio space?
My table–it's actually a foldable dining table (you can open just one or both sides to make it extra large), but it functions much better for me than say, a drafting table, which I've owned in the past. It's the largest surface I have to work on, so an entire ketubah and all my supplies can be within reach. It has marks on it from the very first ketubah (mine!) I made in our old apartment in Boston and is one of the few pieces of furniture we took with us to Manhattan. I hope I always have it.
Where do you take your inspiration? Are you pursuing any themes?
I take all of my inspiration directly from the couple–I give all my clients with THE NEW KETUBAH a fun questionnaire to answer that tells me more about themselves and what they are celebrating. Then, we get a bit more in depth over FaceTime in an informal conversation about themes or images I see emerging and what aspects of their story we want to illuminate. In terms of direct visual inspiration, I also ask them to send me photos or inspiration images; an occasional Pinterest board I'll throw together to organize myself for reference. And I love books–I miss spending an hour in a bookstore!
All of my work up to now through THE NEW KETUBAH has been 100% custom. Everything from the shape, colors, content is unique to itself and I really pride myself on not formatting two of my ketubot too similarly. All of my smaller works through & MORE THAN KETUBAH so far have been square (about 10" – 16"), because I love the shape and the way it looks on a wall–so far, I have only made one truly square ketubah, but it's one of my favorites!
What projects are you currently working on?
I have just started an Instagram handle and despite being a millennial, most of my current endeavors involve navigating this new world. As a visual person and an artist, it's endless candy for the eyes!
What are your favourite items in your current collection?
Though I have not put anything up for purchase yet, I have also been taking some time to create art again for myself, addressing themes or feelings personal to me. This space outside of my ketubah and Judaica work has been really fruitful and fulfilling in unexpected ways, even working with new mediums. They are treasures I'll keep for now, though I am coming closer by the day to expanding my visual artist offerings beyond THE NEW KETUBAH and to make some of the work I create not on commission available for purchase. Though not overtly Jewish, many of the pieces have themes or are directly reflective of my Jewish and queer identity.
How do you know when a piece is finished?
I think I just know. I do occasionally think "oh, I could have stopped sooner on that"–there is a dreadful point where you think you've gone too far. But for the most part, there is a balance and focus visually that makes a kind of composition emerge, and when you see it, you know it's either what was in your mind or something else but maybe even clearer or better, and that's exciting. Each piece has a different stopping point where too much and not enough find a kind of happy place–it's a fun challenge.
What was the first artwork you ever sold?
I'm not sure I remember, but when I was in middle school I remember having a few people pay me to make paintings or drawings, typically gifts for people. And I am still doing that today! I do remember a still life oil painting of a tea pot I made for a fellow classmate's mother for a special birthday or Mother's Day maybe–though it wasn't specifically Jewish art, that was easily 6th or 7th grade.
Which project have you enjoyed working on the most so far?
For as much joy as I get out of each piece I am asked to create, it honestly is difficult to pick just one, so I have to go back to the original–the first piece of Jewish artwork I created was our ketubah for my husband Andrew and myself in 2014. I also made our chuppah along with most of the other things for our wedding–that was the most fun and inspires me each time I am given the opportunity to create something for a new client, especially a ketubah for a marriage.
What do you want to achieve with your work and what are your wishes for the future?
I want to achieve a kind of specificity and simple beauty with my work that feels personal to the individual or couple, and maybe even to the giver if it's a gift. And I strive to make Judaica and Jewish art that doesn't look like Judaica or Jewish art you've seen before. I'm not trying to reinvent the wheel, but I certainly am consciously allowing my own style and taste to lead me as I strive to create sleek, contemporary, romantic, detailed work. I love an emphasis on negative space and fine detail while keeping the work airy and light, but still colorful. I hope it never looks dated or trendy, and somehow speaks to a greater truth of what we're celebrating or commemorating.
My wishes for the future is more work! I would love to expand my reach and make art for more people–especially in this time of Covid, I feel it is so special to be able to give someone the kind of gift that lasts long enough to even become a family heirloom. Celebrating the most beautiful moments in people's lives is the best part, and I'd love to keeping doing just that.
Where can we find your work?
My website: thenewketubah.com
My instagram: @thenewketubah
I can't wait to meet and speak to you.
LET's MAKE SOMETHING BEAUTIFUL TOGETHER.
Photos: Courtesy of Nick Oberstein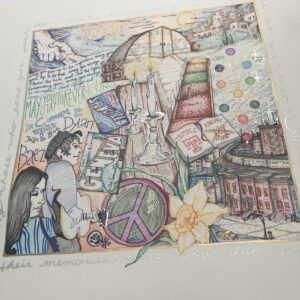 Photo: Courtesy of Nick Oberstein
Photo: Courtesy of Nick Oberstein
Photo Credit for the picture on the right: Chris Lang Photography