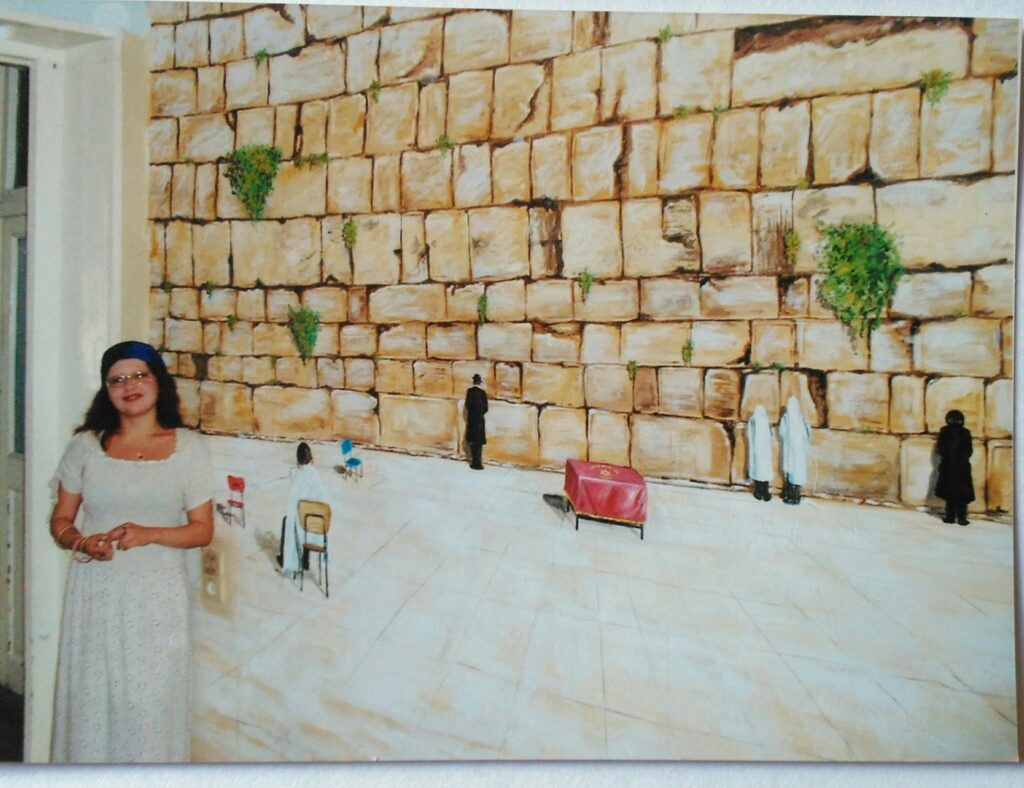 Photo: Courtesy of Monica Fetisova Altili
Tell us a little bit about yourself and your background.
My name is Monica. I used to live with my family in Russia and Georgia. My husband and I have lived in the beautiful small city of Pamukkale in Turkey for the past ten years. I have my own studio here, where I create wall paintings, ceramics, oil paintings, design graphics, etc. My style and the themes of my work is quite diverse. I have been giving painting lessons for the past 18 years. We have three dogs and ten cats in the family.
What inspired you to become an artist?
Art is very much appreciated in my family. My grandfather was a porcelain artist and my mother, who is a biologist, introduced me to art at a very young age. I drew my first painting when I was 1 ½ years old. It was a drawing of an elephant's head. After that, I never parted from paints, paper, pencils, or books. As a child, they were my favourite toys. At the age of 5, I entered the Art School for Gifted Children after passing the exam with excellent grades. I studied there for ten years. Painting, modelling, sculpturing, art history and piano, to be precise. And then, after obtaining this fundamental art education, I continued my studies at the Art Academy.
What is your specialty?
I have three specialisations. Firstly, I am a maxillofacial dental surgeon. I graduated from the Medical instate in Georgie. Secondly, I am an artist who graduated from the Art Academy of Georgia. And thirdly, I am an art therapist. I received this training in Moscow, Russia. I really love this profession because it comes both medicine and art. 10 years ago, I left dentistry and devoted myself entirely to art.
How and where do you work?
Now I live and work in Turkey, where I have my art studio, creating ceramics, painting, teaching drawing, and conducting art therapy sessions for children and adults with autism, Down syndrome, and paralysis.
What is the most indispensable item in your studio?
There is no irreplaceable item in my studio because I work in various different artistic fields, and I can always replace something with something else. The only thing that I consider as irreplaceable are my hands. And in the studio, I must have music. I play the piano and the bass myself. When I work, I mainly listen to either rock music or songs by Abraham Fried.
Where do you take your inspiration? Are you pursuing any themes?
Inspiration doesn't come to me; it is within me. My inspiration is life itself. I try to capture this life in my works. This is why I work in a variety of different artistic styles, because life itself is very diverse. I constantly draw, even when I feel very ill. I have had Type 1 diabetes for 33 years now. Even after my clinical death, which I suffered at the age of 13, I did not stop painting in the hospital. Of course, these were not such colourful paintings bursting of colour. Those paintings encompassed darkness and hope for light. I draw what I feel at the time. I paint with my heart. That is why my brand is called MonicaFA Art with Heart.
Do you do bespoke work?
Yes, of course, I accept custom orders and sell my artwork. My work can be found in 11 countries worldwide, USA, Israel, Russia, Georgia, Italy, Australia, France, and Iran. Armenia, Turkey, England.
What projects are you currently working on?
My current project is painting on walls, ceilings and decorating plaster. And I hope that this year there will be another exhibition of my work and that of my students'. Last year it was cancelled due to the pandemic. I had art exhibitions in Georgie and Turkey.
What are your favourite items in your current collection?
I have four favourite pieces. One is a painting in the shape of a violin carved out of wood. The second one is a large oil painting of 150 cm x 80 cm, which is not finished yet. It is a fairy fire horse. The third consists of two ceramic plates, one of them is in a Hanukkah design, and the other is for Shabbat.
How do you know when a piece is finished?
Oddly enough, it always seems to me that the work is still not finished. I always want to continue drawing. Therefore, at some point, I just decide to sign and consider the work finished. Otherwise, I would go on like this for months, add something and continue drawing.
What was the first artwork you ever sold?
The first piece I have sold was a New Year's card. I was 14 years old back then, living in Georgia. There was civil war, it was a very difficult time. I started drawing beautiful greeting cards and handed them to a shop for sale. Of course, this was an unforgettable moment.
Which project have you enjoyed working on the most so far?
I worked on my favourite project ten years ago. I painted on walls and ceilings in a Mechina, Yeshiva, in a Jewish kindergarten, etc. Judaica is a very dear topic to me. The artwork I create with this theme in mind I do not only create with my heart, like all other works but also with my soul. Of course, the theme of Judaica is constantly present in my artwork, both in my paintings and the ceramics I create.
What do you want to achieve with your work and what are your wishes for the future?
For the future, I wish for good health and strength to be able to continue, with the help of the Almighty, to continue to create, to capture life in my artworks, paintings and, especially, acquaint more and more people with the beauty of Judaica. Heart and Soul.
Where can we find your work?
I have never used social media, but three months ago, I opened my Instagram page. It is about me, about my artwork in various styles. Including Judaica @monica.fa_art  and, a week ago, I opened another page devoted only to the Art of Judaica topic. @feldmoni_judaicart I will be glad to everyone interested in my work.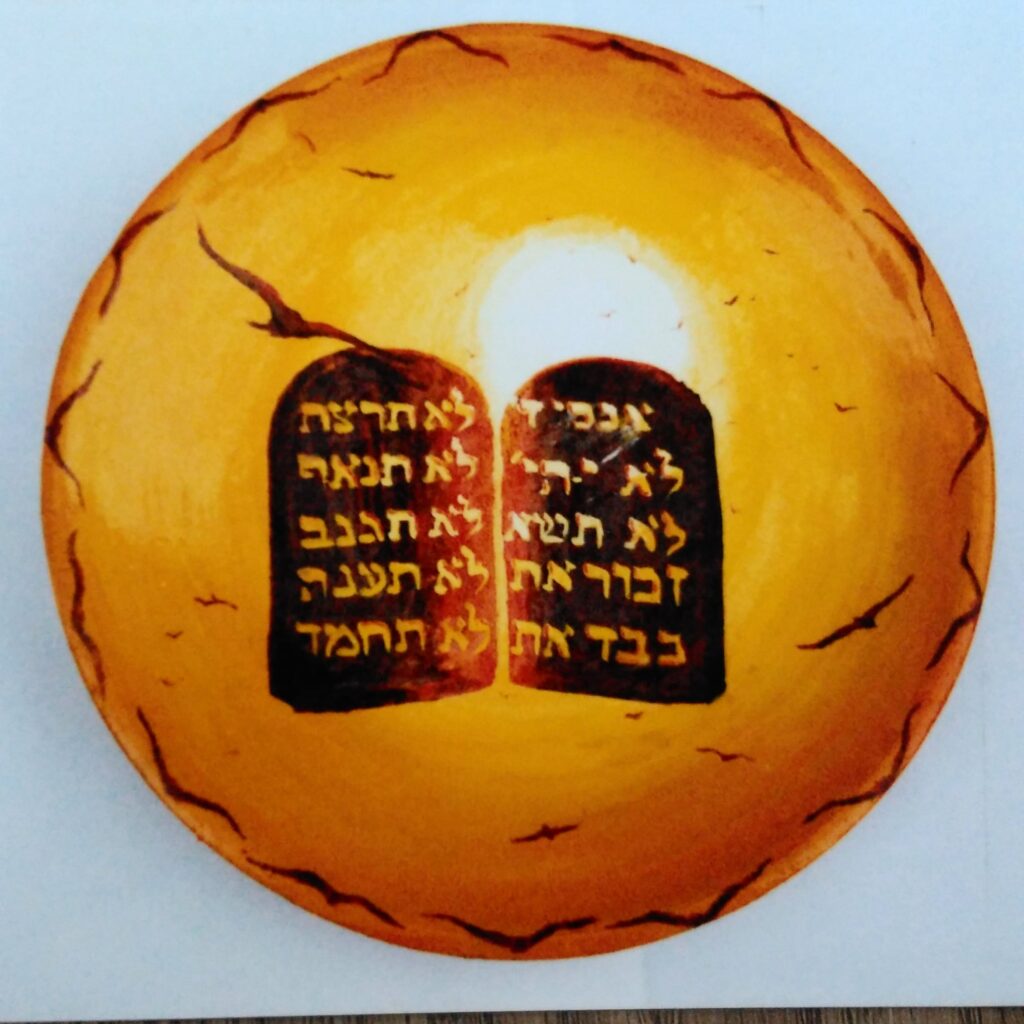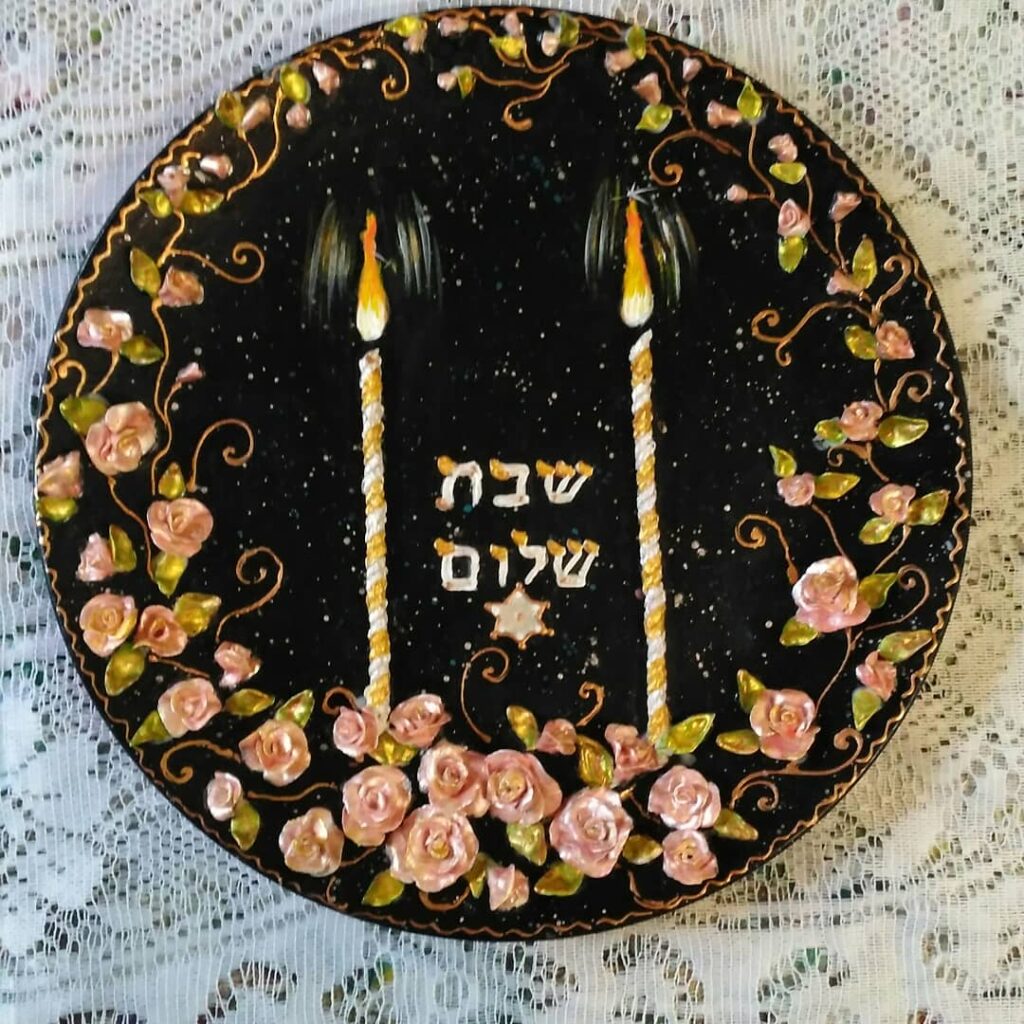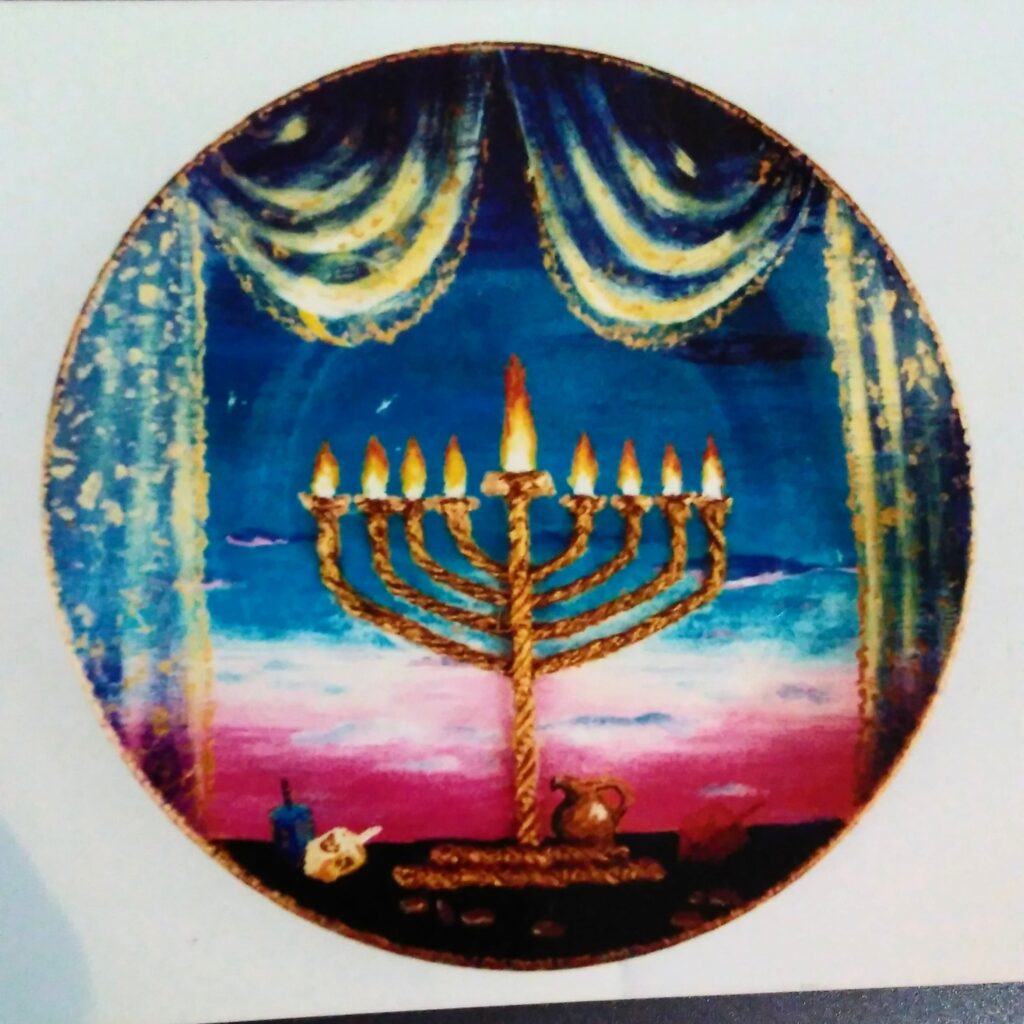 Photos: Courtesy of Monica Fetisova Altili