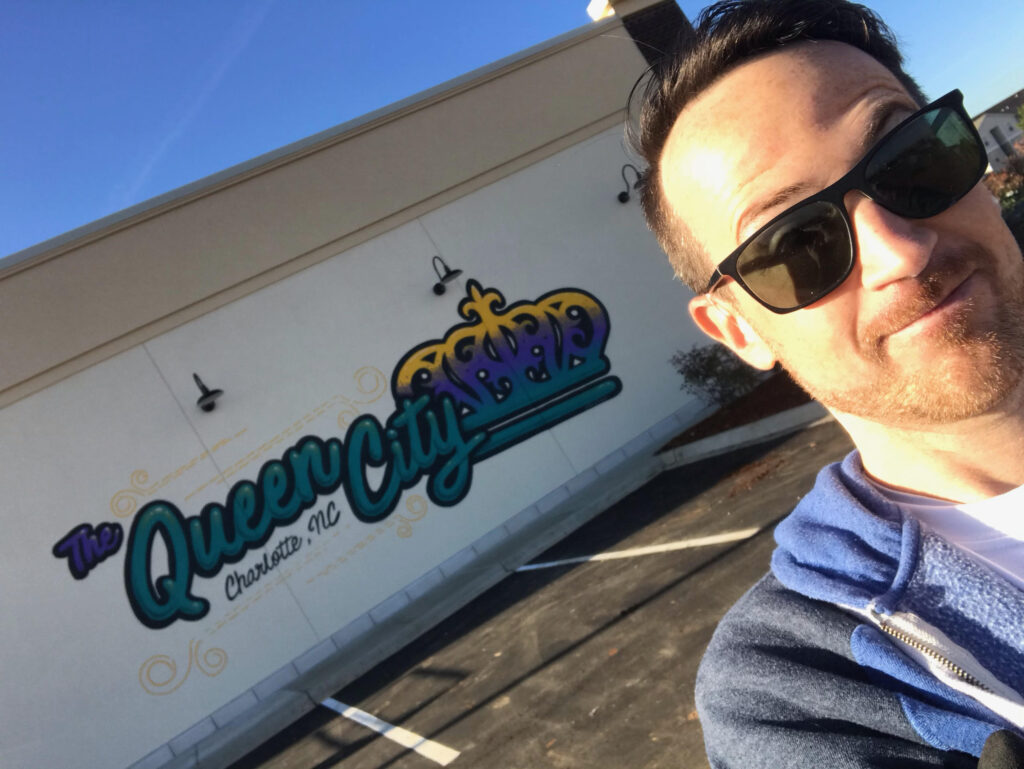 Photo: Courtesy of Mike Wirth
Mike Wirth is a visual artist, illustrator, and graphic designer, best known for his thoughtful murals and large public art installations that focus on major social justice issues and his identity as a Southern, Jewish-American. Mike earned his MFA in design and technology from Parsons School of Design in 2003 and his BFA in Digital Art and Design from Long Island University in 2001. Over the past 20 years, Wirth's murals, published works, and digital museum exhibits have appeared in New York, Miami, Charlotte, NC, and internationally in Croatia, Poland, and Germany.
Wirth is an avid educator, serving as an associate professor of Graphic Design at Queens University, and mentoring programs such as Five Sense, Iconic Charlotte: A Civic Symbol Design Initiative, and The Noun Project. He is a founding member and board mentor for the Talking Walls Festival, Charlotte's first annual, citywide mural and public art festival. In 2021, Wirth was one of 10 artists-in-residence selected for Charlotte's wildly successful Immersive Van Gogh Exhibition.
What inspired you to become an artist?
When I was a kid in the 80s, there were so many cool toys that my folks couldn't afford to buy me, so I started to make my own out of cut out paper and Crayola markers. In my mind, I if I could draw it, it was just as good as the real thing and sometimes even better.

As a Jewish artist, my first call to make creative mitzvot was a year before my bar mitzvah ca. 93', when my Rabbi asked me to draw a kids page for the upcoming Shabbos service bulletin. I created a Torah appropriate word search puzzle and a cartoon drawing of Moses that the other kids in my Shul could engage with the Parsha and enjoy it. This moment showed me how powerful art can be and the good that it can bring.
What is your speciality?
Currently, I'm painting large scale exterior murals with spray paint, creating digital art experiences with AR, and producing NFTS. As a commercial artist, my career has ebbed and flowed with the evolving creative marketplace. Previously, I worked in infographic and data visualization creating content for major Silicon Valley companies, some Jewish brands like Manischewitz and the Joint Distribution Council, as well as content for the three major textbook publishers in the US. I've earned creative authorship/editing credits in six textbook titles with over 600 individual graphics published in total.
Where do you take your inspiration from? Are you pursuing any themes?
Currently, my work is exploring Jewish Futurism and specifically the theme of how spirituality and digital technology intersect. In my work, I'm envisioning a Jewish character who lives in the Olam HaTikkun or next universe and uses spiritual technologies to navigate space and time to find all of the hidden sparks or neẓuẓot. He interacts with glowing holographic objects like a pomegranate that acts like a navigation system, a hamsa that appears as a protective shield, and tefillin that performs as a space suit. This story is still unfolding and I'm working on what happens next! Stay tuned.

I'm inspired by Tsvi Bisk and Moshe Dror's Jewish futurist writings. They're questions are mind expanding and challenging in the best way possible.

I'm inspired by Rabbi Gershon Winkler and his philosophy of discovering "the magic of the ordinary" and Tikkun Olam.
I'm inspired by the beautiful concepts in the Zohar. It has redefined my purpose in what it means to be a creative.
I'm inspired by the Renaissance-like energy that is emerging in the Jewish creative world. Social media has expanded the Jewish world for so many people. Everyday, I learn about new musicians, artists, chefs, rabbis, students and parents. Artists like Hillel Smith, Bareket Kezwer, Yitzhock Moully, and Olivia Guterson are on my top lists.
Do you take on commissions and create bespoke designs?
Yes, I take commissions for murals, illustration, Judaica, animated gifs, AR filters, and more!
Which project have you enjoyed working on the most so far?
The energy from my current work is really exciting. We're talking way beyond Jewish space lasers.

My favorite project so far has been the Jewish Street Art Festival. Last year, the festival founder and artist, Hillel Smith organized 8 mural artists from 8 different cities to paint a hanukkiah mural and invite guest candle lighters to paint the flame atop each candle over the 8 nights of Hanukkah. In my small Jewish community of Charlotte, NC area this had a seismic effect in bringing us all together.
What do you want to achieve with your work and what are your wishes for the future?
The goals of my artwork and advocacy have a few layers to them. First, I'm answering the call of my ancestors who's struggle brought me to where I am now in order to lead a meaningful Jewish life that I can define in my own way. Secondly, share that story with passion and celebration. Lastly, envisage a desired future for my own Jewish individuality and the Jewish people collectively. I like to ask big questions like, what do we want as a people and how will my decisions and life impact that?
Where can we find your work?
Folks can find me a these fine platforms:
My website- www.mikewirthart.com
Facebook – MikeWirthArt
Instagram/Twitter– @mikewirth
LinkedIn- https://www.linkedin.com/in/mike-wirth-mfa
Youtube- www.youtube.com/c/mikewirthmakesart
OpenSea NFT Market- https://opensea.io/MikeWirth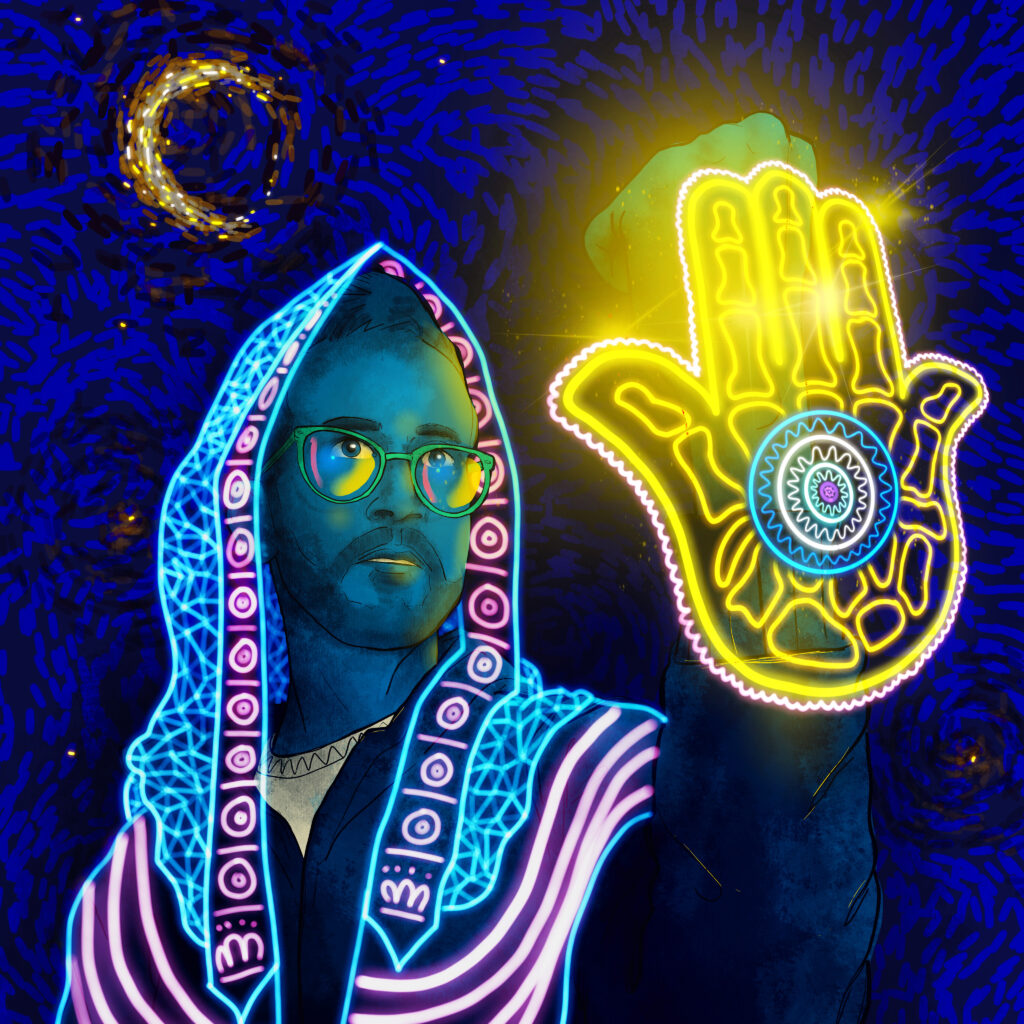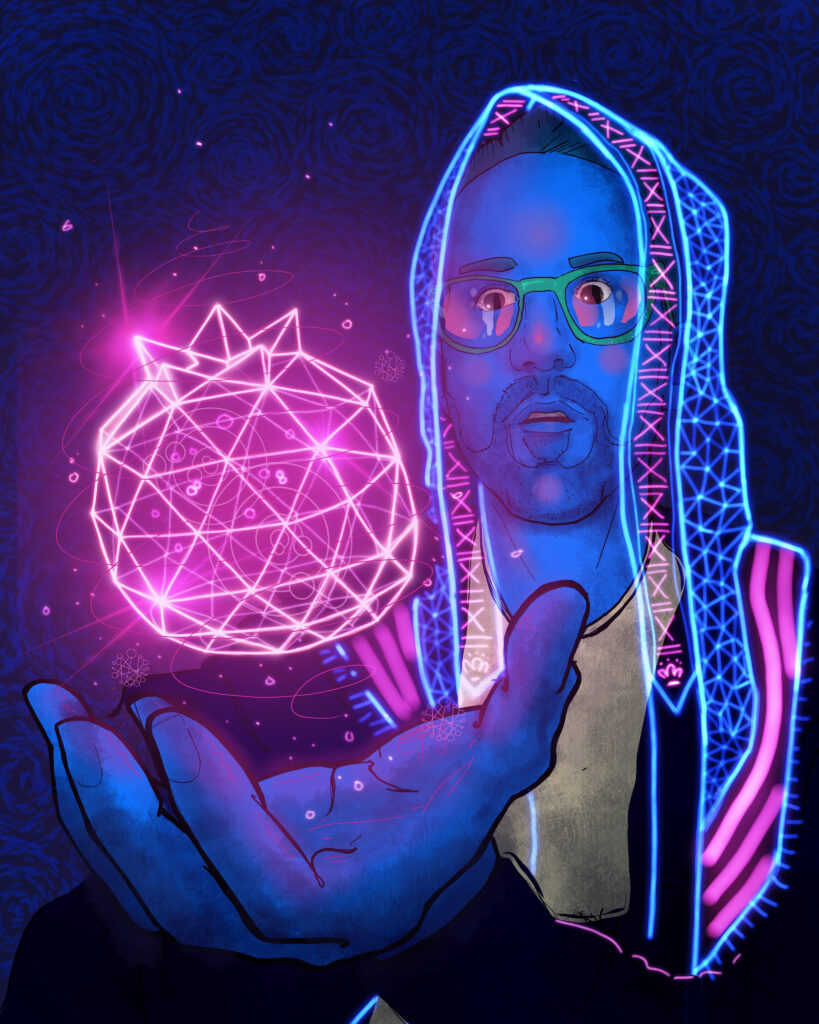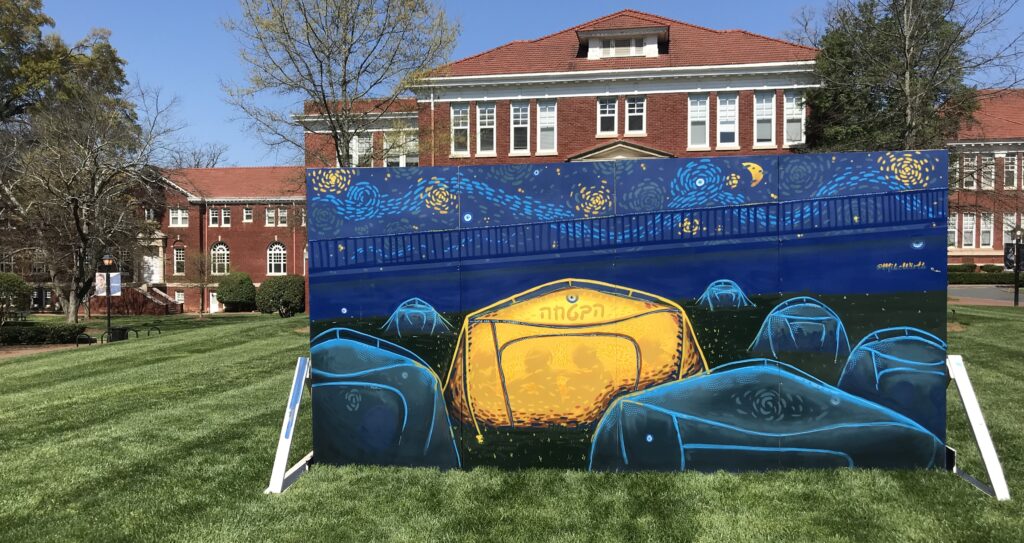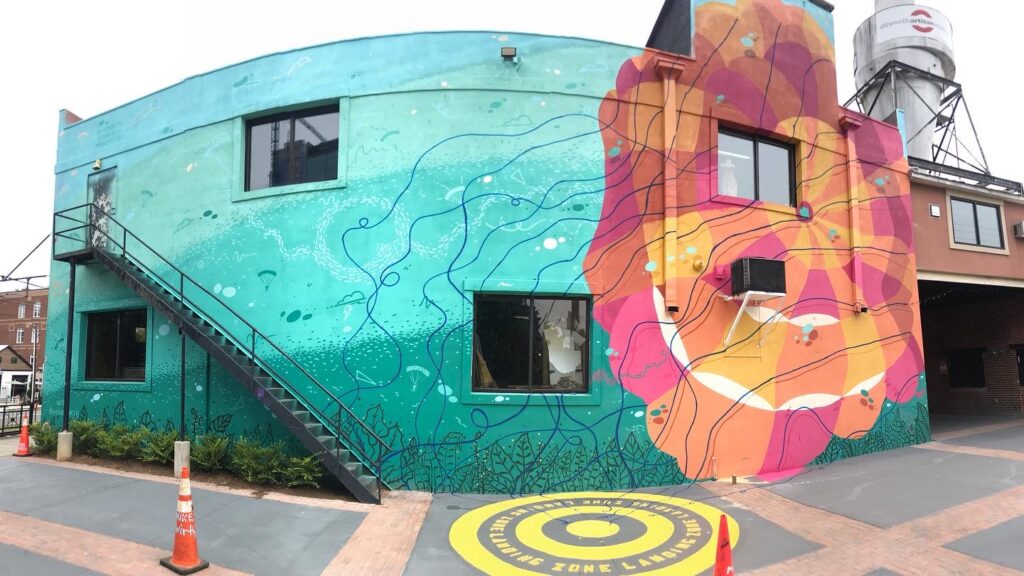 Photos: Courtesy of Mike Wirth