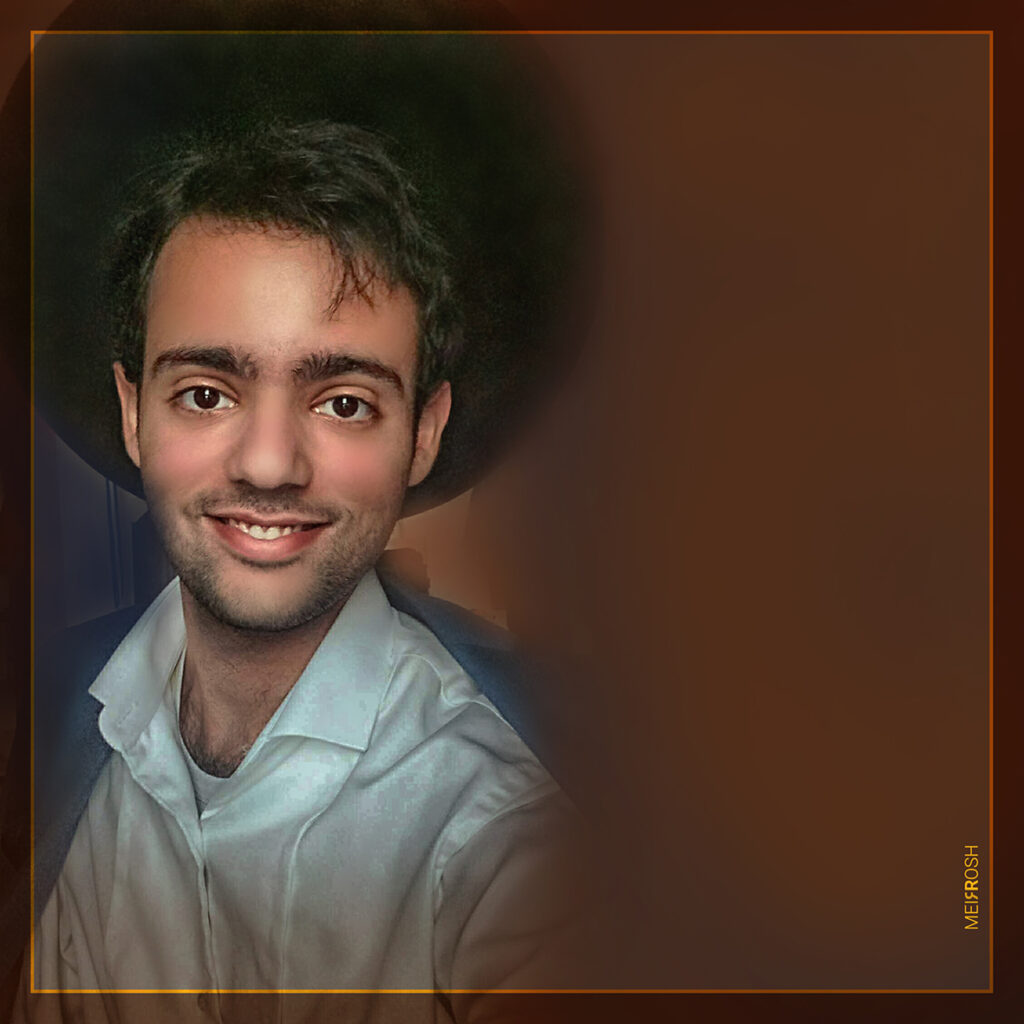 Tell us a little bit about yourself and your background.
Hi, my name is Meir Rosh, I am 24 years old, I live in Bnei Brak in Israel, and I work as a Graphic Designer. In my day-to-day work, I design logos, advertisement, invitations or flyers. I also do design work for books and magazines. In the evening, I give private tutorials, and also work as a lecturer at the prog-school; the work is very diverse, nice, and a lot of fun but not what I want to tell you about. The field I connect with the most is typography, and anything that has to do with the Hebrew letters of different eras. The typography work I do on the computer, but I try to make it look as if it was done by hand, while I combine the typography with artwork in photoshop. These pieces consist of a combination of images, some of which I take myself, to combine them with each other I paint with brushes in the software itself, until I get uniformity in terms of colours, lighting, and shadows.
What inspired you to become an artist?
I don't know when this happened, but it obviously didn't happen in a day … As a kid, and school boy, I always loved to draw with a pencil, and my toy was a simple digital camera. I used to shoot all sort of things that caught my eye, and by the way, I kept all these pictures. I remember myself as a high-school student standing in one of the breaks and looking up the stairs that went up to the classrooms, standing in front of the stairs and looking at their perspective, then stepping aside and looking at them again to see how the perspective changed.
After I finished school, I studied for three years at the Yeshiva. While at the Yeshiva, I did not work at all in any artistic field, but sat and studied, which actually worked out well for me, I was considered one of the good guys … When I was 16 years old, my parents got divorced. I continued studying at the Yeshiva for about two years, but I was very socially isolated … After I finished the small Yeshiva, I didn't go to a big one, one of the rabbis advised me to go study graphic design and develop professionally. And of course, I did it.
What is your specialty?
Typography and everything related to Hebrew lettering. It is very enjoyable to convey the meaning of a Talmudic verse or sentence through the form of letters and their composition.
How and where do you work?
At home in my room … Sometimes, I work friend in an office, but most of my work, and especially those in the artistic field I've done at home. My inspiration sometimes comes just before going to sleep, and then I open the computer and everything inside comes out.
What is the most indispensable item in your studio?
The computer with the software, of course. And of course my personal phone as well. When I am done with my work I consult with friends from the field or other people, I ask what they think, and what they feel when they see my creation.
Where do you take your inspiration? Are you pursuing any themes?
My inspiration comes many times while studying and connecting with a Talmudic law or Torah verse. I regularly listen to music while working, and sometimes a good song brings me inspiration … Once a week, I usually walk the ancient alleys in Jerusalem to breathe in the past. Of course, it is also a usual practice to follow and look at the works of other artists from the various fields: painting, photography, typography, and design.
What projects are you currently working on?
It varies. Sometimes, work on three different projects in one day… The field of Graphic Design is very broad, but what I like to do is good typography. Many of my typography projects were not done for a client, they come from within, without an invitation.
What is your favourite item in your current collection?
It is hard for me to determine as I connect with a lot of the pieces I've created. I have the "Eshet Chayil" in my collection. I have printed it on Plexiglas with a special laser cut letters, this is one of the pieces I love …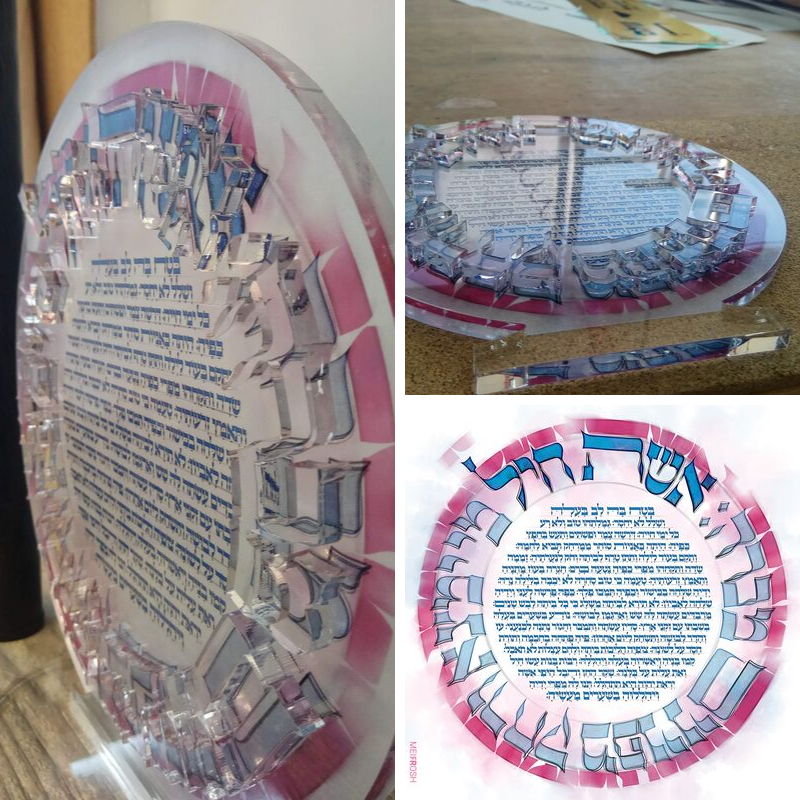 How do you know when a piece is finished?
When I am inspired to design something, I feel something inside of me that needs to come out. Many times, when I can imagine the finished work before I sit next to the computer. When I finish working on a piece, I feel complete and calm with the results, then it is ready.
Do you do bespoke work?
Definitely. When working on art, I need my expressive freedom, and a client who wants me to design something artistic for them need to know that they should let me do the work by myself.
What was the first artwork you ever sold?
I don't remember. One of the first artworks I have sold was a piece of Photoshop art of the Temple at night, several copies of the work have been sold to donors to the yeshiva who live abroad.
Which project have you enjoyed working on the most so far?
I have recently finished another piece of Temple art in photoshop. This piece joined together with four other Temples pieces. I have tried to create something out of the ordinary, and looked for interesting compositions. It's fun, mainly because you have to imagine standing in the Jerusalem 2000 years ago and looking at it …
What do you want to achieve with your work and what are your wishes for the future?
To reach as many people as possible, and especially touch the hearts of as many people as possible. That somebody comes to me and tells me that my work had brought tears of excitement to their eyes, this really touches me. My wish is to have a real gallery and not just a virtual one on Instagram. A gallery where people will come in and look at my artwork, where I can sit in a little room in one corner and continue to create …
Where can we find your work?
You can follow my work in the following places:
Instagram: https://www.instagram.com/izchak_rosh/
Facebook: https://www.facebook.com/izchak.rosh
In the Forum on the Prog Site: https://www.prog.co.il/media/users/meir-rosh.22513/albums
My email address: meirroz069@gmail.com
© Meir Rosh