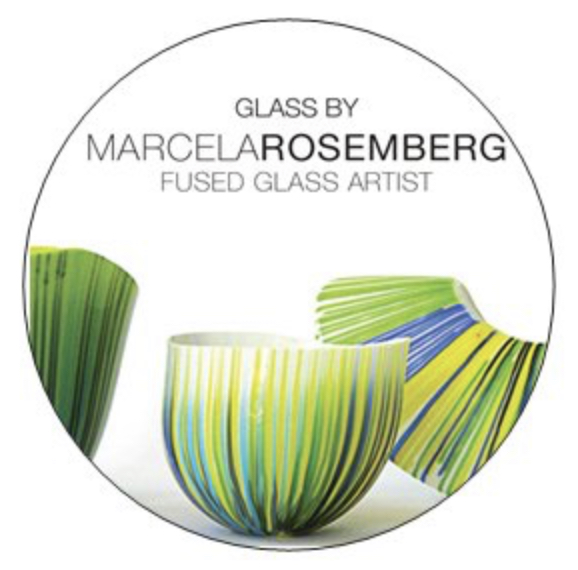 Tell us a little bit about yourself and your background.
Finding glass as a medium of expression was truly a blessing for me. It was the key that opened the doors for me and my family into beautiful Prince Edward Island, Canada, from Buenos Aires, Argentina, 16 years ago allowing me to start a new journey. And even though I have just relocated to Toronto, my colours and designs are still standing strong on the East coast where I created a brand for myself.
Beauty, simplicity, elegance and functionality are essential components in my designs. At my studio, I'm always looking for that special blend of colour and texture that leads me to each piece of art I carefully design. I treat glass as if it were a human being, by respecting it and not pushing it. This allows me to understand its flow, displacement, behavior, and action up to its most intricate inner part… Its core. That is why I always say: "Each time a piece leaves my studio I feel a little bit of my soul is going with it".
What inspired you to become an artist?
Art has been a part of me for as long as I can remember.
What is your specialty?
I work with glass using the fused glass technique: Fused glass, also known as warm glass or kiln-formed glass, is made when separate pieces of glass are heated in a kiln until they melt and fuse together into a single piece. Typically, fusing refers to any glass that has been worked in a kiln. Glass fuses at around 1450 to 1500 degrees Fahrenheit.
I specialize in menorahs, seder plates, apple and honey sets, coasters, candle holders, starfish paperweights, sculptures and corporate gifts.
How and where do you work?
I work in my studio located in the beautiful city of Toronto.
What is the most indispensable item in your studio?
Sheets of glass, a glass cutter, pair of pliers and square are the most indispensable items in my studio.
Where do you take your inspiration? Are you pursuing any themes?
The ocean and my Jewish faith are the main sources of inspiration in my sculptural and functional current work.
What projects are you currently working on?
I'm currently working on and launching my new collection of Menorahs called "Ocean"
Also, I'm finishing different corporate commissions such as Canadian Tire Jumpstart Program Awards, Mortgage and Housing Corporation Awards to name a few, and preparing the workshops that I'm going to bring to the Jewish Community where the participants will design a Menorah for Hanukkah.
What are your favourite items in your current collection?
Menorahs, Seder Plates, Starfish Paperweights and Sculptures.
How do you know when a piece is finished?
A big smile appears in my face, my eyes start being watery and my heart is beating faster when I feel the piece I was working in is finished.
Do you do bespoke work?
Yes, I do bespoke work. I love to design and make my customer's dream piece.
What was the first artwork you ever sold?
The first artwork I ever sold was a Menorah. It was a design made out of blue glass showing children dancing in Jerusalem.
Which project have you enjoyed working on the most so far?
Along these 16 years working with glass I enjoyed each and every project. Although that I'd like to say that this year I was commissioned by Canadian Tire to design and create so far 42 awards for the donors that helped raise money to create the Jumpstart playgrounds which give kids with physical, sensory, and cognitive disabilities an environment to promote their well-being and let their imaginations soar.
What do you want to achieve with your work and what are your wishes for the future?
With my work I like to bring happiness to the viewer.
Where can we find your work?
Please visit the following links to find my work:
www.etsy.com/ca/shop/GlassbyMarcela
www.instagram.com/glassbymarcela/
www.facebook.com/MarcelaRosembergGlassStudio