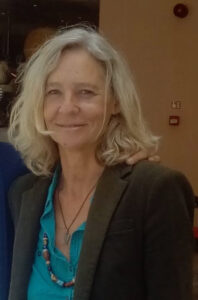 Photo: Courtesy of Maiyan Karidi
Tell us a little bit about yourself and your background.
I have spent the last 22 years initiating, collaborating and/or establishing art projects in South Africa, Israel, Fiji and Mauritius. I went to Art School in Cape Town (jewellery and painting), before moving to Israel and training in mosaic restoration. Together with my husband, we have created several public art works in ceramic design and mosaic. We ran an art studio together for 13 years. For the last five years, I have focused on painting and creating a series of conceptual artworks.
What inspired you to become an artist?
I think my very vivid, surreal dreams have inspired me to express visually the pictures and emotions that are so active in my subconscious mind. I live in a bubble. I feel that art is the only way to cope with reality.
What is your specialty?
Mosaic art and acrylic painting.
How and where do you work?
For the last 8 years, I have been working at our studio in Mauritius (Indian Ocean).
What is the most indispensable item in your studio?
Colours, I love colours. Colours have a huge influence on my state of mind.
Where do you take your inspiration? Are you pursuing any themes?
Nature, microcosms – things we cannot see with the naked eye, what lays beneath and inside like plants or minerals under the microscope. I am fascinated by these worlds that we cannot see but are all around us every day. I like to play with the surreal. I try to incorporate a hidden Jewish symbol in most of my paintings.
Do you do bespoke work?
Yes.
What projects are you currently working on?
I am presently in the sketching phase of a series of 12 paintings based on the Hebrew calendar.
What are your favourite items in your current collection?
A painting of my son alone in a city far away and a spontaneous mood painting in blue.
How do you know when a piece is finished?
I don't.
What was the first artwork you ever sold?
A huge public art commission of mosaic – twenty-seven square meters.
Which project have you enjoyed working on the most so far?
Every painting process. Also, an object art piece, a mosaic on a kayak with a tree, launched into the lagoon for the opening of a dance company in Mauritius.
What do you want to achieve with your work and what are your wishes for the future?
My wish is to be able to focus only on my painting for 6 months to enable me to create a body of work that is on my mind.
Where can we find your work?
www.mysticaartdesign.com – gallery page under Mosaic Art and Painting.
Instagram – mai_colorz
FB – Mystica Art (Maiyan)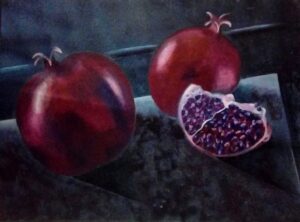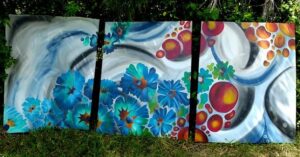 Photos: Courtesy of Maiyan Karidi