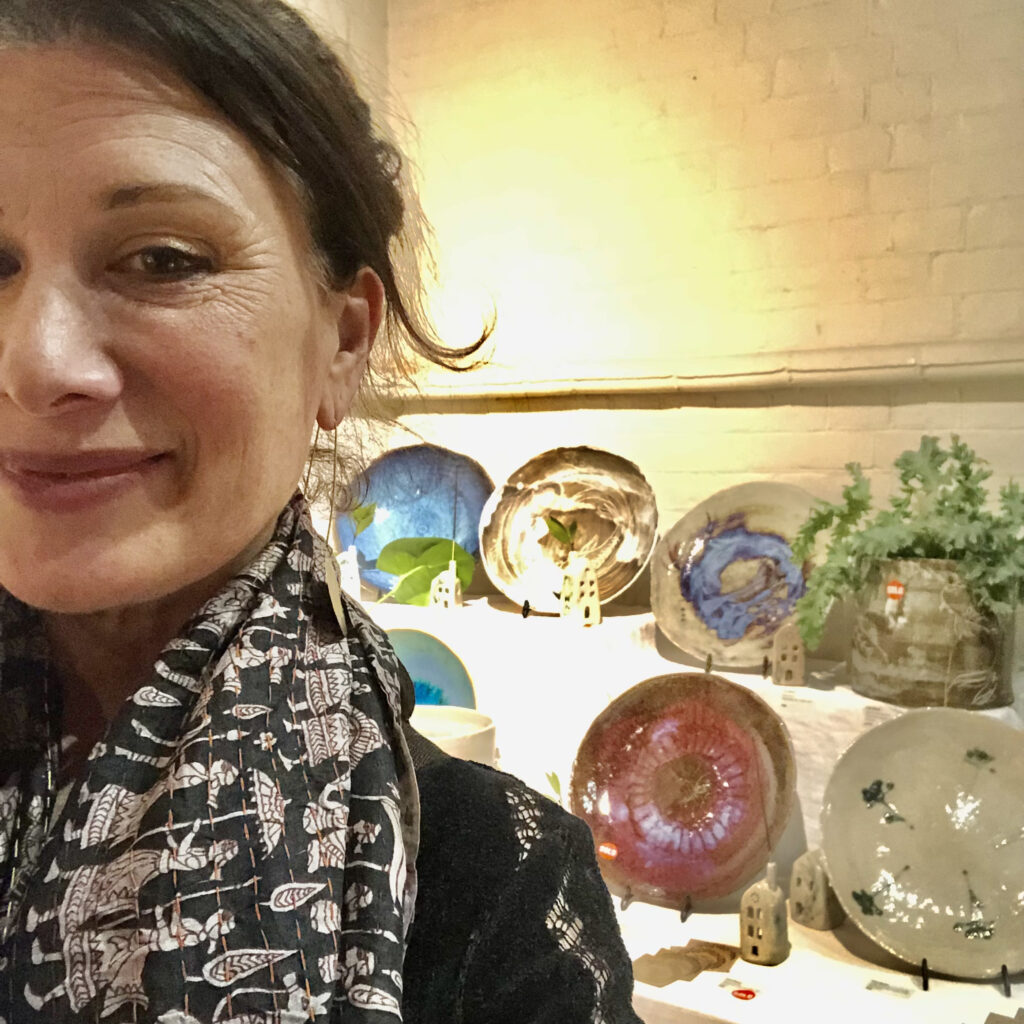 Photo: Courtesy of Lori Shaul
Tell us a little bit about yourself and your background.
I'm a full time potter and a part time teacher at Wimbledon Synagogue, teaching Hebrew and preparing children for their B'nai Mitzvah.
What inspired you to become an artist?
I have always loved art, in almost every form I can think of. I've been drawing, painting and making things since I can remember. I have happy memories of making mud sculptures in our garden as a child and I and I'm definitely happiest when I'm creating and my hands are busy.
What is your speciality?
Most of my pottery is hand built using slab building, coiling, and kurinuki techniques as well as sculpture. I enjoy making large slab built vessel forms which provide the perfect canvas to etch onto and paint designs with oxides, slips and underglazes.
Where do you take your inspiration from? Are you pursuing any themes?
I'm inspired by so many things. The problem with clay is that there are no limits to what you can make. You can let your imagination run wild. If I need something, I will often try to make it first. I like to make useful items that are original, decorative and hopefully beautiful and different to something that was mass produced. You can often see the makers marks in something that is hand built – a subtle thumb print in the glaze or a slightly wonky edge, that is evocative of the object's creation.
I've sold and shown my work at local exhibitions along with local artists and there is often a theme for each show. There is an upcoming exhibition in my local village of Barnes this summer called 'Living with Water'. It's a huge and diverse topic and I'm sure that I'm not the only artist who has been thinking about climate change and the detrimental effects humans have had on our oceans and rivers, and incorporating that into the work. I have been busy creating pieces for the exhibition and they are all different: From glazes that have an ocean or a limpid pool quality to textures and forms that evoke ancient seas or dying corals. The subject of water is vast yet at the same time, restricts my over-active imagination.
Do you take on commissions and create bespoke designs?
Yes, I do and I am sometimes amazed at the imagination of the customers and the designs they come up with! I can't resist a challenge but sometimes have to tweak a design to ensure it's going to work. I've had some practical requests, such as recreating an ancient Galithean stoneware wall sconce that got broken in the recent high winds. I was determined to do justice to the original and I learned new techniques in the process.
Which project have you enjoyed working on the most so far?
It's hard to say as I'm usually super happy whatever I'm creating. I don't think I would enjoy endlessly creating mugs, plates, vases etc. that intentionally all looked alike, as production potters do (and which is a skill in itself). I'm about to start working on some large sculptural hannukiahs that I designed and made last year. Although I stuck to the same design, each Hannukiah is hand carved and each one is different. Each one starts out from a 3kg block of clay so I'm looking forward to getting stuck into those.
What do you want to achieve with your work and what are your wishes for the future?
I can only really keep creating if people buy my work and I need to improve my marketing skills and set aside some time to do that. Apart from that, I just want to keep on creating, exploring and practising my techniques.
Where can we find your work?
You can see some of my work and my process on Instagram: @lori.shaul.ceramics.
I'm planning to design my own website in the future but for now, a selection of my work is available on Etsy: https://www.etsy.com/uk/shop/LoriShaul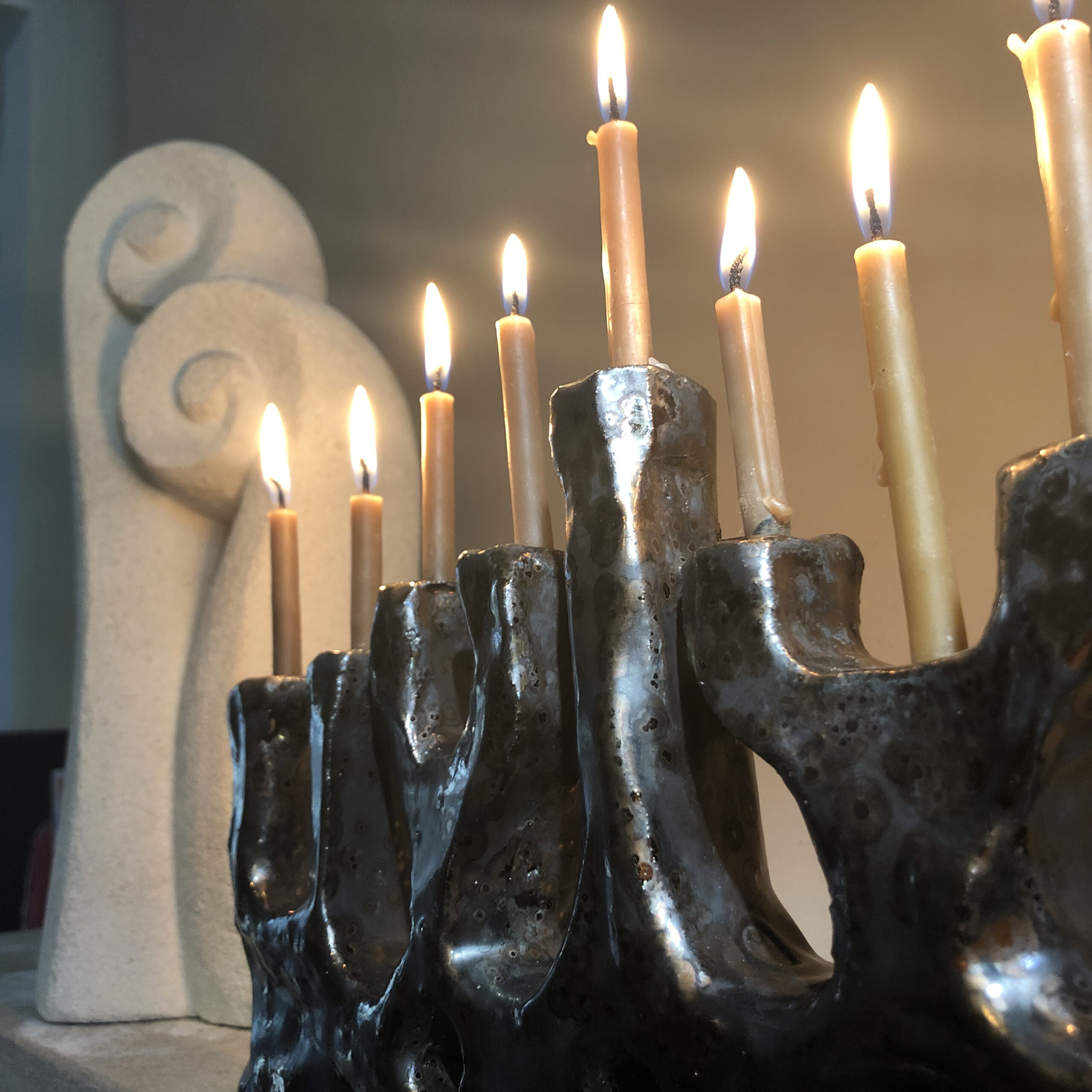 Photos: Courtesy of Lori Shaul