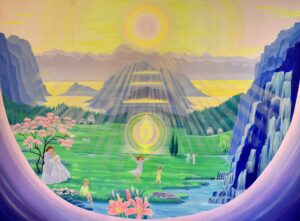 Photo: Courtesy of Liliane Ritchie
Tell us a little bit about yourself and your background.
I was born and raised in the French part of Switzerland. Then I lived in California for many years. Now I am blessed to be living in Jerusalem.
What inspired you to become an artist?
My love of nature and GD.
What is your specialty?
Artwork with spiritual themes.
How and where do you work?
I work happily in my home.
What is the most indispensable item in your home studio?
The glitter that I sprinkle on some of my paintings.
Where do you take your inspiration? Are you pursuing any themes?
Love and light.
What projects are you currently working on?
My writing. I have also published five books.
What are your favourite items in your current collection?
All of them.
How do you know when a piece is finished?
When the message is clear.
What was the first artwork you ever sold?
The Garden of Eden.
Which project have you enjoyed working on the most so far?
All of them.
What do you want to achieve with your work and what are your wishes for the future?
I want to uplift and comfort people
Where can we find your work?
www.facebook.com/lilianeritchieart
www.instagram.com/lilianeritchieart
Photos: Courtesy of Liliane Ritchie