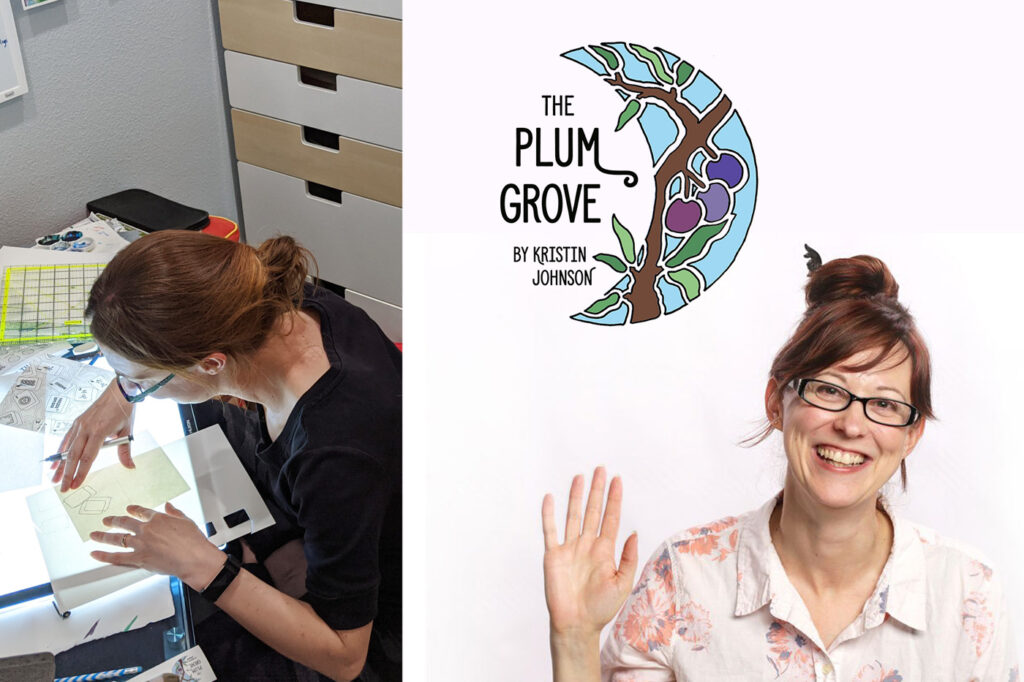 © Kristin Johnson
Tell us a little bit about yourself and your background.
Hello! My name is Kristin Johnson and I am an American pattern designer and artist who grew up in Washington State. I now live in San Jose, California with my wonderful family and cat. As a child I always had a passion for drawing. In college I studied Multimedia Design and was fortunate to be selected for a one-month watercolor intensive program in Siena, Italy, which was formative in my watercolor techniques and art philosophy. During that summer intensive program I studied under artist Satoko Matouji and appreciated her thoughtful approach to color, perspective, and art.
What inspired you to become an artist?
I love how art connects people and communities, and I feel that creating and enjoying art is an essential part of the human experience. Whether celebrating joyous moments, appreciating the beauty in nature, or working through pain after a loss, art is part of all these meaningful moments.
What is your specialty?
I specialize in Jewish, botanical, and comic strip ink illustration as well as watercolor pattern designs. I create most of my designs optimized for use on fabric/wallpaper (repeating patterns). I also create some artwork specifically for use on stationery such as Rosh Hashanah cards. I also take commissions for custom watercolor paintings, such as family tree paintings.
How and where do you work?
My workspace is an artist nook area in my home. I have a large drafting table and a small sink for cleaning paint brushes. I feel very lucky to have an art space in my home where I am able to quickly access everything I need. I create paintings and illustrations by hand at my drafting table and from there I scan the artwork using a large-format scanner and then spend many hours carefully finalizing the pieces with my computer, which requires careful attention in order for my perfect-repeat patterns to repeat seamlessly.
What is the most indispensable item in art space?
I use special re-stick removable tape when I am cutting and arranging my designs to formulate a perfect-repeat pattern design. This special removable tape doesn't tear my ink or watercolor paper when I reposition the pattern squares, which is essential to finishing a successful seamlessly repeating design. I will often reposition a repeat-pattern design's sections five or six times before the artwork is ready to scan, and each time I am thankful that the removable tape is so handy.
Where do you take your inspiration? Are you pursuing any themes?
As a mother raising a Jewish family and as an avid gardener, I take my inspiration from nature and from the many Jewish holidays. I love that many fruits, vegetables, and flowers are part of so many Jewish traditions and festivals.
What projects are you currently working on?
I am currently working on a mosaic-style Shabbat fabric design series that will feature all of the classic elements such as a challah, wine cup, and candles, and will be woven together with some grape vine elements and repeating tile shapes. When I craft a fabric design series I typically create several designs that will belong together and have the same exact color scheme, so that the bundle of coordinating fabric designs can be used in a variety of applications and naturally match and coordinate with each other.
What are your favourite items in your current collection?
My new favorite item is a playful fabric design featuring an array of mahjongg tiles. I love to play mahjongg with my friends every other week and they suggested that a mahj themed design would be good for gifts, so I got to work and created this fun pattern.
My long-standing favorite design is my Seven Species fabric design series, which I have created in several different colorway options, my favorite of which is this mauve-tone color scheme. This design is one of my favorites because I had a clear vision about how I wanted the design to look before I started crafting it and after a few iterations and hard work it turned out just the way I had hoped!
My top-selling items at craft fairs; however, are my holiday designs such as my Hanukkah tea towels in a dreidel mosaic and menorah mosaic pattern on Roostery. I am proud that all of my postcards and greeting cards stationery that I sell is printed on 100% recycled paper by a local union printer with eco-friendly inks.
How do you know when a piece is finished?
When I get inspired to create a new design I usually have a clear vision in my head of how I want it to flow, what colors I will use, and what it will become. Then as I work toward the design it sometimes adapts a bit, but generally I feel a strong sense of completion once my initial vision has come to life.
Do you do bespoke work?
Yes, I do bespoke commissioned pieces for both custom stationery designs and custom watercolor paintings (for framing and hanging on the wall). I love working with people to learn what they want and pride myself in spending a lot of attention to detail to help the custom piece be as meaningful as possible to the person or family for whom the custom work is created.
What was the first artwork you ever sold?
My first pomegranate fabric design on Spoonflower was my first real effort to create something that would be designed specifically to be sold. I was so thrilled when customers on Spoonflower found my design and decided to place orders for the design.
Which project have you enjoyed working on the most so far?
I created a custom tree-of-life watercolor painting that a friend commissioned me to make for her parents in honor of their b'nai mitzvah. This special piece was very enjoyable to work on because it was so much fun to look at their families' beautiful tallit and incorporate each family member's tallit style onto the painting. After it was completed, it was so wonderful to hear how much the family treasured this special painting, framing it and putting it on display in their home, making all the hard work worthwhile.
What do you want to achieve with your work and what are your wishes for the future?
Artwork can help provide joy and specialness to any occasion – whether it is getting out the special Hanukkah tablecloth, setting out special Shabbat napkins, or a cornerstone piece such as a custom family tree painting that is framed and on the wall. With my artwork, my wish is to bring more beauty and joy to all of these moments. I wish for my unique designs to appeal to the modern Jewish family and become part of celebrating family traditions.
Where can we find your work?
My artwork is available on my ThePlumGrove.com website, as well as fabric and wallpaper on Spoonflower and various products such as pillows, mugs, and bags on Society6. For custom pieces or questions, emailing me directly is best! I can be reached at kristin@theplumgrove.com
To see my latest work, follow me on Facebook and on Instagram.
© Kristin Johnson