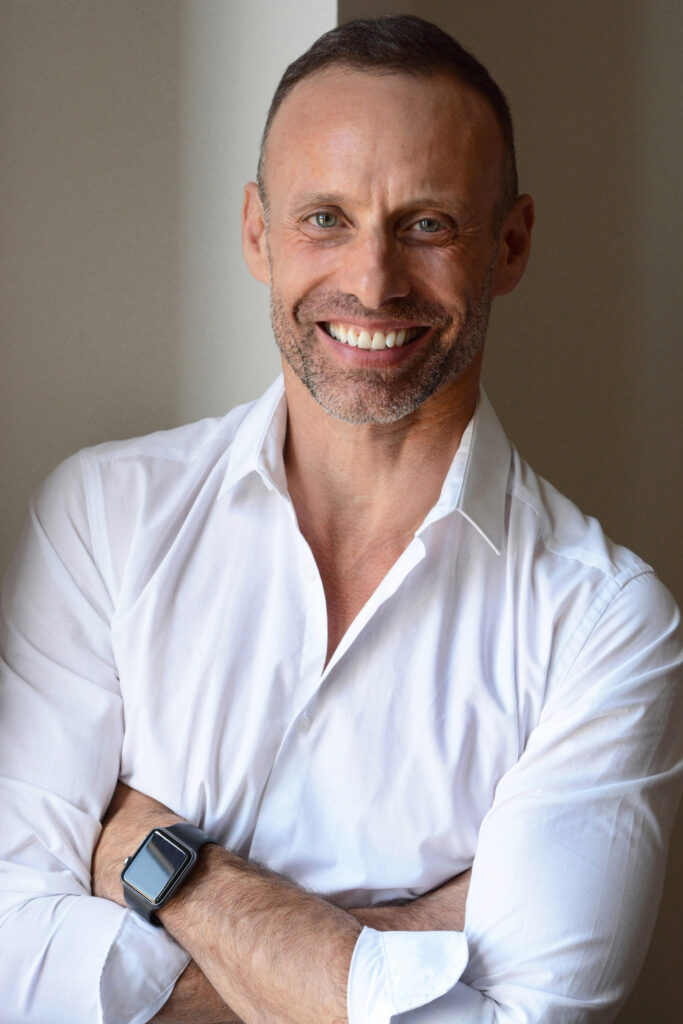 Photo: Courtesy of Jonathan Nosan
Tell us a little bit about yourself and your background.
I was born in Mt. Pleasant, Michigan 1969 making me 52 at the moment of 2021. My life course has essentially always followed a pattern of following passions: creating imaginary circus scenarios with best friends as a little boy, learning and performing magic and juggling after seeing street performers in San Diego where we moved in 1982, studying Japanese language and history at UC Berkeley leading to a Fulbright scholarship to Kyoto for pre PhD research in Design of Sacred Space which became diverted after seeing a contortionist in Nagasaki leading to 4 years in circus and theater schools (London and San Francisco) and then a continuing 20+ year career as a performing artist based in New York City up until my 2020 move to Tel Aviv. All in all a very straightforward career trajectory.
New York brought Broadway, films, commercials, the Performance Design Firm Acroback producing International special events and galas, international circus theater tours and my 2010 solo show BAGABONES at the New York Fringe Festival: a performance memoir of the five lives I had thus lived (Business Man, Mountain Ascetic, Street Performer, Academic, Soul Ascendant) written with the one through-line character being a ceramic vessel/cup ultimately revealed as the funerary urn and ultimately smashed. If I were to destroy the urn each show I had to be the creator of the urns as well so I signed up for pottery classes at Mud, Sweat and Tears in my neighborhood of Hell's Kitchen near Times Square. I had frequently passed the pottery studio walking my beagle Clover but never found the reason to join what I was always intrigued with…clay creation. The run of the show ended but the pottery passion continued and has grown and joined my being as a multi disciplinary artist.
What inspired you to become an artist?
My Fulbright years (1992-94) in Kyoto Japan researching "Design of Sacred Space of New Religious Organizations" sparked my fascination with the creations of a numinous experience from the extreme to the simple. Researching the work of I.M. Pei, the architect who physicalized the spiritual nature of my "sect of study," inspired me to imbue the same qualities into my performance and pottery art. Thankfully I had supportive parents who gave me the freedom to fly with my passions as long as I found the way to support my chosen path which always presented itself: sometimes with side jobs (waiter, custodian, salesman at Coach) and ultimately I carved a niche which has niche created an art based life and career.
In both my physical art and visual art I approach both "bodies" of work with the similar perspective of refinement and elevating/infusing the material with the spiritual.
What is your specialty?
Porcelain and 24k Gold. I throw/create slender tall pieces on the potters wheel which appear fragile but have an incredible stability and strength. A studio mate in London referred to my work having an "impossibly grounded kinetic perilousness." I create multi piece installations either with a luminescent white glaze or non-glazed celebrating the smooth purity and sweet porousness of the porcelain. I then often gild the opening and rim of pieces with 24k gold leaf which may then become oil and wick Shabbat Lumiere "Candles"
How and where do you work?
I work in Tel Aviv, Israel in the Florentine neighborhood. I am thankful to have a space in the studio of the ceramicist Avigail Segal. I go into the studio nearly every weekday for two to four hours per day. The clay generally dictates what can and will be done that day…porcelain does not like to be rushed during the drying process so I don't/can't use heat guns to speed up the drying process before trimming the pieces. The seasons and humidity also affects what will and won't get done in a day. I generally either listen to BBC Radio 3 (classical) or the Israeli radio stations of Galgalatz or Kan88 (the latter especially leading into Shabbat).
What is the most indispensable item in your studio?
Razor Blades, Sticks and Test Tubes. In addition to all the regular tools, square razor blades are part of my arsenal for trimming the porcelain as thin as possible. Different sizes of Sticks are needed for making the pieces when my arm and fingers become to large for the vessel openings…from dowels down to chopsticks. The Test Tubes are used to regulate the exact dimensions for the opening to fit the glass insert which holds the wick for the Lumieres.
Where do you take your inspiration? Are you pursuing any themes?
My primary inspiration is Chasidut. I started studying Tanya (Chabad)/Jewish Spirituality deeply in 2013 and the concept of The Vessel, the relationship of Body/Soul and the drawing up and release of light from darkness which I found translatable into my porcelain work. Initially I captured it through the use of gold leaf, illustrating the inner body of the vessel not full of darkness but full of radiant light, seeping up and out of the internal. After repeated questioning "if they are candlesticks" (and they were not), I created the Lumieres which have an even deeper level of Chasidut connection in the relationship of the form, the oil, the wick and the fire…all reflecting the souls ultimate desire within the body to rise up and reach a connection to Hashem.
Do you do bespoke work?
Yes.
What projects are you currently working on?
I'm currently working on a Menorah/Chanukiah, with a precision in equal height but slight variation in rim style to express the diversity within our unified "family."
What are your favourite items in your current collection?
The Lumieres: they are simply magical.
How do you know when a piece is finished?
It tells me. It can often be tempting to push a piece to far, which is sometimes necessary to test limits, but particularly when fusing function with art there needs to be a respect to balancing the fragility and strength.
What was the first artwork you ever sold?
When living in Kyoto for two years I created a line of greeting cards made out of repurposed straw natto wrappings (fermented soy beans) and hand made paper which I sold to shops in San Francisco.
Which project have you enjoyed working on the most so far?
YKVK/Metatron. This Performance Art piece premiered in Tel Aviv at the Benyamini Contemporary Ceramics Center "Pottery Slam 2" in 2019 combining my ceramic work and contortion, butoh, and physical theater. The creation of the forms of the Tetragrammaton and the expression of the power contained both in the formation of the Hebrew letters and the physical body resulted in a powerful piece I look forward to continuing to perform in gallery and museum settings.
What do you want to achieve with your work and what are your wishes for the future?
I look forward to sharing my work at international Jewish Museums and galleries to express the beauty of Jewish Spirituality.
Where can we find your work?
Website: www.nosanceramics.com
Instagram: @nosan_ceramics
My work is available at REZORT in Tel Aviv with international shipping.
REZORT: Migdal 2, Neve Tzedek Tel Aviv Israel (https://www.shoprezort.com)
Photos: Courtesy of Jonathan Nosan