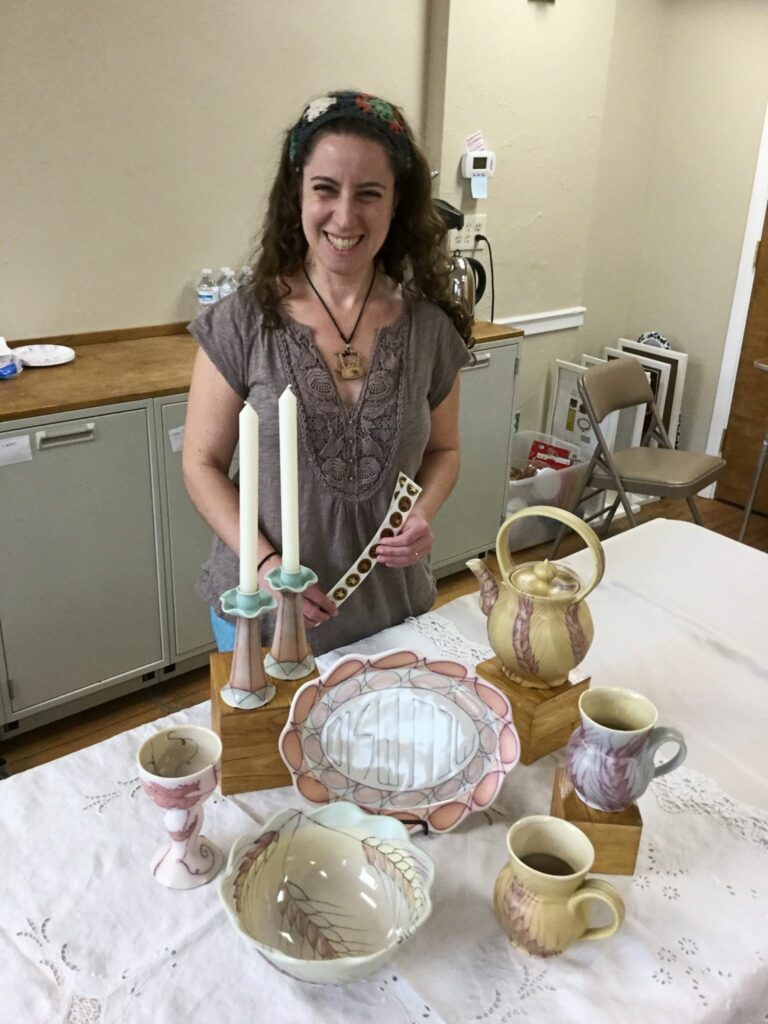 Tell us a little bit about yourself and your background.
I am a ceramic artist making Judaica as well as functional secular pottery for the home. I live in Philadelphia with my husband, 9-year-old son, and Lulu the dog. Most days I can be found in the basement where my studio is in our house. I also teach adult pottery classes as well as a ceramics class with a very inspiring group of blind and visually impaired adults. I was always into making things as a child and I grew up with a strong Jewish background, being a product of Jewish Day School. In College, I had a double major in Art and Psychology with thoughts of going into Art Therapy but after a program on a Kibbutz in Israel, where I took pottery classes from one of the Kibbutz founders, I was hooked on clay. When I returned from Israel I took job in the gallery at The Clay Studio in Philadelphia then went on to coordinate their outreach program called The Claymobile. I continued to learn from many diverse clay artists at The Clay Studio and eventually was able to work as an independent Artist.
What inspired you to become an artist?
Renee, my teacher on kibbutz Kfar Hanasi was a big inspiration but also many of my other teachers at The Clay Studio, who were living their lives as successful artists.
What is your specialty?
I enjoy wheel throwing and altering clay forms, but some pieces are made by hand building off the wheel as well. I do a lot of decorating over a base glaze with a combination of a chrome-tin glaze that blushes pink in the electric kiln, and layering other glazes, creating soft color variations that move across the surface of the piece in the kiln.
How and where do you work?
I make my work in my studio which is in the basement of our house but when teaching I am at various other local clay studios, or even sometimes bring supplies into any space for a workshop. I also do retail and wholesale shows so I could be in a 10×10 booth at a variety of venues, outside, in a convention center, or in a synagogue auditorium.
What is the most indispensable item in your workshop?
I would have to say the clay!
Where do you take your inspiration? Are you pursuing any themes?
I am inspired by Persian art, Isalmic ceramics, Antique Judaica, Paper cuts and Marriage contracts. Specific Jewish concepts and themes such as the Sheva Minim are often a focus – the seven species of fruits and grains grown in Israel as mentioned in the Torah. I enjoy drawing the grape vines on a kiddush cup or pomegranate branches on a Tzedakah box, but I also make work that is not specifically Judaica and my secular pottery blends with the Judaica line of work. For example, I make cups with the wheat sheaf and wheel thrown jars for food storage with fig branches.
What projects are you currently working on?
I am currently experimenting with a more simple wheel thrown and altered design of a Chanukiah as well as a more simple Havdalah set. I am also hoping to come up with a Kiddush Cup fountain design in the near future- this has been a fun and challenging project that has not been successful yet but I am optimistic about my next trials.
What is your favourite item in your current collection?
At the moment my favorite item is the Tzedakah box with pomegranates because it is a fun closed jar form to make and it is a lot of fun to draw the pomegranate branches.
How do you know when a piece is finished?
With pottery it is always a rush to get all the work in a kiln so I have to give myself a limit otherwise I could probably noodle with a piece forever. If it comes out of the kiln with few flaws, and I am happy with the result, it is finished. The down side to this medium however, if there is a flaw sometimes it cannot be re-fired and could go in the smash pile- it's pretty clear a piece is finished after its been smashed.
Do you do bespoke work?
I have two synagogues that order personalized kiddush cups for their b'nai Mitzvah kids, and I occasionally do custom requests.
What was the first piece you ever sold?
The first clay pieces I sold were works that I had made through a wood fire professional development grant I received, which included firing a noborigama kiln in NJ 3 communal wood firings over the course of a year.
Which project have you enjoyed working on the most so far?
I have enjoyed designing and successfully making a Chanukiah inspired by antique metal wall Chanukiot.
What do you want to achieve with your work and what are your wishes for the future?
I would like to continue to expand the Judaica forms available in my line as well as create new and improved designs for current forms.
Where can we find your work?
Feel free to contact me through my website if looking for something specific. My inventory fluctuates. I can send photos to individuals of what I have available at the moment.
instagram @jenniferwankoffceramics
etsy: jenspotsandjudaica
Dec 7, 8 – I will be at Bet Am Shalom Judaica Craft Show
https://betamshalom.org/judaicacraftshow
Dec 14, 15 Wayne Art Center Holiday Shopping Weekend
© Jennifer Wankoff