Photo: Courtesy of Shana Koppel / Photo: Lisa Rich Galinsky
Tell us a little bit about yourself and your background.
I made Aliyah to Israel from NJ at age 12, so I've been in Israel for over half my life now. I've been drawing as long as I can remember, and have always loved illustration, and after high school and Sherut Leumi, National Service, I decided to study Visual Communications at Bezalel Academy of Arts and Design in Jerusalem. I went in planning to come out the other side a children's book illustrator, but after being exposed to so many more subsections of the visual design world, my work now encompasses much more than just illustration – Hebrew font design and hand lettering, integrating illustration into both formal graphic design work and Judaica design, and occasionally animation.
What inspired you to become an artist?
I've never felt I identified as an artist, though over the past year I've been feeling that in some specific areas the title does fit. I've been in love with drawing and creating as long as I can remember, and that love is what drove me to pursue it as a career.
What is your specialty?
I design Hebrew fonts, Judaica prints, and do illustration as well as design work, but I would say my specialty is taking familiar and traditional concepts and refreshing them with my own spin on things. For example, designing Hebrew fonts in styles that are mainly seen with English fonts, or creating a modern and bright illustrations to accompany the traditional Passover Haggadah text.
How and where do you work?
I work from my home office, even before the pandemic – I've always been able to do my best work in a familiar and comfortable environment.
What is the most indispensable item in your office space?
My Wacom pen tablet – I work almost exclusively digitally, but the pen tablet allows for that hand drawn and personal touch.
Where do you take your inspiration? Are you pursuing any themes?
Usually from popular trends and other professionals' work, even across fields. Sometimes textile design will give me an idea for a Judaica piece, or a poster design will give me inspiration for a new font style. I think the theme throughout my various fields of work is to always try to appeal to people with modern taste and sensibilities, while wholly respecting and incorporating tradition.
Do you do bespoke work?
The first few years of my career were mainly freelance work, so everything was customized. Now I'm actually trying to find my own voice and create work that speaks to that.
What projects are you currently working on?
I'm just wrapping up a fundraising project, products featuring a "SheAsani Kirtzono" design where proceeds will be donated to Mental Health First Aid Israel. Once that's done, I'm moving on to work on the second edition print run of my illustrated Haggadah for Passover 2021. After that, I have so many more ideas for more Judaica prints and Hebrew fonts I'll just have to get through one by one.
What is your favourite item in your current collection?
That's very hard to say, but if I had to choose right now, I'd say the illustrated chicken soup recipe print.
How do you know when a piece is finished?
When I feel the design sits nicely and it's close enough to the vision I had in my head. But sometimes it feels like I can keep working on a project forever, so at some point I need to decide it's good enough to release into the world, knowing I can usually come back and make changes later.
What was the first artwork you ever sold?
I think the illustrations for Gila Makes Aliyah, which was a long process, but I can't remember for sure!
Which project have you enjoyed working on the most so far?
Probably my Sukka banners in 2020 – I had a clear vision in my head that I was able to execute almost exactly, and thank God it was received really well, which made the whole process very fulfilling.
What do you want to achieve with your work and what are your wishes for the future?
My goal is to help set a high standard for Jewish and Hebrew design – we have so much tradition to lean on, but we also deserve to keep up with global standards and with what we, as modern people in 2021, connect to.
Where can we find your work?
https://www.instagram.com/shanakoppel
https://www.facebook.com/shanarotterdesign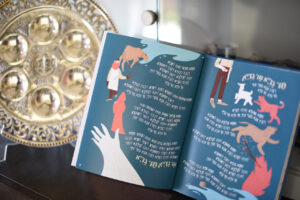 Photos: Courtesy of Shana Koppel / Photos: Lisa Rich Galinsky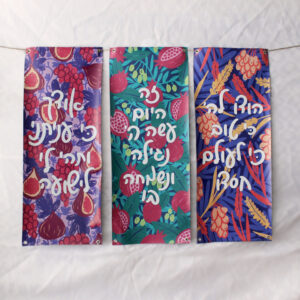 Photo: Courtesy of Shana Koppel