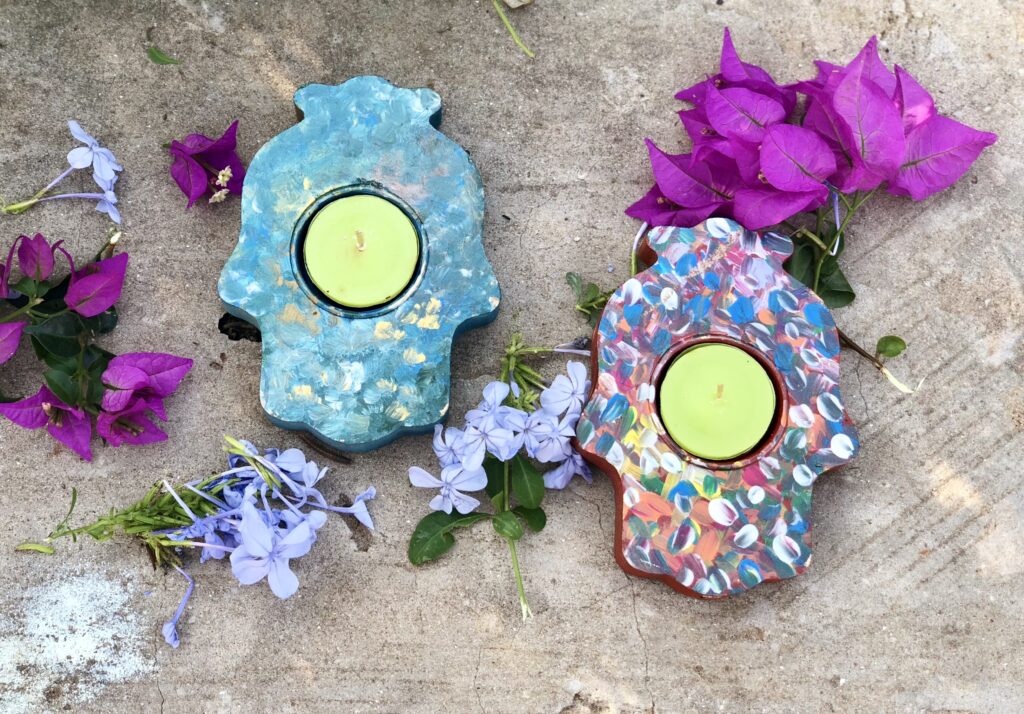 Tell us a little bit about yourself and your background.

I was born in St. Petersburg, Russia and raised in Hanover, Germany; graduated with a Masters from the University of West London, majoring in Advertising and Branding. I spend the last years traveling the globe and lived on at inspiring places such as Fuerteventura, London, NY and Amsterdam. My current location is Tel Aviv.
What inspired you to become an artist?
At an early age I took art classes with a local artist since then I completely fell in love with art, illustration and photography.
What is your specialty?
I practice abstract painting on canvas as well as decorative objects made out of wood. Such as hamsas, keychains, etc. I also paint on denim jackets. Besides I just launched a limited edition line for handmade earrings in 60s style.
How and where do you work?
I work from home.
What is the most indispensable item in your studio?
My hand printed Hamsas and keychains are my best selling-items.
Where do you take your inspiration? Are you pursuing any themes?
I find inspiration from nature, traveling, museums, fashion and by observing locals while having coffee at a local café. My main and favorite theme is color!
What projects are you currently working on?
Currently. I work on developing bespoke challah covers.
What are your favourite items in your current collection?
Wearing my hand painted and stitched denim jackets makes me happy.
How do you know when a piece is finished?
Sometimes an upcoming sale helps to come closer to draw the deadline to finish a piece. But generally it's an internal feeling when you ask yourself if you would buy it.
Do you do bespoke work?
I do take custom orders.
What was the first artwork you ever sold?
The first art piece I sold was a mid-sized abstract canvas.
Which project have you enjoyed working on the most so far?
I generally enjoy the creative process, I rarely plan ahead, and just let my imagination flow; for now I truly enjoyed painting on fabric, it's something very unique to create wearable art and it perfectly combines my two passions art and fashion.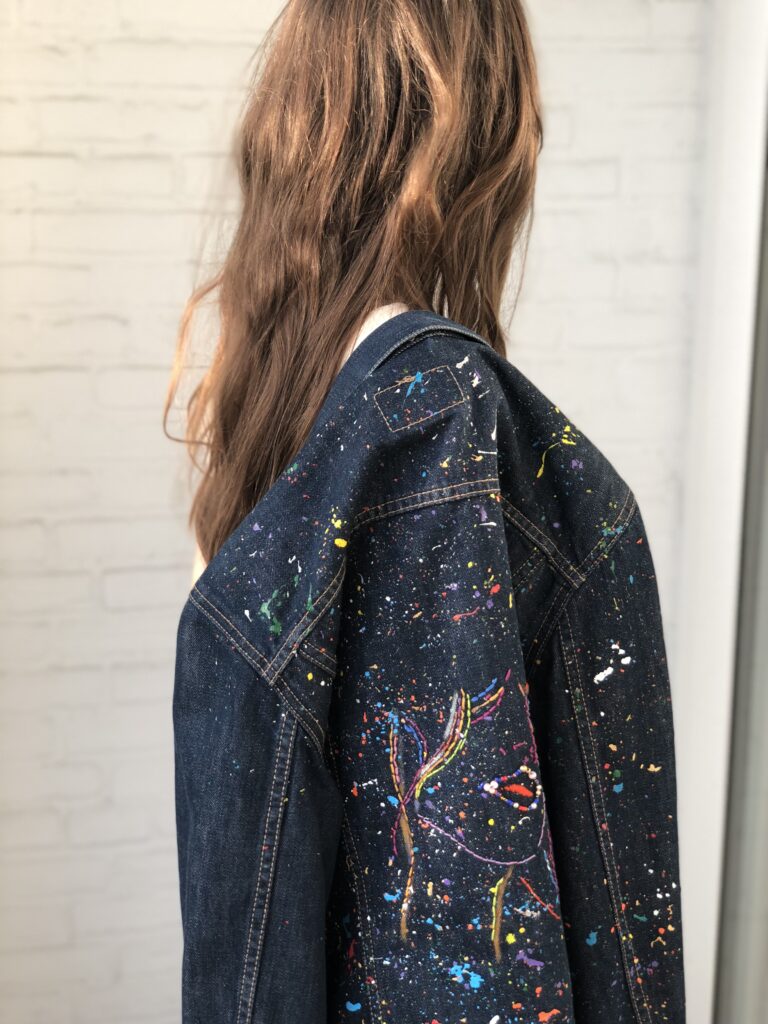 What do you want to achieve with your work and what are your wishes for the future?
My hope and wish for the future is to develop a "modest fashion line" and create a community for like-minded women around it.
Where can we find your work?
https://www.etsy.com/shop/lovestorypeople
https://www.instagram.com/613waystohapiness/
https://www.instagram.com/judithjcshop/
© Ilana Amiel