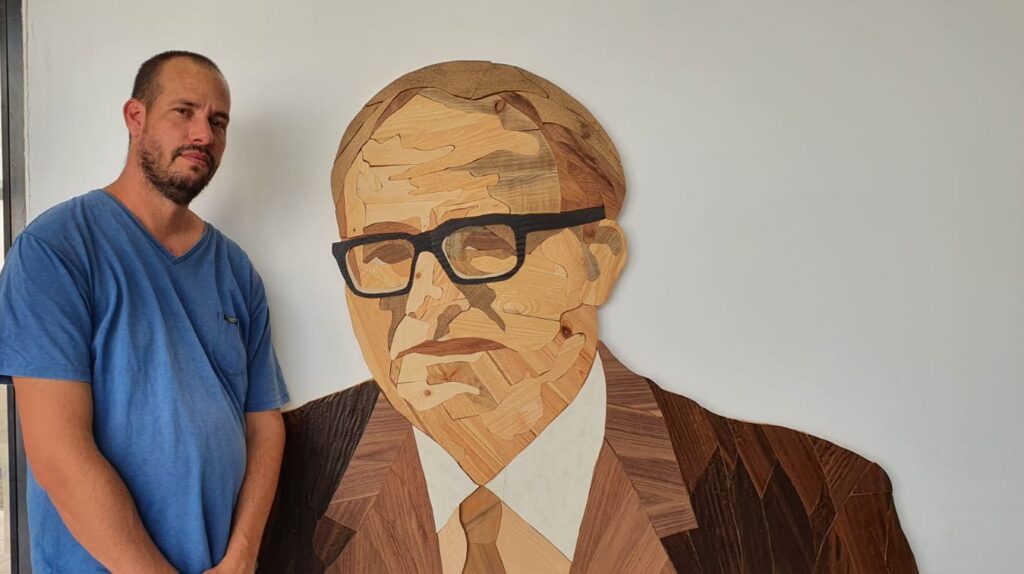 Photo: Courtesy of Ilan Schiff
Tell us a little bit about yourself and your background.
I am Ilan Schiff, 36 years old, married and a father of three, living in Kibbutz Ma'ayan Zvi, an art teacher in schools, teaching classes and workshops.
What inspired you to become an artist?
My entire life I have been involved in art, studying and experimenting in a variety of different fields. Over the years, I have concentrated mainly on painting portraits and creating art from recycled materials. As an artist, it is obligatory to constantly look for personal ways of expression and to innovate work techniques. It so happened that in 2020, during the period of lockdowns, as part of the search, I was able to combine 3 of my loves: painting, carpentry and recycling. I developed a unique technique for myself to create portraits made from recycled wood and veneer.
What is your speciality?
As a portrait artist working with recycled wood, I find my raw material by the side of the road, mostly wood surfaces that are no longer used. I disassemble them, clean, sort and store. I am always looking for the trees where the signs of the time are noticeable: hard winters, scorching summer sun, prolonged stress. All of these make their mark on wood, producing an infinite number of shades and textures that allow me to build the colour palette that is unique to me. While working with wood I discovered another love for three-dimensional illusion paintings, which I sometimes incorporate into my works by using unique veneer remnants.
Where do you take your inspiration from? Are you pursuing any themes?
From the beginning of my path in art I have always been attracted to the human body and face. In drawing and painting I focused mainly on portraits. I worked on characters from art books, models, casual people I photographed or friends who agreed to sit for me. I now apply my drawing and painting skills in the portrait works I do in wood.
Do you take on commissions and create bespoke designs?
As an artist I am ready for any challenge. In every job I find myself checking /stretching the boundaries. Sometimes these are new recycled materials I find, sometimes it's a different technique I'm trying to incorporate. With the advancement of my toolbox I felt completely confident in receiving orders from people to make portraits for them. The challenge for me is that it is no longer my choice of object to work but to order a portrait from a photograph or painting given to me. Such orders include happy occasions such as birthdays, engagements, marriages or to differentiate for the purpose of commemorating loved ones. Each such task is a unique challenge. The character must be deciphered, its unique characteristics must be found, they must be searched for in the raw material and the nuances in the execution of the portrait must be precise. My great excitement is during the presentation of the complete piece to the client, experiencing together the initial impression and hearing the reactions. This brings me a tremendous joy as a creative artist.
Which project have you enjoyed working on the most so far?
I had the honour of receiving an order to create a portrait of the late Yitzhak Navon, the fifth President of the State of Israel. This is the largest portrait I have created so far, 105X160 cm, made from recycled wood combined with veneer. The preparation of the portrait required me to have a very detailed planning of the stages of the work and a very meticulous execution. Each step in preparing this portrait was a special experience for me: preparing a huge sketch on a 1:1 scale, collecting sorting and preparing wood in an unprecedented amount, finding the exact shades and textures for work of this magnitude, the unusual duration and very slow progress in character development. It was an exciting and fascinating journey for me along the way.
The highlight was when the portrait was installed on the entrance wall of the Yitzhak Navon School in Herzliya. The curiosity the children showed in the hanging work, their questions and reactions and the involvement of the school staff made the event an exciting happening. I felt very proud to receive and fulfil this order.
What do you want to achieve with your work and what are your wishes for the future?
It took me quite a few years until I was able to present my art to the wider world. In 2021, I had my first solo exhibition. Today, having sold a number of works, I am already proud of my ability to release and say goodbye to my creations. The thought that people love and want my art excites me over and over again.
Where can we find your work?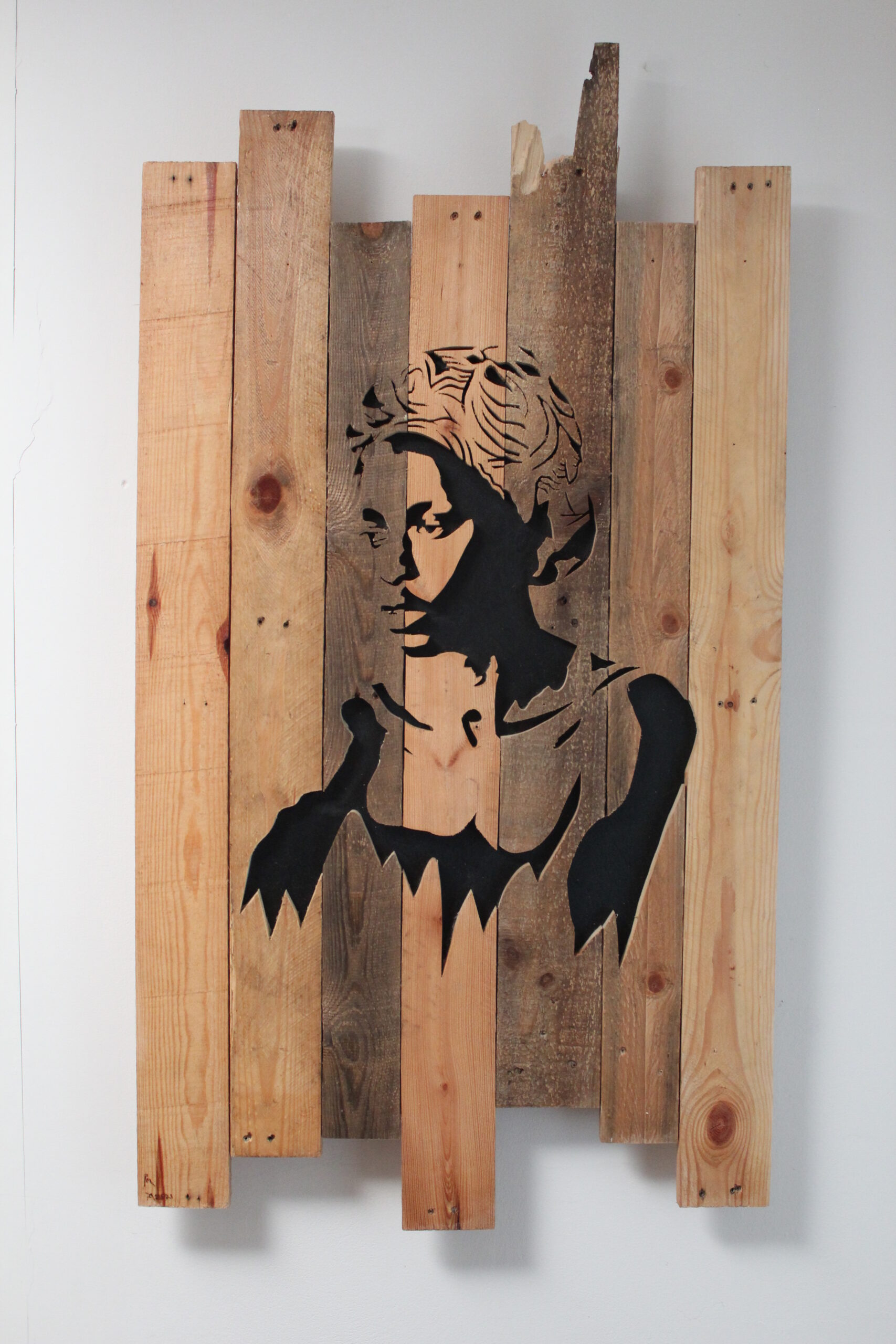 Photos: Courtesy of Ilan Schiff