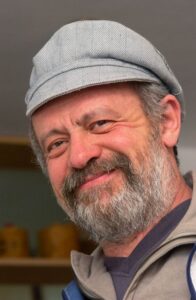 Photo: Courtesy of Gregory Ruvinsky
Tell us a little bit about yourself and your background.
My name is Gregory Ruvinsky. I am a wood artist and a maker of Judaica objects, living and working in Boston, MA, USA after 22 years living in Jerusalem, Israel .
My artistic biography began at the age of 12, when I fell in love with carving wood and building model ships. Since that time, I have been learning and practicing woodworking, which has become my current full-time occupation.
In 1974, I graduated from the Leningrad Hydro-meteorological Institute as an engineer-oceanologist. Subsequently, I took part in numerous marine and aerial expeditions in the former Soviet Union. Throughout my professional career I devoted much of my spare time to my craft, perfecting and expanding my artistic skills, as well as teaching children carving and marquetry.
In 1991, I immigrated to Israel, where I have continued to work with wood, focusing on Judaica themes and motifs. On the one hand, I adhere to the Jewish tradition; on the other, I explore novel ideas and forms. All my objects are made exclusively of rare and exotic woods that I decorate with silver and mammoth tusk, using a variety of inlay and overlay techniques.
For several years, I have taken part in numerous Judaica exhibits in Israel and the United States. Many of my works are currently on a permanent display in a number of art galleries in Jerusalem, Israel and New York, NY.
In addition, my works are included in over 250 private collections throughout the world.
Four of my wood carvings were featured in a volume "500 Judaica" published by Lark Books, Sterling Publishing Co. N.Y. 2010.
In 2017, my Candlestick pair won NICHE AWARDS competition.
What inspired you to become an artist?
I like to make something from nothing.
How and where do you work?
I like to work at my home.
What is the most indispensable item in your studio space?
Table and sunshine.
Where do you take your inspiration? Are you pursuing any themes?
From everything around.
Do you do bespoke work?
50/50 %
What projects are you currently working on?
Hanukkia.
What is your favourite item in your current collection?
Spice Container "Pomegranate".
How do you know when a piece is finished?
When I cannot make it better.
What was the first artwork you ever sold?
Carved Spoon from birch wood.
Which project have you enjoyed working on the most so far?
Hanukkia.
What do you want to achieve with your work and what are your wishes for the future?
I am trying to do my best and wish to do it during my entire life.
Where can we find your work?
http://www.artjudaicainwood.com/
Photos: Courtesy of Gregory Ruvinsky