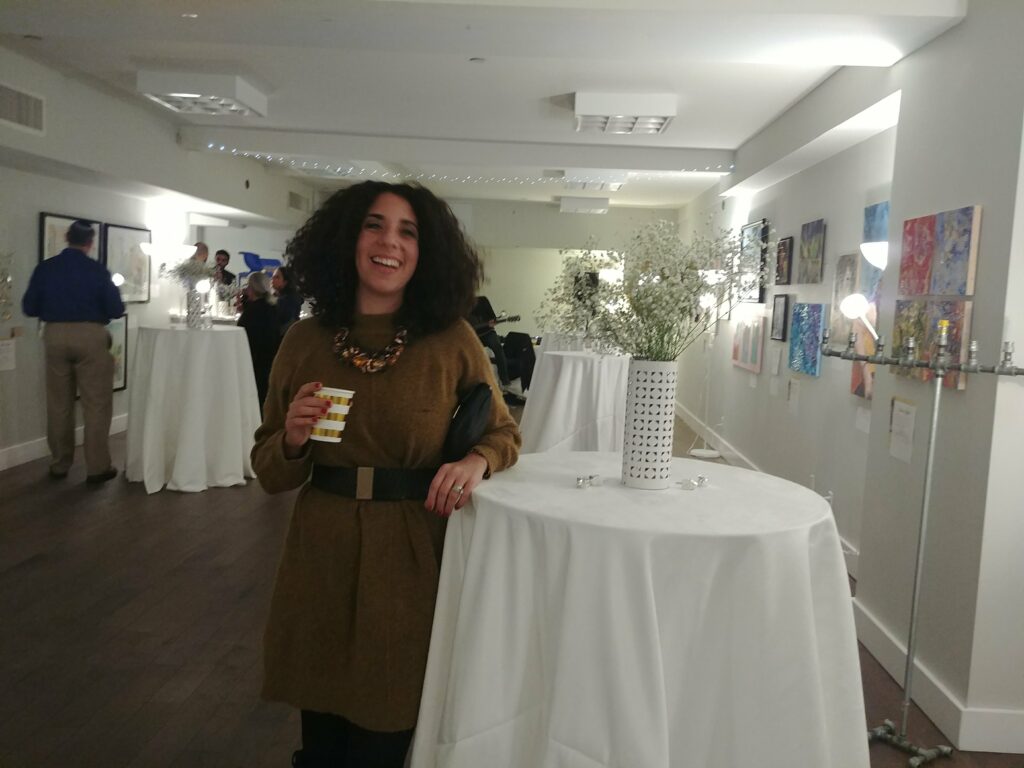 Fortune Chalme is a Multidisciplinary Artist and Designer. Fortune resides in New York City where she creates videos, performances and drawings. Fortune is the designer of a unique line of laser cut leather Judaica items including challah covers, tefillin bags and mezuzah cases that she sells worldwide. Fortune holds a Bachelor's Degree in Fine Arts from the School of Visual Arts. She has studied Fine Arts at Bezalel Academy, Jerusalem, Israel. Fortune has performed and exhibited in a number of locations including:
The Jerusalem Biennial, Detour Gallery, Repair the World, Recession Art, Bazaar, Figment, Muchmore's, Beth Torah Gallery, Visual Arts Gallery N.Y.U. Gallery.
Tell us a little bit about yourself and your background.
I am Fortune Chalme, a Sephardic Jew residing in New York City. I am the designer and founder of my company "Gilded in Leather". I create laser cut genuine leather challah covers, matzah covers, mezuzah cases, Tallit – and Tefillin bags, and vases.I received my Bachelors in Fine Arts from the School of Visual Arts and I have studied Fine Arts at Bezalel Academy of Arts and Design.
Why do you do what you do and how did you get started in the first place?
About 6 years ago, I was walking the streets of NYC, when I stumbled upon a pop up store called "Story". At the time the store was transformed into a maker space equipped with laser cutting machines and 3D printers.
I was told that I had the opportunity to try out the laser cutting machine free of charge for the rest of the month. I was so excited, I had never laser cut anything before and my mind was racing with the possibilities.
I decided to try laser cutting leather. Leather has this feeling of luxury to me but also can be edgy.
I was so excited to see the laser cutter in action. It was so fast and so precise! From that moment I was hooked. It was magical. All I wanted to do was to see what I could make using this technique of laser cutting leather.
I went on to creating a line of laser cut leather Judaica. I wanted to push the boundaries of traditional Jewish objects by creating designs that were modern by using a technique and material that is not traditional for these objects.
What is your specialty?
My speciality is laser-cutting leather. My most popular product is my laser cut leather challah cover
How and where do you work?
My work involves many different people coming together to create each unique piece. First I design the piece on the computer. Next, I choose the leather, fabric, trim and rivets. The design file is sent to the laser cutting machine to cut the leather. The cut leather in then sewn together and finished. Once the piece is finished, I photograph it and package it.
What is the most indispensable item in your studio?
My computer with the design software "Illustrator" and the laser-cutting machine.
Where do you take your inspiration? Are you pursuing any themes?
I take inspiration from magazines of high-end fashion, modern home design, and fine art. I create Pinterest boards of ideas and take picture of anything that I am inspired by. I am very interested in the play of positive and negative space. I like to create pieces with high contrast visuals. I create what I would want in my home and on my table.
What projects are you currently working on?
I am currently working on creating a brand-new line of laser cut challah covers and mezuzah cases. I am also coming out with a new product; custom laser cut leather tote bags! I am excited to be working on new designs for this upcoming Passover season for matzah covers.
What are your favourite items in your current collection?
The laser cut leather "Butterfly" challah Cover and "The waves" laser cut leather mezuzah case.
How do you know when a piece is finished?
When it feels right, and I am extremely excited about it. I know when I get that feeling. It is a very unique feeling, the feeling that you created something truly special and innovative.
Do you do bespoke work?
Yes! I make custom laser cut leather challah covers, Matzah covers and Tefillin and Tallit bags.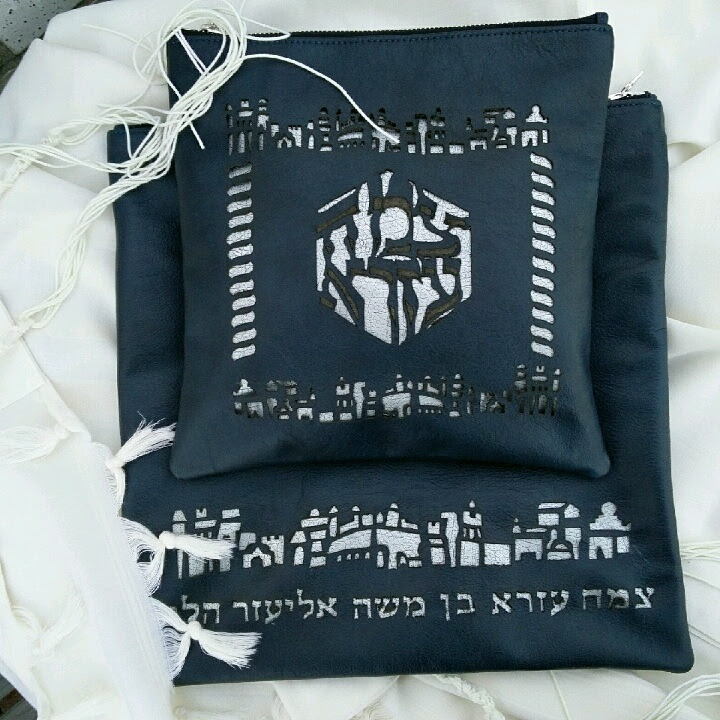 What was the first artwork you ever sold?
I sold my first laser cut leather challah cover at the Shelly Cohen Bridal Boutique Show in NJ. It was my first time showing my work, I was super nervous but I got the most amazing reaction from the crowd. It was that show that started my business.
Which project have you enjoyed working on the most so far?
I love making custom pieces and working with each client to create their dream piece. Each client brings their own unique flavour to the piece. It is truly a collaboration.
What do you want to achieve with your work and what are your wishes for the future?
I want my Judaica products to reach people worldwide and be the new standard for challah covers. I want to create more innovative designs and further express myself through my brand.
Where can we find your work?