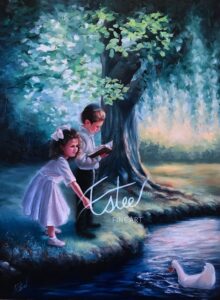 Photo: Courtesy of Estee Klein
Tell us a little bit about yourself and your background.
I was born and raised as an Orthodox Jewish woman, strongly influenced by my culture and the beautiful moments of life.
What inspired you to become an artist?
I was never formally exposed to art in any way. Art lessons and art history were not a part of my upbringing. Somehow, art found me. The innate desire to capture the breathtaking beauty of our world led me to the path of art. I believe that when someone has a true calling it will find them. I was blessed and lucky enough to recognize what my passion, was early on.
What is your specialty?
People have always fascinated me. Their behaviors, their feelings, their interactions…the very essence of who and what they are. What can be more interesting and complex than G-D's most wondrous of all creations: human beings?
How and where do you work?
I have a studio in Brooklyn, New York. I paint during the day and teach art classes to all ages in the evening.
What is the most indispensable item in your studio?
That's a pretty tough question to answer. Every item serves its purpose. Although each item is essential, it is only as a whole, that it works. I may possess the most expensive paints, but without the tools with which to apply them, and the canvas upon which to apply them, they would be meaningless. People are the same.. Each of us is unique.. It is our individuality that allows us to be a perfect part of the whole.
Where do you take your inspiration? Are you pursuing any themes?
My inspiration comes from the world around me. Community, family, humanity. Most of my themes revolve around figurative compositions. My main subjects are people. I strive to capture a moment, a story, a glimpse, so that my painting will take the viewer on a journey that will allow them to experience the emotions for themselves.
Do you do bespoke work?
I have done many privately commissioned pieces, and hope to continue to accept commissions. This is of course, dependent on my availability at any given time. Right now I am open to commissioned work.
What projects are you currently working on?
I have recently completed a series of oil paintings titled "Israel", inspired by my recent travels through our Holy Land. While most of my work is in the classical realism style, I appreciate all styles of art and have recently commenced a collection of abstract paintings utilizing the fundamentals of art-like color and texture to inspire emotions.
What is your favourite item in your current collection?
I always have a hard time selecting favorites in any area. I never chose a favorite color, book, etc… I cherish finding joy in different things, at different times.
How do you know when a piece is finished?
I don't believe any piece can ever really be truly finished. However, there comes a time when I am able to walk away, content. When I can feel happy with the work, satisfied and at peace, with what I have accomplished, then I consider it completed. I know it is not yet finished when I feel unrest or dissatisfaction. I don't always know precisely what it is that I want to change, or add, but with a bit of time and space, it usually comes to me.
What was the first artwork you ever sold?
I have been drawing as far back as I can remember, but the first piece I sold stands out clearly in my mind because that first sale gave me a certain validation as an artist. I thought, "Hey, if someone values this enough to buy it then maybe I am on to something!" I was in high school at the time and I sold a drawing of the Lubavitcher Rebbe that I had done.
Which project have you enjoyed working on the most so far?
I loved the oil painting series I recently completed. It was different from my previous work and I felt the colors explosive, my brushwork looser and more free. I can't wait to see where my work will take me next.
What do you want to achieve with your work and what are your wishes for the future?
I hope that people feel joy when they see one of my paintings. I hope the beauty that I saw and tried to capture is revealed to them and makes their world a little brighter and more beautiful. Nothing is more humbling than when someone tells me that my painting moved them.
I feel a wonderful sense of completeness when I finish a piece and feel a sense of rightness with the work I have done. When that is acknowledged by the viewer, that might just be the best part.
Since I choose to do this as my profession, I hope to continue to grow and evolve as an artist and continually touch peoples' lives with some of the beauty of G-D's world.
Where can we find your work?
You can view a gallery of my work as well as buy giclee prints on my website at https://www.esteekfineart.com/
I am also on Instagram and Facebook where you can get some behind the scenes viewing of my process and my studio. I also post reviews of art supplies, tutorials, art tips and lots more. @estee_fineart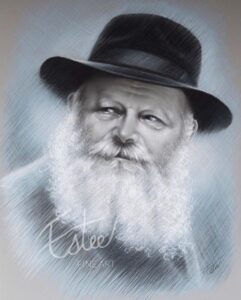 Photos: Courtesy of Estee Klein