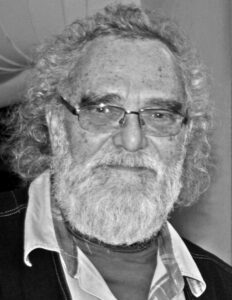 Photo: Courtesy of Dion Futerman
Tell us a little bit about yourself and your background.
South African/Israeli artist, born 1955, Pretoria, South Africa. Lived and educated at Jewish Day Schools, in Pretoria and Durban. Lived in Cape Town, and then Ra'anana Israel for a short period becoming an Israeli citizen. Returned to Africa and Cape Town, having now settled in Paarl. After my school years I dropped out of studying fine art at University and changed to studying 'Jewellery Design & Manufacturing' at the Natal Technikon in Durban. I then became a Jewellery Designer and Gold/Silversmith by trade for many years, and worked in the design and manufacturing of jewellery, as well as in retail and wholesale sales, and management positions. My art is in private collections in USA, UK, Australia, Monaco, Denmark, Germany, Israel, France, and New Zealand. Mainly 'self taught' and privately 'tutored' by some well known South African artists. As my Hebrew name is Gidon, I work under my English as well as my Hebrew name as I also undertake artwork which would fall under the genre of 'Judaica Art'. I have always had a very close relationship and passion for 'Eretz Yisrael' and my father was a 'Machal' (volunteer) and pioneer of the Israeli Airforce in 1948/9, and in his later years made Aliyah to Israel.
What inspired you to become an artist?
It was not a choice or a decision, but simply a journey, which began at an early age, and a passion to be creative as well as to express myself through visual images. My parents said that I was playing with pencil and paint before I began speaking. My first and only 'murals' were done at age 4. My parents had gone out for the evening and when the baby-sitter had fallen asleep I ransacked my mother's make-up drawer and decorated all the walls with lip-stick and other finger painting materials. I recall a drawing done at about age 5 which was a very detailed and expansive farmyard landscape. My grandmother was very critical of the fact that the sheep were all bigger than the farmer and my reply through tears was "It is called perspective" – Not that I could even say the word properly or even understood it fully. I had my first solo exhibition at an art gallery in 1976 which was a sell-out showing, and was invited to exhibit at the University of Natal, Durban, in the same year. Thereafter I only sporadically participated in group shows of Art Societies and it is only since 'retirement' from working in various careers and the corporate world that I began in 2017 to devote myself full time to working as a professional artist.
What is your specialty?
I have a constant obsession and passion for drawing, whether with graphite pencil, oil based pencil or charcoal. As a very young child I imagined that all of history and the past were in 'black and white'! The newsreels at the cinema at the time and somehow my impressions of the world during my early youth were in 'black and white'; and I love the drama of greyscale – which is not to say I do not enjoy painting, but drawing is certainly my primary speciality. Drawing as a discipline and skill is a road that leads to all other mediums. I do not really enjoy talking or verbalizing about any artwork – my feeling is that the picture or image must 'speak for itself' – an old cliché really – but an artwork has a life and voice of its own, and sometimes the very act of drawing, or painting, can be a very spiritual experience for me.
How and where do you work?
I work in my home studio in the scenic town of Paarl, in the winelands of the Western Cape, Republic of South Africa. The third oldest town in South Africa, founded in 1687, Paarl has a rich cultural and historical heritage, and is known for the mountain passes surrounding the town and the huge granite outcrop – the second largest in the world – that stands on the crest of Paarl Mountain, often referred to as 'The Pearl of the Cape Winelands'. My Studio Gallery is also situated in my home overlooking the valley and the town, and is open to the public by prior appointment, as well as with seasonal 'Open Studio' days. Visiting an artist in their studio is a time-honoured tradition. Artist studio's offer an intimate look into the artist's work and art practice.
What is the most indispensable item in your studio?
My cat 'Her Highness the Duchess DuCati', she keeps me grounded and entertained. She spends her leisurely day jumping in and out of the window, sitting and watching me or sleeping alongside my easels, occasionally picking up a pencil and bringing it to me. My Siddur and Tanakh are always close at hand, and obviously all my art making materials – I refer to all the items in my studio as 'organized chaos '.
Where do you take your inspiration? Are you pursuing any themes?
Having felt a profound connection to the natural environment since early childhood I find inspiration in my emotional response to nature, the landscape, as well as to music and poetry. I do not view my art as fitting into any specific genre as my style is not a label, but much rather an effective tool to express myself, from figurative and naturalism to abstraction. I do not like labels, or categories. Society is comprised of 'little boxes'; we live in little boxes, we work in little boxes. Attitudes and opinions across the political and social divide are placed into little boxes, labelled and categorized. On occasion I work in series, allowing one piece to lead to the next one which in turn redirects back again and even over a period of years back to the starting point. Eventually, I may feel that the series has run its course. The Torah and mythology have had an impact on my work.
Do you do bespoke work?
Yes, on occasion.
What projects are you currently working on?
Currently I am working towards completing a project which I have been working on for a number of years, to document all of the Synagogues of South Africa, past and present, depicting those that no longer exist as they were in their 'heyday' by way of drawings and paintings. Some Synagogues have been deconsecrated, sold, are now private homes or commercial properties, Museums, or Churches, and others demolished, due to the demographic shifts of the Jewish population of South Africa. Some have suffered from fire or even as in Ceres, the 'Tulbagh earthquake'. Many are National or Provincial Heritage Sites, and some have historical significance as for example the Paul Kruger Street Synagogue in Pretoria, which was the first Synagogue that was erected in Pretoria, but its function as a Synagogue changed with the country's political changes. It was converted to the High Court where numerous high profile hearings and court cases, involving amongst others Nelson Mandela and Steve Biko, took place. Eventually I hope to publish a book about this project. There are also upcoming solo exhibitions: 'The Trees of Paarl' as there is a 'Paarl Tree Route', a walk through the historical section of the town where I live where examples of indigenous and exotic trees are listed. 'Oleum', which will comprise a body of work all related to 'The Olive and Olive Trees', in history and mythology and day to day life.
What are your favourite items in your current collection?
A self-portrait titled 'The playground' which was entered in the premier South African 'Vuleka 2019' art competition and which was selected as a 'Finalist'. A painting I did using my fingers and not paint brushes, whilst in High School titled 'The Spirit of Dvorak', for sentimental reasons: I had never heard the music of composer Anton Dvorak but the name somehow was planted in my subconscious. When it was exhibited in the final high school year art exhibition I had a teacher pull me out of a class one day and tell me he was overwhelmed with how I had visually depicted the music of Dvorak. He was amused and astounded when I informed him I had never heard his symphonies. These are just two in my personal collection that I will not part with.
How do you know when a piece is finished?
I struggle with this.
What was the first artwork you ever sold?
A 'portrait' of Bob Dylan, done whilst at school.
Which project have you enjoyed working on the most so far?
Every project I have ever worked on I have enjoyed, as well as the journey, with something new to learn each and every day.
What do you want to achieve with your work and what are your wishes for the future?
All that I wish to achieve with my work is that the viewer or purchaser of my work has as much pleasure and joy from the artwork as I had in making it. Each one is like a child to me, and rather difficult to 'let go of' to venture into the world. Without an 'audience' art is not art, but merely a 'journal'.
I like what J. Bronowski says in his book 'The Visionary Eye': "No work of art has been created with such finality that you need to contribute nothing to it. You must recreate the work for yourself. You cannot look at a picture and find it beautiful by merely a passive act of seeing. The eternal relations that make it beautiful to you have to be discovered and in some way have to be put in it by you. The artist provides a skeleton, he provides guiding lines, and he provides enough to engage your interest and to touch you emotionally. But there is no picture unless you yourself enter it and fill it out."
I began making plans to return to live in Israel, which has been delayed by the Corona pandemic, and to be 'home' in Israel is my wish for the future.
Where can we find your work?
Facebook:
https://www.facebook.com/DionFutermanJudaicaArt/
https://www.facebook.com/FutermanArt/
https://www.facebook.com/synagoguesofsouthafrica
Instagram:
https://www.instagram.com/dionfutermanart
Website:
https://sites.google.com/view/dionfutermanstudio/home
Jewish Art Salon of New York (Associate member)
https://jewishartsalon.org/associates-2/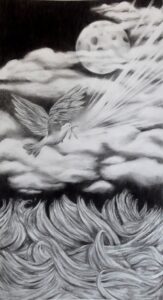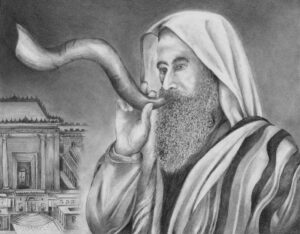 Photos: Courtesy of Dion Futerman