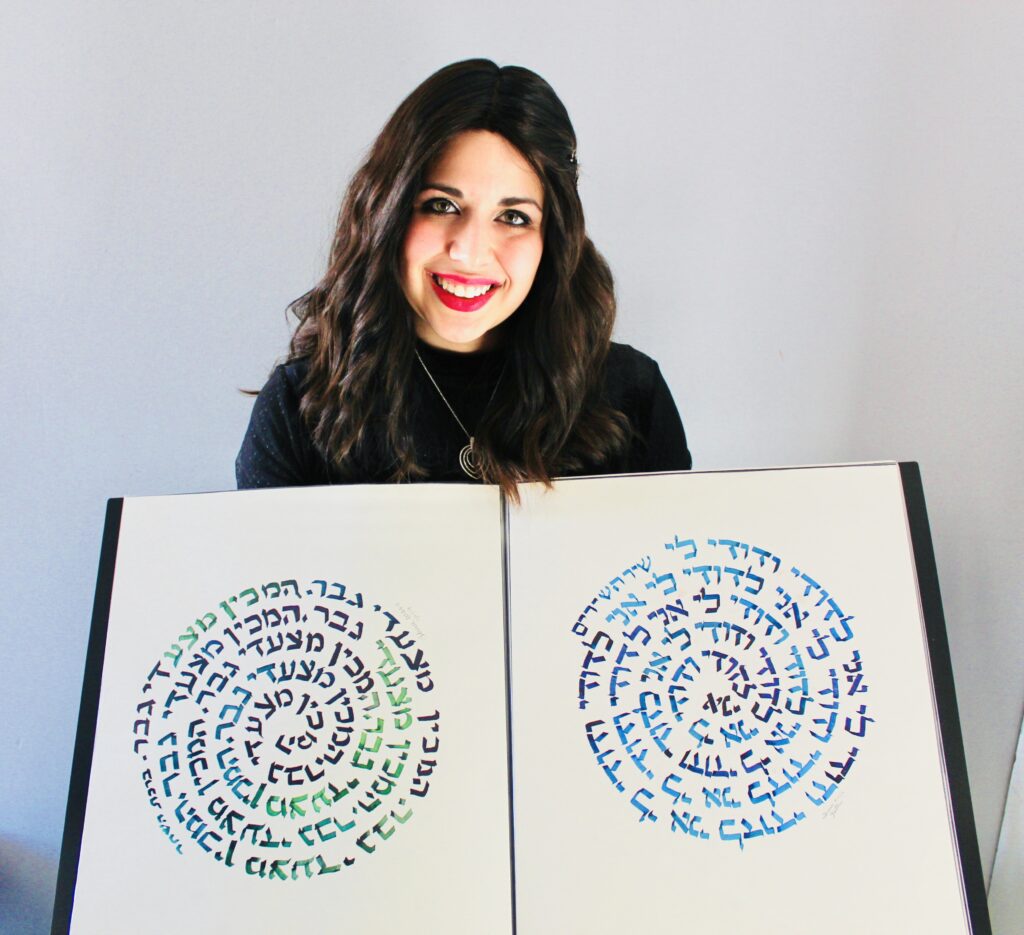 Photo: Courtesy of Devorah Weiss
Tell us a little bit about yourself and your background.
Hi! My name is Devorah Weiss I am originally from Cincinnati, Ohio. I grew up in a very cultured home with my parents being Iraqi-Israeli and Syrian- Mexican. My childhood home was rich with cultures and traditions from all over the world. I currently live in New York with my husband and two adorable daughters. I work remotely for a local business, teach private art classes in the evenings and weekends. My most important role is as a stay at home mom.
What inspired you to become an artist?
Art and creativity were always present throughout my childhood. My mother grew up in Mexico City and brought lots of the Mexican culture into our home. From painting the walls of our home vibrant colors and decorating with pieces that reminded her of her beloved country. She also always tried to encourage us to be creative with learning how to make pinatas and other forms of arts and crafts. In addition my grandfather, of blessed memory, was an oil painter in addition to his career to a doctor. From when I was little girl he tried to nurture my creativity by taking me to the art store to buy art supplies and enrolling me into art lessons. He taught me the most important lesson when it comes to creating or anything in life which is discipline. He taught me that creativity is a talent but with discipline to practice and always learn new skills that is how you become an artist. When I became a stay at home mother a little over 3 years ago I found myself at my busiest but at the same time with more time. During that period of time I took out my art supplies as a recreational activity then uploaded some work to Instagram and it was the start of something so amazing.
What is your speciality?
I specialize in Hebrew Calligraphy, but I have recently taken up watercolors as well. My favorite creations are a combination of the two. I also have a few pieces that are micrography, which is where an image is created from lots of words.
Where do you take your inspiration from? Are you pursuing any themes?
The majority of my inspiration comes from Tehillim and prayer. When I read a specific phrase or text that speaks to me I envision ways in which I can try to create it. I also love florals and nature and constantly find endless inspiration from the world around me.
Do you take on commissions and create bespoke designs?
The majority of my sales come from private commissions. I have been also working to my goal of launching my print shop, which will hopefully be coming soon! Alongside I teach private and group art lessons to children as young as 8 and teenagers.
Which project have you enjoyed working on the most so far?
I am currently working on a Hadalakes Neiros piece which will include metallic leaf, Hebrew calligraphy, and watercolors. I have created the first draft and I am really excited to see it through to the final stages.
What do you want to achieve with your work and what are your wishes for the future?
I want my work to enhance one's home, but mostly to inspire and help those who own feel a connection to Judaism. I run my art shop and lessons alongside to my full time remote job and being a stay at home mom to two sweet girls. My goal for the future is to expand what I have created thus far and launch it to a larger scale. I am taking baby steps to get to where I want to be and its a slow journey at the moment but I am happy to be along for the ride.
Where can we find your work?
At the moment you can find me on Instagram. If you would like to work with me on a project you can email me at [email protected] or direct message me on Instagram.
With Hashem's help artistdevorah.com will be launching in the near future which will then be the best way to check out my services.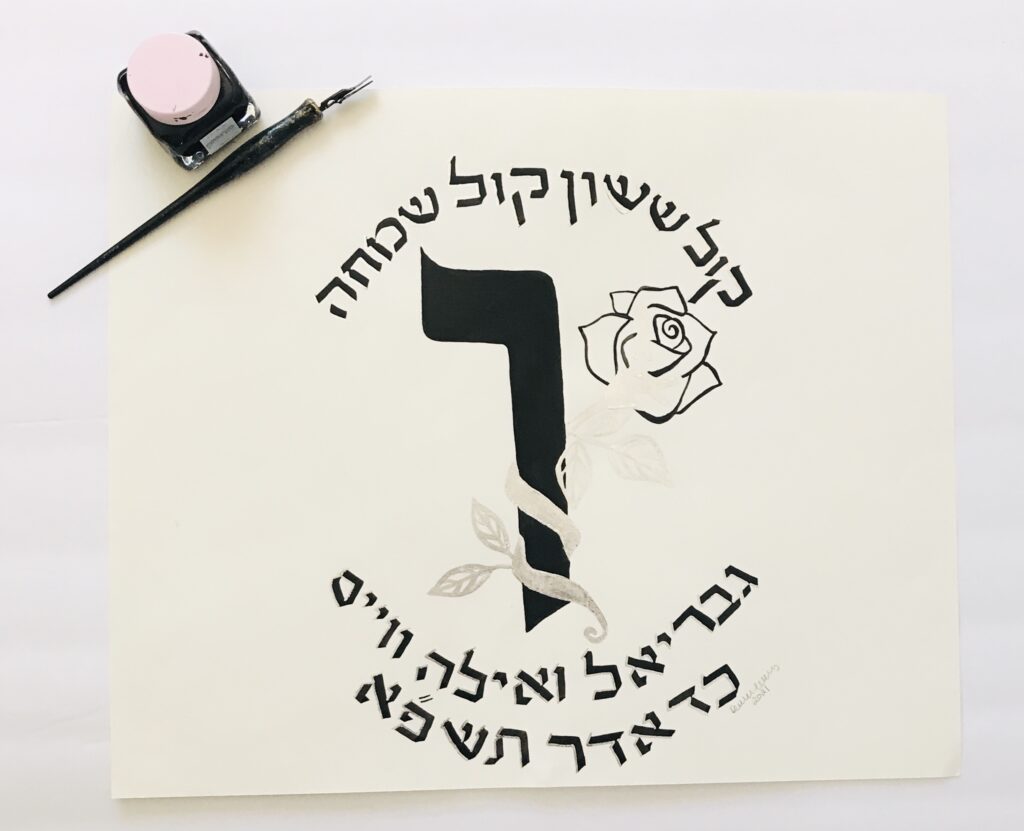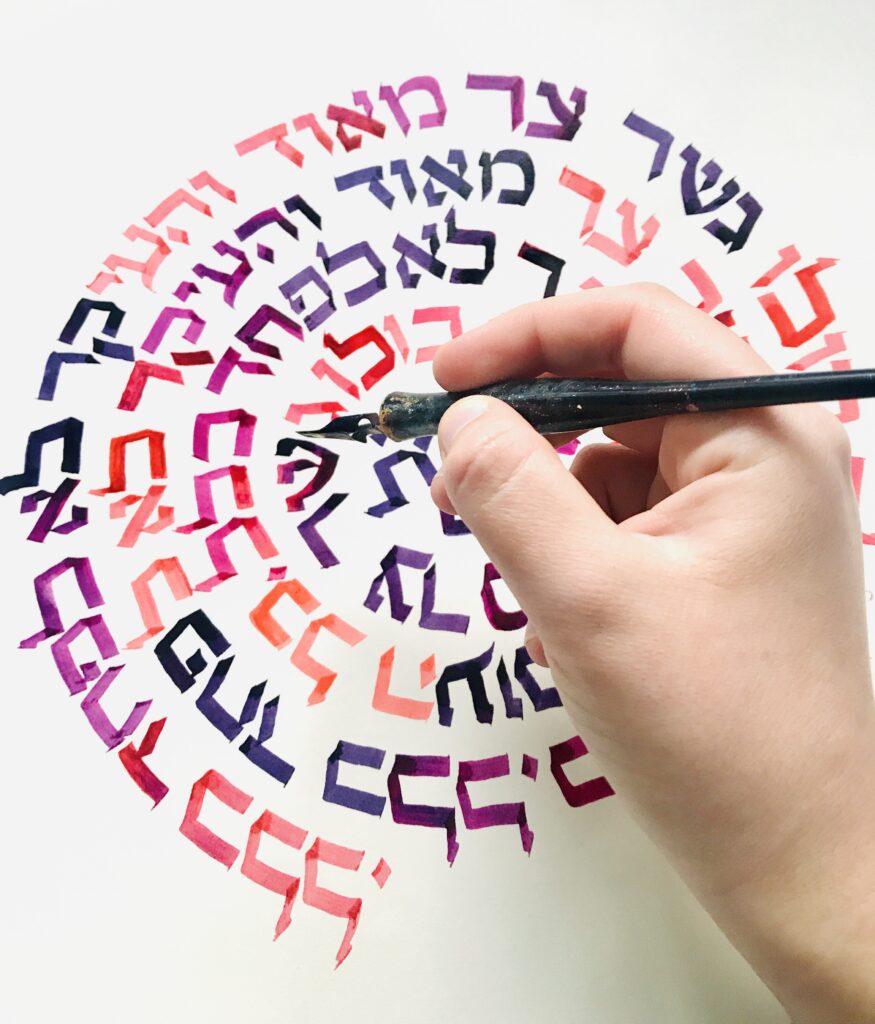 Photos: Courtesy of Devorah Weiss