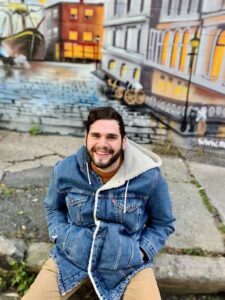 Photo: Courtesy of David Ratz
Tell us a little bit about yourself and your background.
I am from a predominantly Jewish neighborood on Long Island called Woodmere in the Five Towns. I have always loved to do different forms of art. While in high school I did different types of drawings, paintings, and graphic design work. I did a gap year program in Israel after high school. That is where my love of Israel started to flourish. I then went on to go to culinary school back in the States, working in three different kosher restaurants internationally: New York, Israel, and New Zealand. After returning from New Zealand, I started working on my art again. I am an orthodox gay man and I love to express that in my art.
What inspired you to become an artist?
I love to express myself through visual mediums, and one day after having lots of extra magazines lying around, I decided to start collaging. I started collaging in late 2018 and now I do a mixture of acrylic, water color, and of course collaging. I love the way it makes me connect to who I am and show my full self.
What is your specialty?
My specialty is a variety of mixed media. I love collaging, I love the way all the tiny pieces come together to show a beautiful picture. I also love acrylic and creating multiple layers so that it shows incredible texture and dimension. I want my pieces to feel like a memory for people reminding them of a time or a place they connected to their most authentic selves.
How and where do you work?
I live in the Moishe House on the Upper West Side in Manhattan, and our space is divided into two floors. The first floor has a large multipurpose space that I use to do my paintings and collages. I then hang them up on the walls, so it feels like an art gallery. I am very messy when it comes to doing my art, it is like an explosion of creativity when I am working.
What is the most indispensable item in your studio space?
I would have to say my fan brush, I love the way it creates all different types of texture on my pieces. From creating waves to shadows, even the lightest touch creates a world of difference. Or a tie between liquid gilding paint or gold leaf, I love the shine they add!
Where do you take your inspiration? Are you pursuing any themes?
Israel, especially Jerusalem and the Kotel, the Western Wall, are major themes of my pieces. I have also been doing collections of different Jewish ritual items through collage, and when I'm not making Jewish or Israeli art, I also create collages of drag queens.
Do you do bespoke work?
Yes! call me, beep me, if you want to reach me!
What projects are you currently working on?
I took a break for Passover, but when I return it will be full steam ahead. I Just stocked up on extra and new supplies so I can't wait to experiment.
What is your favourite item in your current collection?
My favorite piece is a piece I made of Jerusalem that has a beautiful acrylic sky and the base is all collage. It is 36×24 and it feels like you are getting a bird's eye view of Jerusalem with all the highlights like an Egged Bus or the lite-rail passing the central bus station. I used scraps from a variety of sources, like Hebrew newspaper, and a large selection of Jewish and Non-Jewish publications.
How do you know when a piece is finished?
It's a toss-up, sometimes it is when all I want to do is look at it for hours or when I have been looking at it for too long and I never want to see it again. Sometimes it needs some extra gold somewhere.
What was the first artwork you ever sold?
An 8×10 collage slash watercolor I did of Mahane Yehuda in Jerusalem. The stores are all collaged while the walkway and sky are watercolor, I love the motion and hustle and bustle it portrays.
Which project have you enjoyed working on the most so far?
Honestly, all of them. I love to do art and I love how wacky it can get. What I love is that everyone sees something differently. Sometimes I get a lot of input for my pieces and sometimes I do one in just a few hours. They have all brought me joy and helped me develop my artistic style.
What do you want to achieve with your work and what are your wishes for the future?
I love for people to connect with my work. However it inspires them and helps me grow. I like for people to connect to their Judaism or have it remind them of a time they had in Israel. The collaging and paintings of Israel started during the pandemic and how I wanted to be in Israel. I continue to express my love for Judaism, Israel, and color through my art.
Where can we find your work?
Catch me on Instagram @dratz95 and also check out my website www.davidratzart.com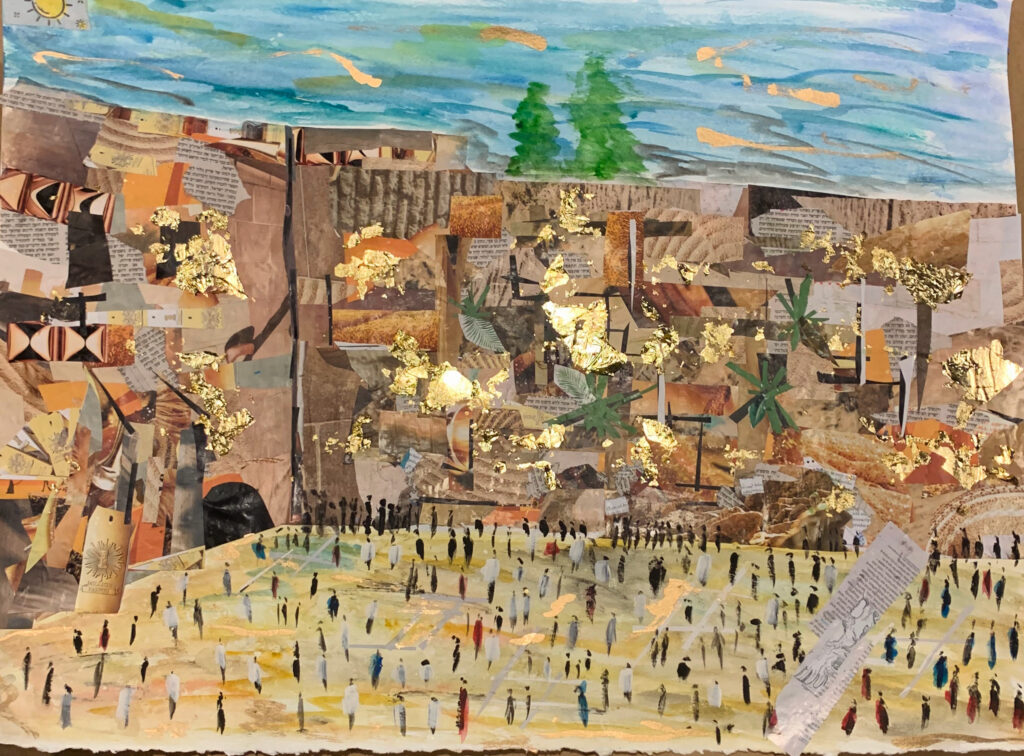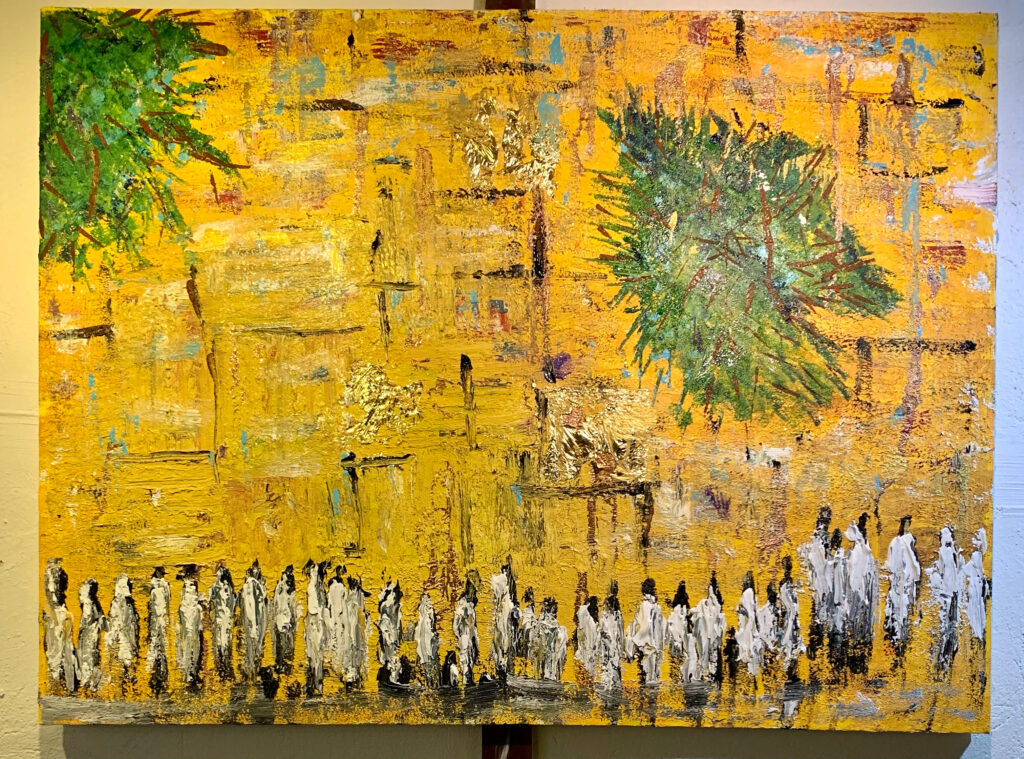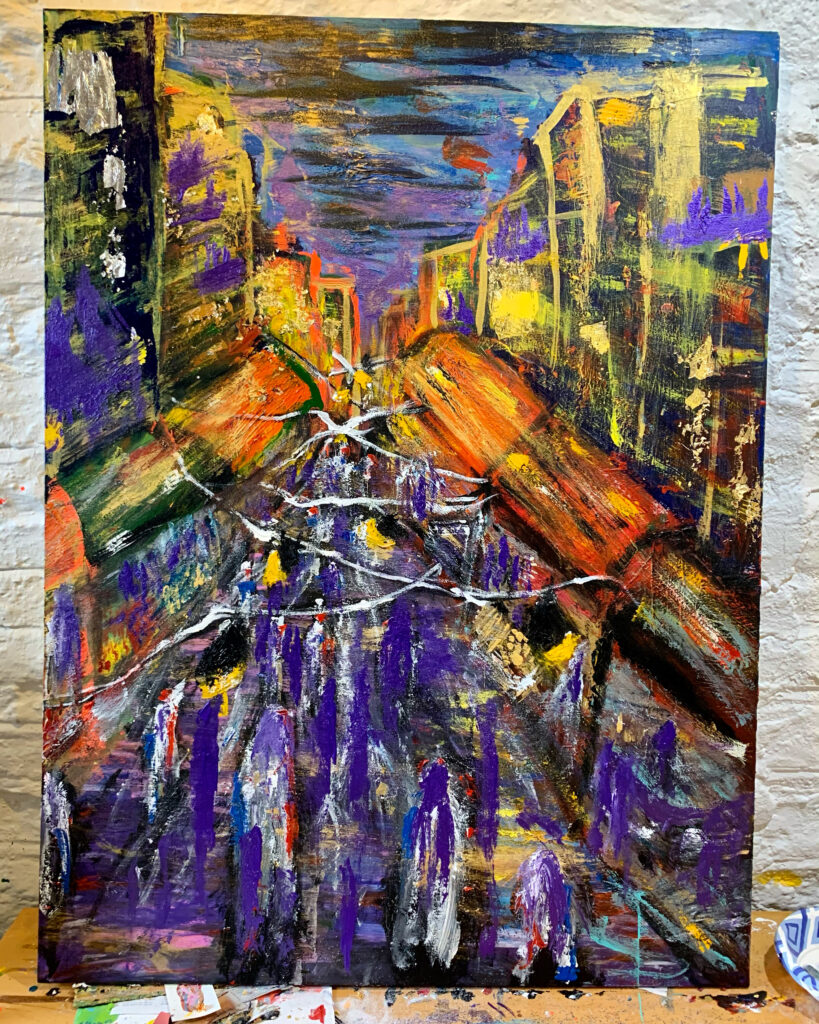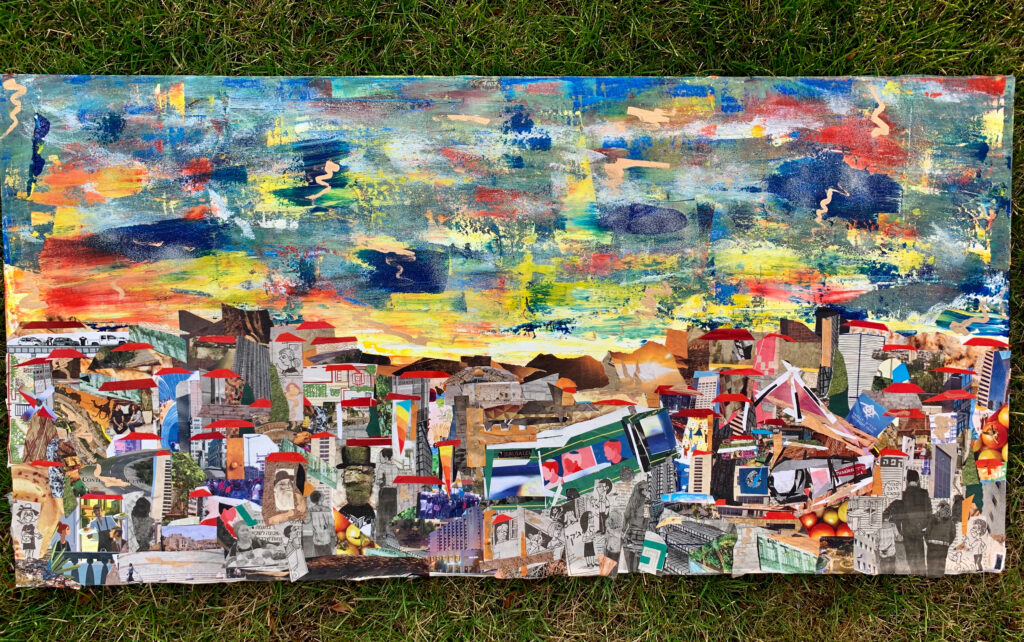 Photos: Courtesy of David Ratz