Photo: Courtesy of Dannah Levy
Tell us a little bit about yourself and your background.
I am best known for ceramic pieces that have been variously called cracked eggshells, broken spheres, and the like. Take a look at one of them and that will tell you more about my background than a recitation of my bio. The pieces are full of contrasts: organic in form but obviously made in a studio. Spherical but not smooth. Colorful and earthy.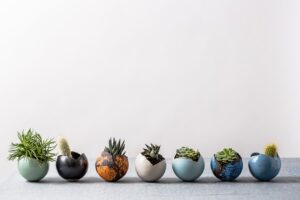 Photo: Courtesy of Dannah Levy
Why am I telling you this? I grew up in Israel, served in the air force as a part of my duty to my country (although I'm a pacifist), moved to California with my husband for a while where I first started working with clay, and then moved the family back to Israel to raise our kids here.
I live in Kiryat Ono, a nice suburb just outside Tel Aviv. I am married and we have three wonderful boys; one's in college, one in the army, the third one about to finish high school. Our home is right next to a small park, which helps with our two very large dogs. I love to have people over for a chat or a drink – not during the pandemic, of course.
Oh, and two cats. We have two cats – or should I say, they have us? The cats often wander into the studio and like to drink the water from the clay-recycling bucket; the cleanest water you can possibly want.
They also like to lie down in between my pieces while the kiln is cooling down and the room is warm.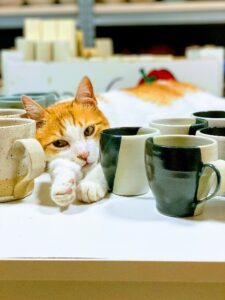 Photo: Courtesy of Dannah Levy
What inspired you to become an artist?
I love beautiful things. I love aesthetics. Art moves me to tears often. Actually, I am not good with words but it turns out that I am good at expressing myself with my hands and working with clay was just a match made in heaven.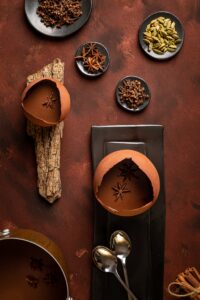 Photo: Courtesy of Dannah Levy
What is your specialty?
As a creator, I appreciate that beauty can be found in the unrefined and the imperfect. I relate to asymmetry—to the beauty created by a dialogue between the simple and the complex found in the pieces themselves. I like the idea of an artistic language that emphasizes the transient nature of creation. For example, organic fractures on the surface of a piece or glazes that drip and run without attempts to fix or hide imagined "imperfections." The main motif in my work is creating multiple relations within the layers of material, colors, and prints. Two additional themes show up regularly in my work: trees and buildings, partially as an expression of the tension between the organic and urban.
Photos: Courtesy of Dannah Levy
How and where do you work?
I studied ceramics at Clay Associates in San Diego, and with time became one of the associates in that wonderful place. That was my first encounter with a professional studio. When we moved to Israel I first set up shop in a shed in my parent's backyard, and now I have taken over the whole of our basement at home. Working from home means that I can have a lot of flexibility in how and when I work. Working with clay involves a lot of waiting around for clay to dry, pieces to cool down from the kiln and that sort of thing. So I put in several hours of work creating pieces and then I'll take time off to run our home and come back and work—sometimes until the middle of the night.
What is the most indispensable item in your studio?
My work table. It's high, it's really heavy and stable, and it's seen its share of use and abuse, I must say. Beyond that, I'd have to say my slab roller. I do quite a bit of hand-building and that slab roller is like a trusted sidekick by now.
Where do you take your inspiration? Are you pursuing any themes?
Inspiration comes from the most unlikely places. I am drawn to organic forms and that is expressed in the themes that I focus on. I'll sometimes wake up at 5 am, and there'll be an idea just floating around in my brain.
Do you do bespoke work?
Definitely.
What projects are you currently working on?
I have my Etsy shop and I'm building a new line of dinnerware sets. Also, and don't laugh, I'm beginning to ramp up production in advance of the Hannukah and Christmas season! I know, it sounds crazy, but it isn't.
Photos: Courtesy of Dannah Levy
What are your favorite items in your current collection?
I don't have a favorite. I couldn't possibly pick one piece any more than I could tell you that I love one of my children more than the others. Hubby on the other hand, has no such problems, this set is his fave: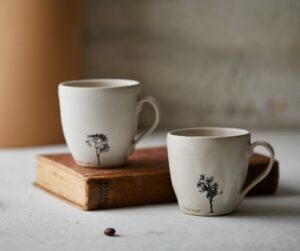 Photo: Courtesy of Dannah Levy
How do you know when a piece is finished?
There's something almost magical in working in this medium. I feel a little like a conduit; it's difficult to explain. I don't work on a piece and think "I still have about half an hour of work on this one." Quite the reverse, I'll be working on something and at some point I'll take a half step back and realize that it's done.
What was the first artwork you ever sold?
That is such a good question, because as I look back at the first piece that I sold I realize that I'm a very different person now. That piece was a very classical and highly symmetrical vase inspired by classical Greece. Most definitely not what I do today.
Which project have you enjoyed working on the most so far?
My solo show: Transience.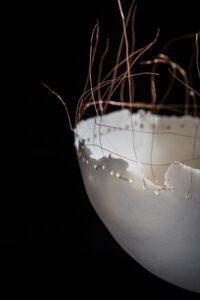 Photo: Courtesy of Dannah Levy
What do you want to achieve with your work and what are your wishes for the future?
I love the idea that my pieces can be found all around the world and bring joy to so many people.
Where can we find your work?
https://www.etsy.com/shop/ClaybyDannah
https://www.facebook.com/claybydannah/
https://www.instagram.com/claybydannah/
https://www.pinterest.com/dannahlevy/