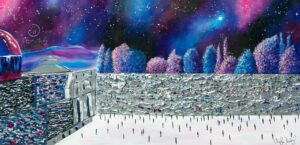 Photo: Courtesy of Chaya Hindy Neugarten
Tell us a little bit about yourself and your background.
I was born and raised in Brooklyn N.Y. My father is a sofer, who writes, sells, and checks, Sifrei Torah, Tefilin, Mezuzos, and Megillas. Growing up, when I'd get lucky and he'd let me watch, I used to love watching him dip the quill into the ink, and write. He has the most beautiful ksav. I can say I know where I get my creative side from!
What inspired you to become an artist?
I've been a creative all my life. I've been selling custom decorated cakes and cookies since high school, became a professional makeup artist, and now, also creating and selling my art. Although my true passion is painting, whether it's cookies and cream, lipstick, or paint, I continuously work to develop my skills, and techniques, so I can make something beautiful!
What is your specialty?
When I started out, I only created with acrylic paints and canvas. Though I'm always looking for newer, creative ways to make art, after lots of trial and error, I discovered my style. I specialize in Jewish themed work with lots of texture, topping them off with a layer of resin, and other media.
How and where do you work?
I work in my studio in Brooklyn. I'm a makeup artist during the day and paint at night.
What is the most indispensable item in your studio?
I work in a variety of media, and there all so important. They each serve its own purpose, resulting in a masterpiece. I use resin in many of my pieces, which takes the art to a whole new level. It has a high shine and gloss, giving depth and character, making it all the more magnificent. It allows for crushed glass, acrylic gems, and glitter to be attached, adding a 3-d affect that reflects light. It's absolutely magnificent.
Where do you take your inspiration? Are you pursuing any themes?
My inspiration can come from anything. I can be inspired by colors I see, an idea that came to life because of a spontaneous conversation with a friend, or by major milestones and events in a person's life that I am witness to, like a wedding. I also enjoy creating from familiar scenes. It inspires me to be more inventive with my art.
Do you do bespoke work?
Yes! I'm open to custom commissions. When creating a custom piece, there's so much that goes into it before I pick up that brush. We discuss color, style, texture, and size, and I create a sketch so we can both get a clear idea. Then I get to work, and their vision comes to life!
What projects are you currently working on?
I'm currently working on a series that will involve a few different paintings, all referencing Tefillah. I started working on this series when Corona hit. The unknown of it all felt so isolating and scary. The only thing we really had to turn to was Tefilllah. I felt compelled to create art surrounding the idea of prayer.
What are your favourite items in your current collection?
I have these beautiful, mini sized, Swarovski crystals, that I used in many of my pieces. They're so tiny, but so magnificent.
How do you know when a piece is finished?
I always know when a piece is finished. Though till I get to that exciting point, it takes a lot of time and work. There's lots of stepping back, to see the painting as a whole, so I can see my progress. Though I can sit and sketch for hours, it will never fully come out how I planned it. It's definitely a great life lesson!
What was the first artwork you ever sold?
The first piece of art I sold, was about 5 months after I picked up a brush and decided to sell my work. It was a scene of people standing in front of the kosel, with beautiful gold and mauve, colors. It was an exciting moment for me!
Which project have you enjoyed working on the most so far?
I made a painting of the kosel, up-close, only creating the actual stones. There's plenty of texture on this kosel, including gold leaf, glitter, and texture paste, giving it an awesome affect. It was the most fun to create and the results was stunning. About three months after creating it, it sold, and now it's in its beautiful new home.
What do you want to achieve with your work and what are your wishes for the future?
I create because it's a huge passion of mine, but ultimately, I believe I was given a talent so I can share it with the world. There's always a rush of emotion and thrill I get, seeing the emotion of people when they see my art. I wish to be able to continue sharing work that is beautiful and meaningful, in ways that will allow myself and others to view the world with a little more color and bling!
Where can we find your work?
Website- https://www.chayahindy.com/
To see some of my process, check out my Instagram highlights and stories.
Instagram- https://www.instagram.com/chaya_hindy_art/
Linked In- https://www.linkedin.com/in/chaya-hindy-neugarten-70b546165/
Photos: Courtesy of Chaya Hindy Neugarten