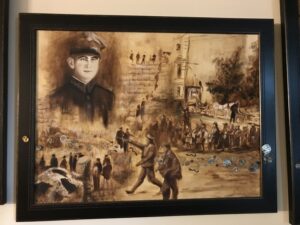 Photo: Courtesy of Chavi Diamond
Tell us a little bit about yourself and your background.
I am the mother of six, grandmother of 20+ and a great-grandmother. Drawing and painting since I was six. No formal training till age 18, in 1970 I was the only Frum Student at FIT in the newly formed Advertising and Marketing Program.
Married and expecting first child at Graduation with Honours.
Freelanced in advertising and design, painted murals, portraits, hand painted clothing for manufacturers of women's clothing line. Created and produced new products: Little boy ties, Sleeve its, charm bracelets. Wrote and self-published a children's book – first introduction to the Holocaust. I have been painting all the while.
I ran my own Advertising and Marketing business for over 30 years. Main client Broadway Theatre shows. Then came corona. More time to paint and need to sell.
What inspired you to become an artist?
Always loved drawing. Encouragement from my parents, both Holocaust survivors.
What is your specialty?
Holocaust remembrance art and scenes from Israel.
How and where do you work?
Wherever I have space. Water colour in my basement cleans up fast when my grandchildren come to play. Oil, 3rd floor studio where I can close the door.
What is the most indispensable item in your studio?
Lighting
Where do you take your inspiration? Are you pursuing any themes?
I am inspired by life around me. I think about anti-Semitism, the possibilities or recurring persecution, the Corona situation and yet try to instil so sense of normalcy in my work.
Do you do bespoke work?
While my work is generally of a Judaica theme, I don't target any particular audience. I have, on occasion, done specific work, such as a portrait, based on individual request.
What projects are you currently working on?
Simply adding to my collections.
What is your favourite item in your current collection?
Watercolours of Venice, because of the vibrant colorations.
How do you know when a piece is finished?
When I and my family say they are pleased, inspired and ready for the next one.
What was the first artwork you ever sold?
Portrait commissioned by the family of Reb Shayale, Grand Rabbi of Kerestir.
Which project have you enjoyed working on the most so far?
First time using acrylics. Lilly Pads with reflection
What do you want to achieve with your work and what are your wishes for the future?
Continue to enjoy painting make some money.
Where can we find your work?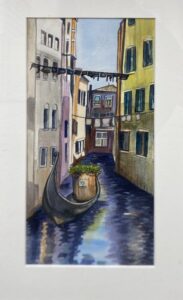 Photos: Courtesy of Chavi Diamond