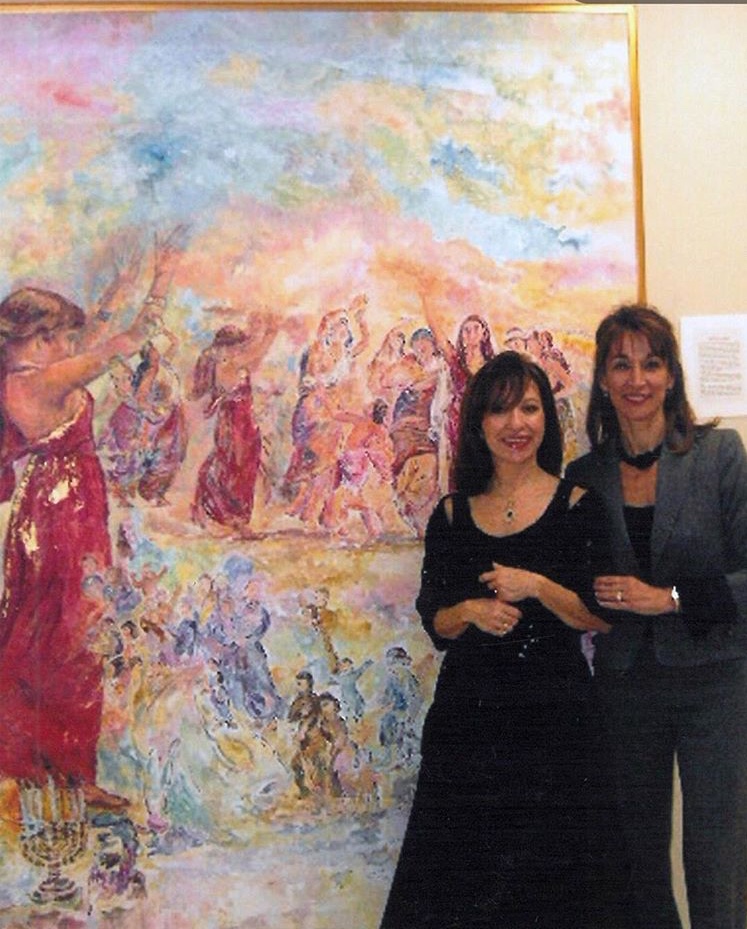 Tell us a little bit about yourself and your background.
I was born in Casablanca and am a direct descendant of Rabbi Yosef Caro (1488-1575), author of the great Codification of the Jewish law, the Shulchan Aruch, my roots and heritage have always been an integral part of my life. I now live and work in London.
My paintings capture the light and vibrancy of my North African childhood. I have been recognised internationally by art critics and collectors, for my landscapes of the Mediterranean and of the Holy Land. In addition, Jewish rituals central to my culture and lifestyle have manifested into art forms in a mixture of mediums; from watercolour on board to acrylic on Perspex. Furthermore, throughout my years as an artist I have been commissioned to paint portraits for a diverse number of people.
My works are on permanent public display at the Northwood and Pinner Synagogue (London), the Ben Uri Gallery (London), the Board of Deputies (London) as well as the Jewish General Hospital (Montreal). I have painted the King of Spain to commemorate the 500th anniversary of the expulsion of the Jews, as well as, the King and Queen of the Hellenes in occasion of the 25th anniversary of the United Jewish Israel Appeal (UJIA). Furthermore, my work has been auctioned at Sotheby's and Christie's as well as Norwood, Variety Club, Hadassah Hospital and Shar Tzedek.
More recently, I have exhibited at the CENTRO Sepharad Israel in Madrid. You can hear an interview from Shalom TV here.
What inspired you to become an artist?
My father, a keen amateur artist, encouraged me to pursue my career as an artist after he spotted my natural ability to paint from a very young age. He was my first mentor and his passion for painting was infectious. His works captured the vibrancy and luminosity of Morocco; most of which have influenced my paintings of my home country, of the Mediterranean and of Israel.
What is your specialty?
I specialise mostly in biblical themes, Jewish rituals and landscapes of Israel.
How and where do you work?
I work through photos and references to get the right composition for each subject. Currently, I work from my studio in London which neighbours Hampstead Heath. The idyllic and earthy tones of the Heath act as sources of inspirations for my current work.
What is the most indispensable item in your studio?
My most treasured items in my studio are my brushes, and my big easel.
Where do you take your inspiration? Are you pursuing any themes?
My Jewish cultural identity has informed many of my art works. Importantly, my most recent exhibition "Journey into Sepharad" from October 2018, was inspired by my Jewish Moroccan heritage, customs and traditions that have all been integral in shaping my identity. At present, I am preparing for an evening with a panel to discuss how my Moroccan roots have been so central in influencing my art work.
What projects are you currently working on?
My next project continues to focus on my Jewish cultural identity. I use simchas, festivals and family traditions as reference points for this project. In addition, I am working on an exhibition in China that was inspired by my travels to the South of France, and the Mediterranean.
What are your favourite items in your current collection?
My personal favourite items from my current collection are the paintings of the Moroccan Jewish brides. These paintings are adorned with gold and silver leaf in order to emphasise that the brides are poised to take a new chapter filled with wealth and prosperity. I have attended many Noche de Berberiscas (Moroccan Henna parties), where the bride dresses in "el traje de Berberisca" and songs to welcome the bride, called "Piyatim", are recited. The atmosphere is jubilant, and the event is full of joy, laughter and sincere happiness.
How do you know when a piece is finished?
I believe that my intuition can only inform me when my work is complete. This has been a learning curve throughout the years as I can be my own toughest critic, but, I have learned to trust my gut instinct to inform me when to put the paint brush down.
Do you do bespoke work?
I do bespoke Ketoubot (Jewish marriage certificates) and portraits.
What was the first artwork you ever sold?
The first artwork I sold was my interpretation of the "Sacrifice of Isaac" which I painted on a 120 cm x 90 cm canvas.
Which project have you enjoyed working on the most so far?
The project I have enjoyed the most thus far was a commission I did for the Jewish General Hospital in Montreal, Canada. The mural entitled "The Cure" represents Miriam, the prophetess, dancing with her female contemporaries after G-d cured them from leprosy. This biblical narrative is particularly poignant and empowering, as it teaches us to be patient and resilient in the face of adversity.
What do you want to achieve with your work and what are your wishes for the future?
My aim has always been to inform others of my Jewish heritage, my culture and my folklore. I am very fortunate to be able to do what I love professionally, and I hope that I can leave a legacy that will inspire and inform many more of my Moroccan Jewish history.
Where can we find your work?
My work can be found on social media: instagram (@bettinacaro), Facebook and in galleries both nationally and internationally (Ben Uri, London Mall Gallery, G&C Gallery, Tunbridge Wells).